Who does understand minimalism as a form of art? I guess, quite less people than those who like it. Have you ever noticed that you like a photo, music, video or any other artwork, but you can't explain why it is so attractive for you?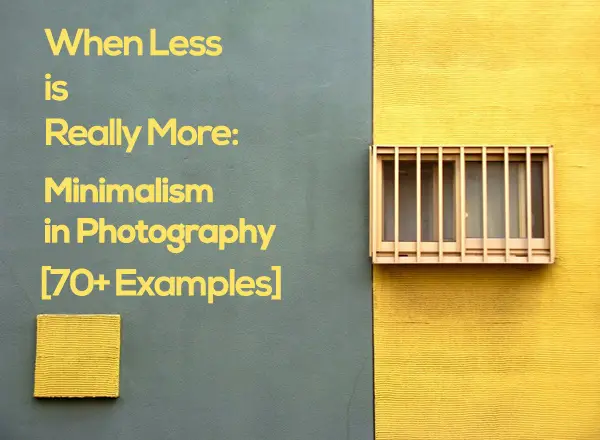 It excites your mind and you can't take your eyes off of it. Minimalist photography is this kind of things.

For years photography gurus try to explain what minimalist photography exactly is and how to gain a success in minimalist photos creation. All of them agree on the fact that in spite of general photography rules and photographer's skills, many things depend on viewers' perception.
If you ask me what minimalist photography is I'd say that this is a photography of some key ideas, but not of some objects you see on pictures. When viewing such photos different people feel and see different things. And that's the greatest achievement of minimalism.
Albert Einstein said: "If you can't explain it simply, you don't understand it well enough". It would be a great slogan of minimalist artists. This photo technique seems to be very simple, but in fact you have to spend 100s and 100s of hours to perfect your skills.
There are many guides on the web on how to capture excellent minimalist photography, so here we'll just briefly mention the main rules:
Take care about subjects. You should accentuate your shot on one or few similar objects. It's the first step to make your object dominate.
Pay attention to the background. You should choose plain backgrounds without any distraction elements (their influence can be eliminated with zooming).
Don't afraid to use colors. You can choose contrasting or similar colors. Bright juicy splashes will make your shots look more impressive and your subject stand out from the background. At the same time if you choose different hues of one color you can also gain great results.
Delete unnecessary elements. If you think that there are some distractions on your shots you can safely crop or remove them. All the attention should be reverted on the main subject.
Take several shots of the same object. Don't restrict yourself by taking one or two photos. Try different lighting, angles, focal lengths, exposures, etc.
Now it's time for showcase. Probably you've already seen some of the photos from our collection of minimalist photography, but here you'll also find some creative and new examples to get inspired. All the pictures are divided into 7 groups, so that you can get clear understanding of peculiarities of minimalist photography of different objects. And the first thing we'll draw your attention to is minimalist architecture photography.
Minimalist Architecture Photography
It's hard to explain why people like parts of buildings captured on photos. A wall with a window or stairways are the most attractive things for minimalist photographers. In combination with unusual vivid colors it can bring fantastic results. Bright contrast colors make you stop and draw your attention to the shot, and irregular shapes make you think. As usual, minimalist architecture photos capture two or three colors: black and white, orange and white, red with blue and white, etc. The more colors you use the harder it can be to accentuate on some single object. Take a look at the following examples of minimalist photos of architecture and you'll understand everything without a word.
Stairs (by the Sunset) by Bvoglar
An Isotophic Window Matrix by Akira Takaue
Gate to Heaven by Rainer Muller
Minimalist Landscape Photography
Fields and oceans will suit you perfectly well if you want to practice in minimalist photography. If it's winter outside you can capture naked trees on a snow background. By the way, plain snow landscapes are a real godsend for those who can see the beauty of nothing. You can also use mist as a pattern of your shot's background. It creates a dramatic atmosphere and hides all distractions from your camera's eye.
Piana Castelluccio di Norcia by Giuseppe Peppoloni
A Wiltshire Landscape Jeremy Haslam
Landscape Covered in Snow by Vladimir Zivckvic
Rise and Shine byHeather K.McFarland
Minimalist Abstract Photography
Photographers which take minimalist photos of abstractions take care about shapes greatly. Viewers imagination is a must have thing to understand these artworks. Strong contrasting lines displace accents and make shots look more impressive. Among numerous photography techniques this one is perhaps the most creative because perfect minimalist abstract photography requires both sides to be involved: a photographer and viewers.
Appearance by Martin P. Szymczak
Abstract Photo by Luigi Benedetti
But the Wind Still Blows by Matteo Serpi
Minimalist Photography of People
In opposite to landscapes, buildings and simple objects people don't fit in with minimalist photography. Our emotions and gestures can easily brake the concept of minimalism. So photographers prefer to capture people silhouettes on a contrast plain background. People figures are also used to accentuate on the main idea of the shot, to make it more impressive. So if you're a beginner in this field, you should better start with photographing inanimate objects.
Hard at Work by Izabela Laszewska
Excellent Minimalist Photography by Heather Blish
Monochrome Seascape with People by Dirk Wustenhagen
Minimalist Photography by Arash Karimi
Skateboarder in the Mist by Jens Stolt
Minimalist Animals/Birds/Insects Photography
It's quite easier to take minimalist photos of animals than people. Birds, insects and animals are simpler objects which are easier to be focused in. There are two ways you can achieve perfect results while photographing animals in minimalist style: to make some contrast pictures or to blur your background and to focus on the object
Pool with Frog by Joan Altimira
Sitting, Waiting, Wishing by Mariathestrange
Monday Blues Chat by Eriz Photography
The Edge of The World B/W by Vincent Ribbers
Black and White Minimalist Photography
Shooting black and white is quite easier then doing it in colors. The main role here is assigned to lighting . It's considered to be perfectly suitable for taking photos of landscapes. But as for me it's good for almost every photography type. Black and white tones in minimalist photography can create different moods. It can be even more impressive than photos with rich colorful backgrounds and several objects in focus.
Banks of the Blue Lagoon by Andreas Steegmann
Minimalist 4 by Euphoriaelation
Black and White Lanf and Sea by George Saguna
Return as Always by Peter Svoboda
Colorful Minimalist Photography
Bright colors always enrich photos and catch your eyes. That's why the brighter background or an object is the simpler shapes and lines are required. Many professional photographers suggest to experiment with colors and not to be afraid of faults. Numerous practices will teach you to feel the color and to choose right combinations. Here are several examples of minimalist photos you can try to capture yourself.
Minimalist Fruit Photography by CubaGallery
Minimalist Phallic Sign by Benoit Verjat
Verde Que Te Quiero Verde by Miguel Herrera
Minimalism by Mohammed Al-Furaih
Minimalist Street Lamp by Clement Tang
Raking Minimalism by Uri Rosenberg
Minimalist – Pink Flower by Chris Esler
Where is the Sun by Jacek Stefan
Now you know that instead of a visual simplicity minimalist photography can be very powerful and impressive. Minimalism doesn't imply a lack of skills and creativity. And if you've ever tried yourself in minimalist photography then probably you're a super pro. Show us your photos. They can enrich our showcase of minimalist photos.