There is a lot of intrigue and mystery about underwater photography, but there is also also a lot of information out there about it.  Mostly what you will find when doing your research is information about wildlife photography, but it is still very useful when dealing with Fashion or Beauty Advertising Underwater photography.   I believe what is important is knowing how to put all the information you have found together to use it to your best workflow.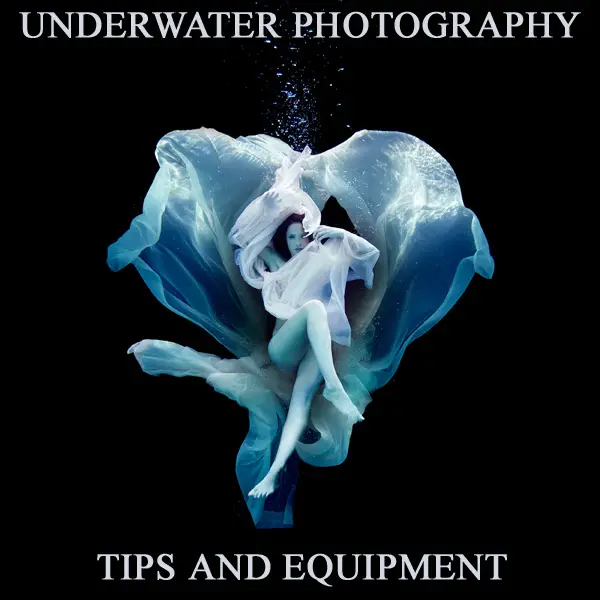 One of the difficulties is the fact that it is or can be very expensive to specialize in underwater photography.
I began photographing underwater in 2010 when on my honeymoon in Croatia.  A very good friend of my wife's (who was born and raised in Croatia) is a scuba instructor and underwater wildlife photographer, she introduced me to underwater photography and it's been a love and obsession of mine ever since.
I have already enjoyed a successful career as a working photographer in New York City, so with the completion of some of my very first projects underwater, my work has been published worldwide inside and on covers of top magazines, including ELLE, Glamour and more.   I've also photographed Advertising campaigns underwater and have quickly become a sought after photographer for my vision with underwater photography.
It is possible, however, to photograph underwater with a limited budget and achieve great results.  But if you would like to get more control over your image's final outcome and be more proactive in the creation of a world/vision under the water as opposed to simply photographing what is there naturally, then you will need to invest in more equipment. Specifically speaking, lighting would be a key item to shaping your underwater vision.
I'd like to speak about my process and some of the equipment that I use, as well as some that I would like to be using in the future.  Other photographers may have different preferences on equipment, different opinions on the same depending on how they use it, and what kind of work they do.
Planning
Like any shoot the first stages for me are the planning stages.  This is where I'll sketch out my idea, either on paper, or in photoshop.  As the visions for the shots get more defined, I'll then need to figure out how I'll create the supportive elements of the shots.  Maybe it's simply just a background placed in the water, or a more complicated idea where sets would be built and placed into the water along with the model.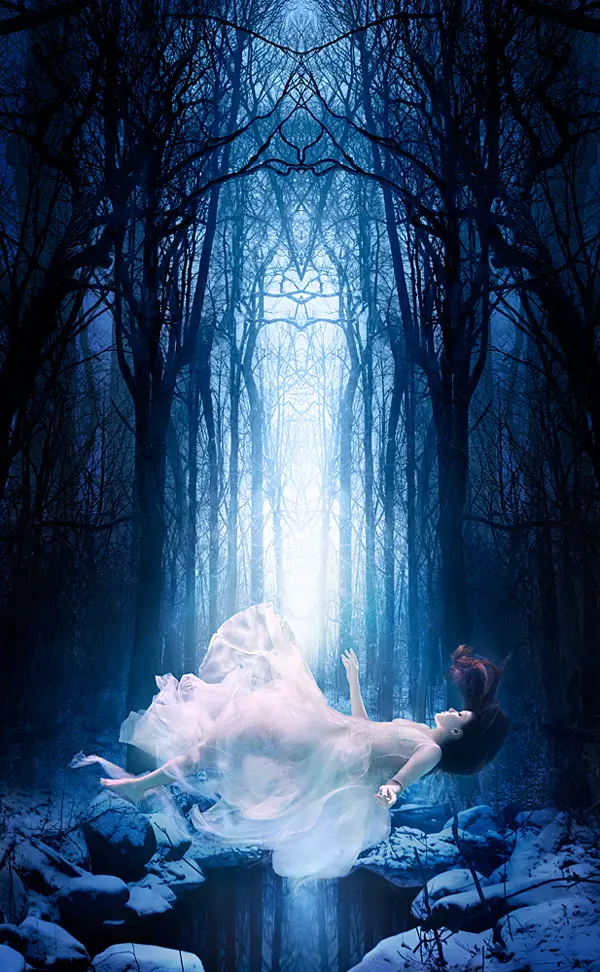 The next stage is thinking about how I would like it to be lit.  I'll make sketches of my lighting so I know where the lights would need to be and what sort of rigging would be required to achieve that.  As you can see in my behind the scenes video from a recent advertising job, the lighting was pretty complex, as well as a multi person crew involved to aid in the production.
I've photographed in many different water locations, so you need to flexible and able to adapt to whatever body of water you are faced with, or chose to work in.
My Camera Set up
I'm shooting with the Nikon d800e,  and with that, I like to use the Nikkor 24-70 lens for my underwater work.  I like zoom lenses because they allow you to change your perspective quickly, and when underwater you need to be able to be as adaptable and flexible as possible.  A movement the model does may be incredible at a different distance, and there is no time or opportunity to change lenses to capture it at it's best, so it's imperative for me to have as much latitude with my lens as possible.  I tend to stay away from very wide angle lenses for my work, since it's too distorting to the body, it might be better suited for open water situations than controlled pools.
The Housing: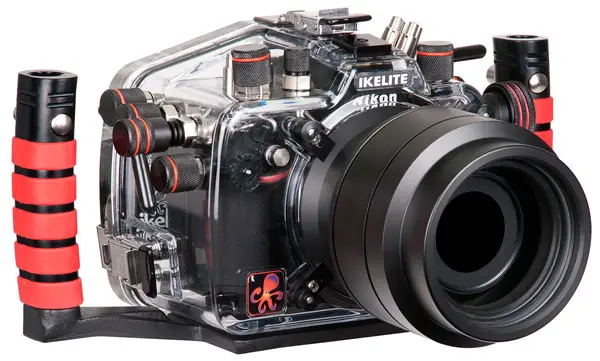 Image courtesy of Ikelite.com
Case = Ikelite 6812.8 Underwater Camera Housing for Nikon D-800 and D800E DSLR
$1800
Port: Dome Kit 5.1-Inch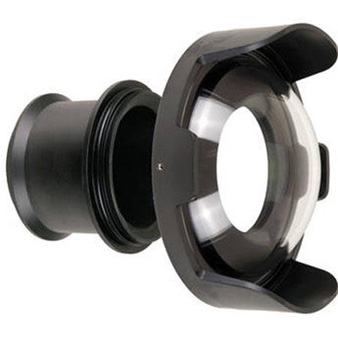 Image courtesy of Ikelite.com
Dome:  The 5511.5 kit includes the Modular 8-inch Dome + FL Extension for Lenses  $600.00
Right now I'm using the Ikelite 6812.8 housing with the Dome Kit 5.1 which is a 2 part kit. One extension tube, for the longer lenses and then the 8 inch acrylic dome for less distortion and image aberrations at certain focal lengths.
The Ikelite housing is great, as it affords you the opportunity to see inside the case at the camera, to be sure that everything is ok with it and that no water is leaking into the case. If you are working with a small budget, the large "zip-lock" bags can be an option for you, but when you are ready to make a serious move with your career, it's time to invest in a hard case with more precise controls.  Even with the Ikelite case, I have found that after a while of using it, some of it's minor shortcomings feel more apparent.  For example, I've found that the on-camera focus light gets completely obscured by the lens ports of the Ikelite cases, (but may also be a Nikon issue with where the Assist light is located) and an above water or underwater focus light is required in many cases.  I also had some issues with the shutter button mechanisms and it's reliability.  I had to make some modifications to the springs and controls inside the case, and it's working great now. But at $ 1800.00, it feels as if you should not need to do this.
I'm looking forward to upgrading my system soon, and had the pleasure of a test drive with the Aquatica case (although not underwater) and it is a completely different level of housing.  The internal gears are very precise and make the usage feel effortless.  Also the other thing (among many) that sways me in it's direction is the fact that you can change the port adapters for your lighting cables to many different systems, making it more versatile for different applications and environments.  At $ 3500.00, the perks certainly live up to it's higher price point.  Maybe I'll write a review of the Aquatica housing after I've used it a few times. I might also have upgraded my camera by then as well, so a new housing will always follow a new camera.  Here is a look at the Aquatica case for the d800 series.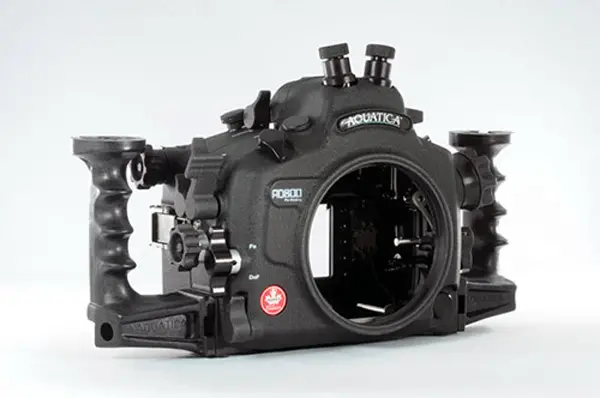 Courtesy of www.aquatica.ca
Subal is another trusted brand that I've seen being used, and at a slightly higher price point.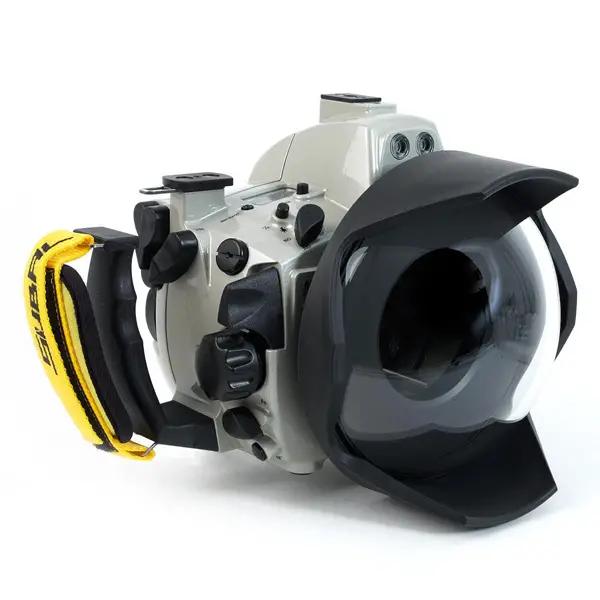 Courtesy of www.subal.com
Other great accessories for the Housings are the viewfinder Magnifiers which can really help you to see what you are shooting, and focusing on.  The Underwater world does a wonderful job at distorting everything around you, so a viewfinder magnifier is a welcomed addition.
Here are the Ikelite Magnifiers that could be added to my current rig.
ikelite 6890 magnified viewfinder straight
ikelite 6891 magnified viewfinder 45 degree
At certain depths it's also a good idea to look into the Red filters for your camera.  The depths of water pull out the red spectrum of light, and when added back into on the front of your lens, (or the back) you regain that spectrum in your image and don't need to do extensive fancy retouching to repair the loss in color.   This is also something that varies with the amount of lighting you are using and how close to your subject the lights are.
Cases and other underwater gear are also important items to look into.  There are a lot of places out there to purchase from, but I've had great experiences with companies like Adorama, Leisure Pro, and Backscatter.   They guys at Leisure Pro were really great to chat with me about scuba suits, and let me and my assistants try on as many as we liked until we found the ones that suited us best.  The people at Backscatter are always very helpful with any questions you have before making a purchase as well, and great with timely responses to emails.
BTS VIDEO
Lighting:
Although every shoot is different with individual lighting needs, I typically use a combination of Strobes underwater and also topside.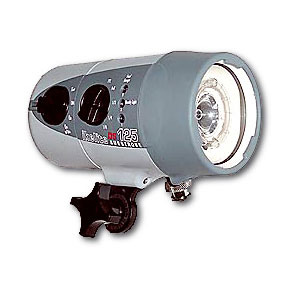 My underwater lights are Ikelite as well, since they are made to work with my housing.  The ikelite strobes i have are the DS 125 units.  They aren't the newest kids on the block, but they work well for what I need as far as lighting is concerned. They have TTL (which I never use, as does the housing), and 4 manual settings which seem to be adequate for most things in the work I do and also have an optional DS sensor for slave triggering (which i haven't used yet). They are super simple to operate, and changing the batteries is very easy as well.  I don't typically use the modeling lights included on the underwater strobes, as for me, it's just a drain on the battery. After you are comfortable with shooting in different environments, you get used to what your lights should be doing, and a quick check at the image should verify that, assuming you are also familiar with how your cameras display relates to the actual RAW capture.
Underwater light ratings are also very different from above water lighting, the charts are also not the easiest to understand if you are used to standard non-water strobe systems, so I always say that using them and playing around with different settings is the best and fastest way to learn.
For my shoots, I usually end up shooting all day, so having extra back up batteries is a must.  The last thing you want is to be out of batteries when on a shoot.  Also, as with any shoot, make sure your assistants are vigilant on ensuring that they are all firing so you don't end up with shooting for a while with the loss of one  or more of your lights.
I had, in addition to my ikelite strobes, a Sea & Sea strobe on and advertising jobs as a rental, and what was nice about that strobe unit was it's internal slave, but again, you almost needed your other light to be hitting it directly in order for it to fire (due to refraction and loss of light underwater), and like most great things, that specific unit is no longer in production.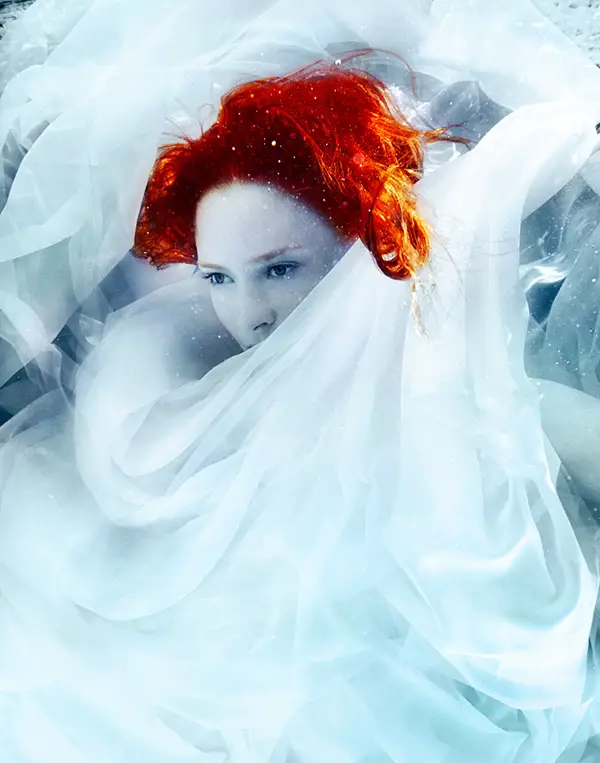 To accompany your underwater Strobes, you'll also need all the correct cables to connect them.  Always make sure plenty in advance that your cables are working, and firing all the lights you need them to.  I've used the Pocket Wizard above water Sync, but again you still need the proper cables to connect the lights, and then strobe triggers on those cables if you'd like to use the Pocket Wizard function. It can be confusing with all the different types of cables, so it's always best to write all things down, and have things labeled well.
The Ikelite, (and all others) come with tons of accessories, which can be used together in a wide variety of configurations to be as useful for you as you see fit.
Above water Lighting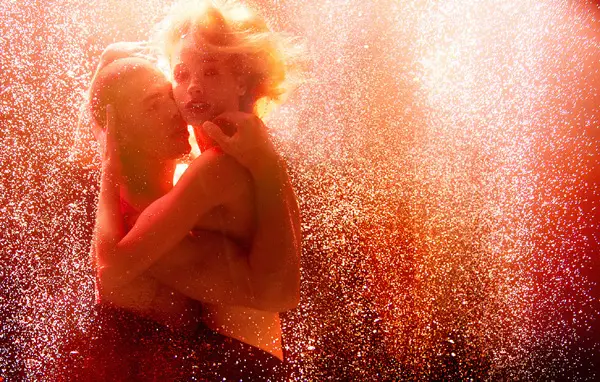 Above water, I've always been drawn to Profoto as a company since they have the most variety of lighting modifiers.  Most of the time when dealing with Underwater Fashion photography, you won't need a vast variety of snoots, or other such odd modifiers, but I use Profoto because I am familiar with the system.  I'll use anywhere from the trusted Pro 7's to the Pro 8's and also the newest D4 packs.
You might also find yourself in need of a huge scrim or Silk to soften any sunlight you may encounter during the day if the goal is a soft light.
Clamps, extra Arms, ball socket arms and connectors, light stands, and underwater or above rig are good to have around.
Safety is extremely important when working with these sorts of lighting outfits above water.
Either the power grid you are connected to needs to have an auto shut off if an electric surge is detected, or you need to have a special shut off box connected to a generator that is supplying your power.   Safety should never be taken for granted, as it only takes a second, or one small misstep for an accident to happen.
Safety
Underwater Safety is also of the utmost importance with Underwater Fashion photography.  It's very easy to get disoriented when underwater, especially if you are trying to work together as a model- photographer team to achieve a goal or to "get the shot".  I find it very helpful to have a good discussion with the model and crew before we shoot, so we all know what we are trying to do when underwater, as well as the mood or emotions I would like the model to convey.  I also run through all the techniques I will use with them when we get into the water before it's time to do it.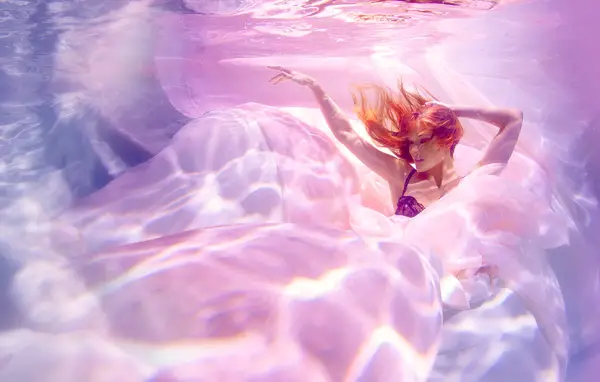 When clothing is added into the equation of a photoshoot (as opposed to nude shoots, or minimal clothing like swimwear, etc), this clothing can actually act as an anchor for the model when trying to get back to the surface, so having someone underwater specifically watching them and being there for them in case of an emergency is crucial.  After a few rounds of shooting, it's easy to get tired and winded, so always keep this in mind.
I also like to get my breathing in sync with the model(s).  I will guide breathing exercises with them before each time we go under, so we lower our heart rates, and hopefully, end up using the same amount of air together.  If I am on air (scuba or other compressed air delivery system), I'll still do this with them for the first few rounds, so they get the hang of the technique..  If everyone is connected to a scuba system, than that brings a whole new level to the shoot, and many more safety concerns, which perhaps I can get into in another article as well.
Before I actually shoot, I'll do a quick dunk test of my housing to make sure that no seals are broken, or not lubed enough. And then it's off to get creative!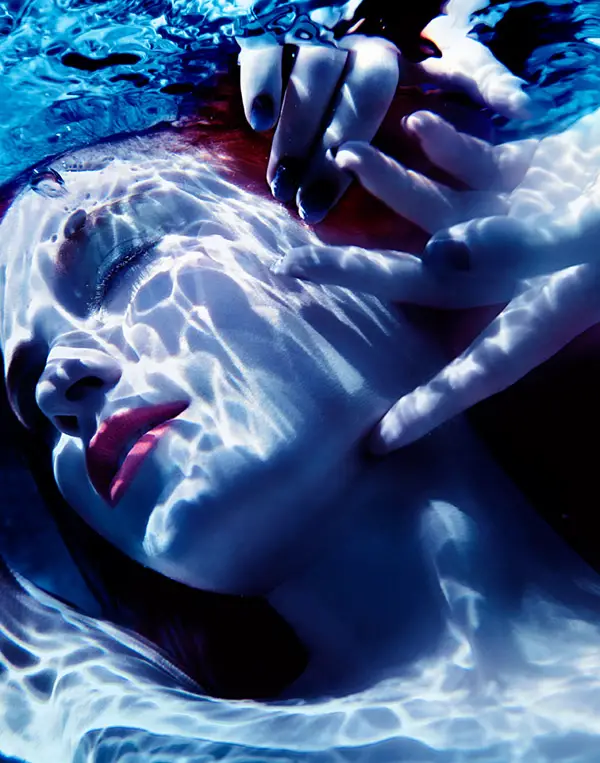 For more on underwater photography click here.