Taking great selfies requires the right light, angle, setting, and editing. Getting a great shot is so much more than just clicking a button. It requires skill, practice, and good technique.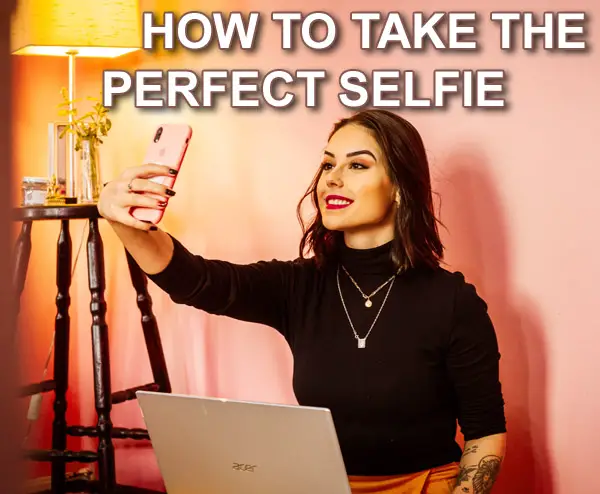 Come along and learn how to master the art of the perfect selfie using photography tricks and tools described below.
In general, a great selfie is shot using an autofocus camera with a stable support, with a non-distracting background, ambient or gentle artificial lighting with the light source in front, at a flattering angle such as slightly from above,  accentuating your good features, person relaxed in front of the camera, and followed by slight editing.  
More about these techniques below but let's start with a very very brief history of the selfie.
Selfies have become a photographic staple over the past twenty or so years. Glancing over the history of photography, the origin of the selfie was the more formally named "self-portrait"—a standalone genre in all art forms, including photography. All art buffs can recognize Vincent van Gogh's distinctive self-portrait paintings, while the history of the photographic "selfie" stretches back to 1839, when Robert Cornelius spent hours trying to capture his own image on one of the first cameras ever constructed.
In the 21st century people have migrated away from the formal self-portrait, preferring the more spontaneous "selfie". A selfie is largely understood to be a photo of oneself taken at an arm's length with a camera or camera phone. There is also another (unofficial) subcategory of the selfie—the selfie portrait, which includes more formal selfies sometimes taken with the help of a tripod, off-camera flash and remote, for example.
All photographers want to improve their skills—amateur or professional.  Becoming a better portrait or landscape photographer, however, isn't the same as perfecting your self-portraits or selfies. Pointing the camera at yourself often brings up a host of insecurities about your appearance and ability to pose "well".
If you want to take your selfies to the next level, it's important to put some thought into them and to shift towards the classic self-portrait. This doesn't mean spending hours setting up a studio and posing. Learning some basic skills can make a huge difference. With the right tools, technique, and knowledge, taking the perfect selfie is simple.
The following tips will ensure that the selfies in your camera roll are all Insta-worthy.
The selfie gear
People often take selfies with their camera phones, and while many of them are just as sophisticated as SLR cameras, branching out into "camera land" can take your photos up a notch.
1. Cameras and camera phones
Having the best image quality is an obvious priority no matter what you're shooting.
Selfies are often posted immediately after you take them, which makes a quick and easy editing process very desirable. If you're pursuing a more formal self-portrait or "selfie-portrait", the need to edit immediately isn't as pressing, but still a nice convenience.
Apart from image quality and simple post-processing options, you'll need a phone or camera with auto-focus ability. Whether you are shooting from an arm's length or using a tripod and remote, pointing the camera at yourself makes it nearly impossible to focus manually. If you're aiming for something closer to a self-portrait, using manual controls on your camera is something to experiment with. Try out different settings in different environments and determine which options work best for you.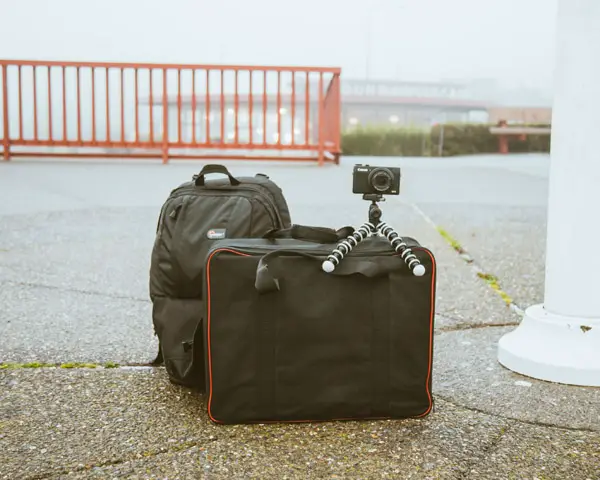 You may find that some settings are ideal for when you have longer periods of time to get a great shot. While others are perfect for quick, spontaneous selfies where there's only a small window of opportunity to capture the background or other elements of the image.
Examples of great selfie cameras are:
Canon G7X Mark II—a great point-and-shoot camera that is conveniently small and well-priced. It also has built-in Wi-Fi which makes uploading photos to social media a breeze.
Panasonic Lumix ZS70/TZ90—this camera has a touchscreen that you can flip towards you, and it also offers a range of tools, allowing you to enhance, blur, or sharpen parts of your images.
If you're using a camera phone, a couple of the best are:
Google Pixel 3a—an all-round piece of gear that promises high quality images. The Pixel 3a model is cheaper than the original Pixel 3, but still works like a dream. The Pixel 3 does, however, have the advantage of two cameras.
Samsung Note 10 Lite—Samsung is a well-respected brand when it comes to technology and this particular phone has a total of three 12-megapixel cameras. You can choose your aperture for each "lens" to get the perfect balance of light and shadow, and best depth of field.
There are obviously many other cameras and phones that make taking great selfies easy. You just need to know what to look for.
2. Tripod
A tripod isn't compulsory, but if you want to up your selfie game, it can be very helpful. Using a tripod allows you to experiment with poses, angles, and distance between yourself and the camera. If you're using an SLR, then a sturdy tripod is your best bet, but for camera phones you can get by with smaller options that are also more portable. There are thousands of options to choose from—something like the Joby GorillaPod Mobile Mini is a sensible choice.
You can also invest in a selfie stick. Selfie sticks may have earned a bit of ridicule, but they actually offer excellent scope for capturing just the right angle and background. They also make your shot steadier as you can use both hands to keep the camera still. With a selfie stick you can capture all kinds of shots you otherwise would miss out on. This can make your selfies more interesting and exciting ( and sometimes safer).
3. Selfie ring light
Using lighting equipment can take your selfies up a notch. This doesn't mean huge studio lights and reflectors. A selfie ring light is small, portable and gets the job done. An example of a quality ring light is the Kodak Selfie Ring Light.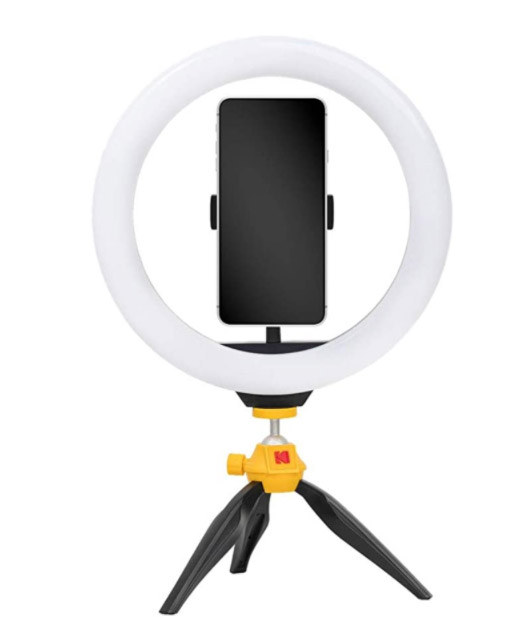 If you're looking for a more portable option, a phone case with a built-in ring light is an excellent investment.
4. Optional extras
It's certainly possible to get high-quality pictures with less gear, but there is a range of equipment that can boost your photography skills, such as an off-camera flash, camera remote, backdrop, and of course, post-processing software.
How To Take A Great Selfie
There aren't hard and fast rules about how to take a selfie. But breaking the process down into steps can improve your results greatly.
1. Choose your setting
Something that is often overlooked by photographers both professional or amateur is the background behind the subject. Your physical location can have a huge impact on your final image.
When shooting selfies you want the focus to be on you, and not what's behind you. Your depth of field, which depends on the size of your aperture, determines how blurred your background will be.  A high aperture number means you will get more in focus background.
Sometimes people want their selfies to have context—to show they're on the beach, for example. Others want to eliminate all distractions to make themselves the sole focus of the shot. When you want an unobtrusive background, try to use a plain backdrop such as a wall. Or you can even invest in a proper drop sheet or cloth that ensures a smooth and even background. Using a plain color for your foundation, however, can make an image look sterile and overly formal.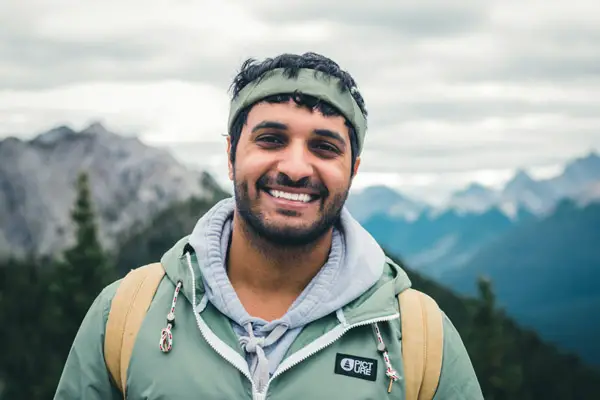 Without a doubt, you're a star of your selfie, but this does not mean that you should ignore what is behind you. Turn around and check out your settings. Be aware of trees that could be right behind you and look like a stick out of your head. Look for scenes that could be inappropriate for your cheerful smile, like a funeral procession or burning house.
2. Choose your lighting
Many photographers find ambient light the easiest to work with, especially when they're going for a natural, more candid look.
The vast majority of selfies aren't taken by professionals (and aren't even taken with cameras), which makes ambient light the easiest, and sometimes only, option.
Two things to guard against: harsh light and deep shadows
People want to look their best in selfies, and having extreme contrast between highlights and shadows isn't flattering. Of course, some selfies will be taken in low light, which requires using a flash. If you want aesthetically pleasing selfies, however, avoid using flash if at all possible—especially a built-in flash. Professional photographers always opt for off-camera flash, as it gives them more control over which areas are lit. Using a flash can also result in the dreaded red-eye.
Facing your light source directly usually yields good results. If you decide to go for something a little different, experiment with lighting until you find the shot you're after. Sometimes your goal might be to convey a particular mood or emotion, in which case creative lighting can be very effective.
Gentle, even illumination is undoubtedly the best in terms of taking flattering photos. The "golden hour" (around dusk) is one example of lighting that enhances just about every type of photograph.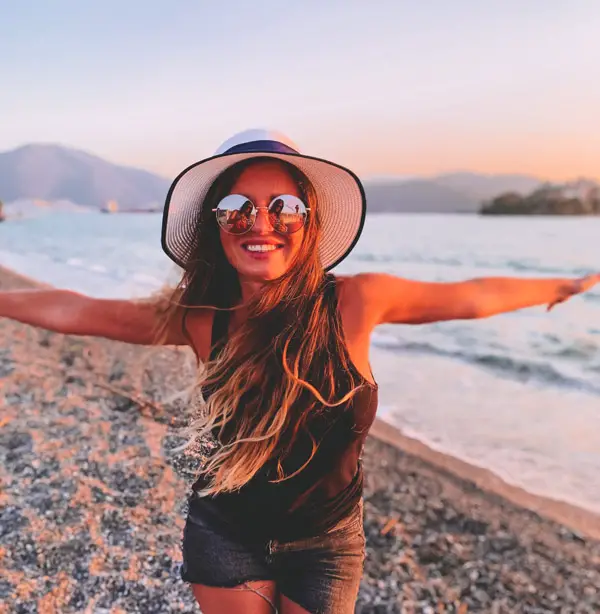 Having a good light source is an essential part of any photograph, and selfies are no exception. Use natural light. Try to take your selfie near a window or outdoors. All the skin imperfections will be seen on a photo taken in a dark room.
Try to keep the sun or other light source in front of you. The light will brighten and soften your features, rather than leaving harsh shadows across your face. Don't use your camera flash if you can help it. There is nothing worse than a selfie taken with a built-in flash. It will create a forehead flare, and probably give your photo a red eye effect. So, try to avoid using it (unless your camera is more professional than a smartphone and and it has a color correction balance mode)
If you are taking selfies inside, stand in front of a window. The soft natural light will reduce any harsh shadows on your face while still offering enough lighting to prevent the use of a flash.
3. Shoot from near or far?
Selfies are traditionally taken by holding a phone or camera at an arm's length, and while you can get good results with that set-up, experimenting with greater distance between you and your camera can provide a greater variety of options. Alternatively, try zooming in to emphasize your best features.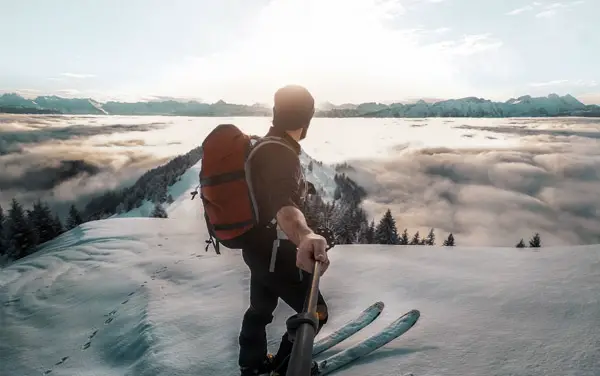 The distance you shoot from will also be influenced by your choice of background. Avoid messy backgrounds and always look for a feature point that you can highlight too. You are the focal point of the image, but if you're in a beautiful setting, decide what else you want to include too. You can always crop your image to capture the perfect backdrop or edit it to suit your needs.
4. Decide on angle—some examples
People have a range of reasons for taking selfies. But everyone wants to appear in their best light.
For some this can mean posing in a way that makes them look as slim as possible, while others want to highlight what they perceive as their best feature. Photographers taking the more classic self-portrait aren't as concerned with looking nice, but for the average person it's one of their main considerations.
Looking the camera straight-on can result in one of those dreaded driver's license mugshots. Shooting at a slight angle is a much better bet. A common trick with selfies is to look up into the lens to emphasize your eyes and avoid the appearance of a double chin. On the other hand, taking a selfie with your camera or phone directly above you can produce a slightly strange, unnatural look.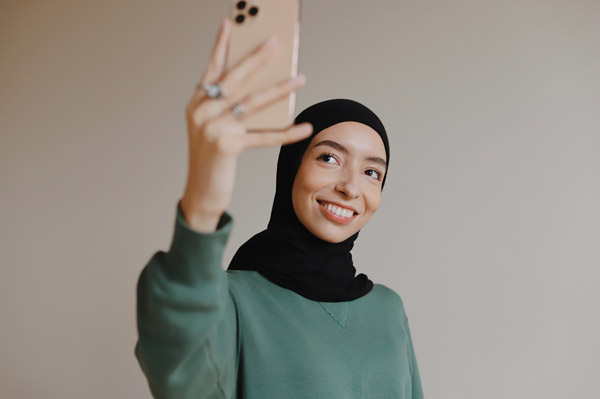 Experiment with different angles to show off your features. The advantage of being a photographer of yourself is that you can change the accents of a photo.  Stick your neck out just a little to eliminate that little bulge under your chin. If your torso is in the shot, turn your shoulder a little toward the camera. That would make you skinnier.
The light you're working with also plays a huge part in choosing the best angle for your shot. Using what is usually a flattering angle won't work if the lighting doesn't complement it.
Keep in mind that a natural-looking shot is the goal, so don't go overboard with angles – that is, don't look contrived.  Change camera position, shoot, take a look and shoot again. You can spend a lot of time to find a proper angle, but after you found it all your photos will look better.
5. Practice and review
One of the advantages of trying to improve your self-portraits is that you can take all the time you need to review images and experiment with new angles and poses.
You're both the photographer and model, making the process a bit simpler in terms of adjusting poses without miscommunication. Still, many people find it hard to be themselves in front of a camera, sometimes even when they're in control of the shoot.
Selfies are often spontaneous, although some people do put a lot of thought into how they want to appear in the image. When photographing yourself you need to strike a balance between a good pose and looking candid, which can ironically mean spending a while trying out different poses and facial expressions.
Using a tripod and camera remote can sometimes be helpful, as you have more time and leeway to move around without having to balance your phone or camera in your hand.
6. Post-processing
99.9% of images online have (almost definitely) been edited, whether through a slight contrast adjustment or extensive use of airbrushing to get rid of perceived imperfections. Selfies are no different; many of them actually fall prey to major post-processing, including the use of filters that leave the subject looking unnaturally smooth and artificial.
It's important that you avoid overusing the beauty or blemish smoothing feature as it can leave you looking more plastic than realistic. Removing small flaws such as a spot or wrinkle is one thing, but removing the definition that makes your face unique is not the desired result. Selfies should still look like you, only the best version thereof.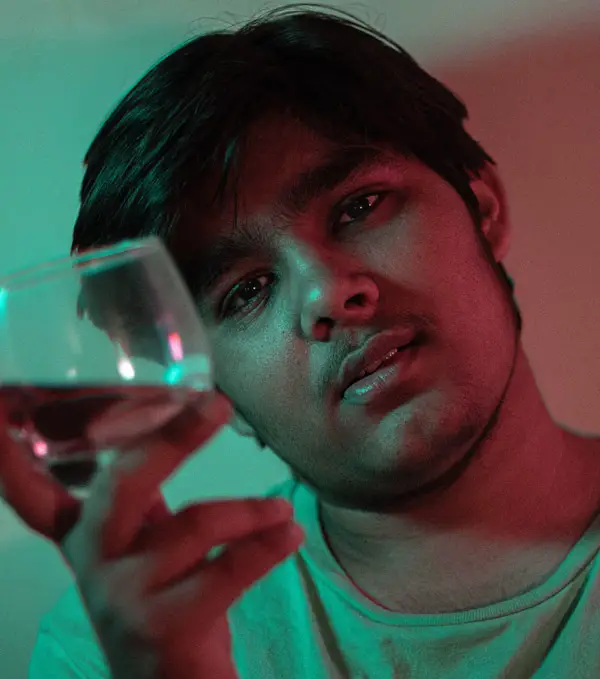 Simply enhancing the clarity and contrast of your selfie using the built-in Instagram, Snapseed, or Snapchat filters can turn it from average to exceptional. You can scroll through the various filters and view your image with each one applied, before deciding which look you prefer. Many of the filters soften images, add color enhancement, and a smooth quality. They also allow you to adjust their severity, so you can choose how much of an impact you want them to make on your image. Additionally, adjusting the contrast, saturation, heat, and brightness allow for a still-natural look, but with a more flattering result.
Professional photographers taking self-portraits often spend a lot of time editing photos, especially if they're going to add them to their online portfolio. But very few aim for the extremely airbrushed appearance that comes with basic filters. If you want to take your selfies more seriously, you may want to opt for editing software that goes beyond the basic filters and editing tools that social media apps offer.
There are many programs for post-processing; some quite affordable, others more expensive, and all offering a range of tools that you can use to adjust elements of your images. There are a number of options:
Paid:
Photoshop or Adobe Photoshop Creative Cloud—the most well-known editing software. Photoshop can be costly, but comes with a huge variety of tools that can work wonders with sub-par images.
Adobe Lightroom—easy to use with an equally impressive smorgasbord of tools. Lightroom is compatible with different devices, unlike some other software.
Capture One Pro—a bit more advanced and used by many professionals, but relatively user-friendly. With this software you can convert images into various different formats.
Free:
Aviary Phoenix—offering basic to more complex functions.
GIMP—an open source image editor that is free to use but of excellent quality. GIMP stands for GNU Image Manipulation Program and is also compatible with many devices.
Whatever you choose, the important takeaway is to play around with filters and editing functionality until you perfect the look you're going for. While getting a good shot is important, post processing plays as much of a role in the final result.
The best selfies are those that have been edited, but don't appear to be—they simply show the subject off to perfection.
Bonus tips
Look your best
Many people are self-conscious even when they're not in front of a camera. Every individual has insecurities ranging from their weight to the shape of their nose.
It is important to understand that there is nothing inherently wrong with being your authentic self in front of a camera, but still many people prefer to "smarten up" before stepping in front of the lens. This could mean using makeup to emphasize your eyes or lips, styling your hair, or wearing your favorite shirt.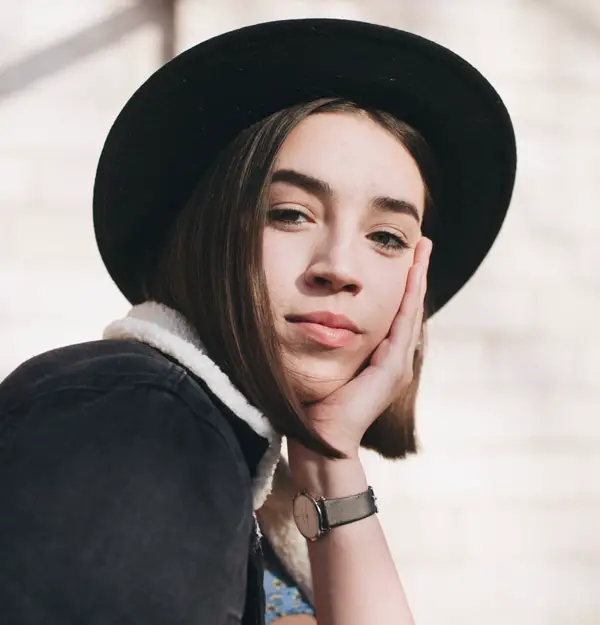 Know what features you want to emphasize, and make sure you accentuate them.
Think of expressions

You just can't go wrong with smiling. If you're on the serious side, a cool, collected expression could also work out.  But anyway, your selfie should never look like you're trying too hard. It should look like you took the selfie casually. Like you just were out and occasionally turned your camera to your face and took a photo of your happy face (and, of course, it turned out into something awesome).
Say No to mirrors

There are a huge number of disadvantages of taking a photo in a mirror: the image will appear in reverse, it could turned out with a weird glare, and you camera will be seen to everyone. You risk to get a distorted selfie, as your mirror does not always reflect back an ideal symmetric image.
Only if you want to capture a full-length photo, the mirror will work quite good. As using your arms you may capture only your head and a part of your shoulders.
Follow photography trends

Selfies have really taken off lately, and there is nothing bad about following new photography trends. What selfies trends filled up your Instagram feed? I'll give you a hint: Throwback Thursdays. Due to this trend you should share a photo of yourself some time earlier, for example last week/year/10 years ago.
Of there was also one more trend called hair smile. Following it you should show off not your smile, but hair (if you consider it as your biggest asset). And don't forget to add a hashtag, so people could find your trendy selfie.
Stay creative

There are so many selfies featuring subjects standing, or sitting, or even laying down. Before you snap your next selfies, think of all these selfies you have seen or taken yourself and try to do something different. Of course, a straight head shot has its place, but it would never stand out.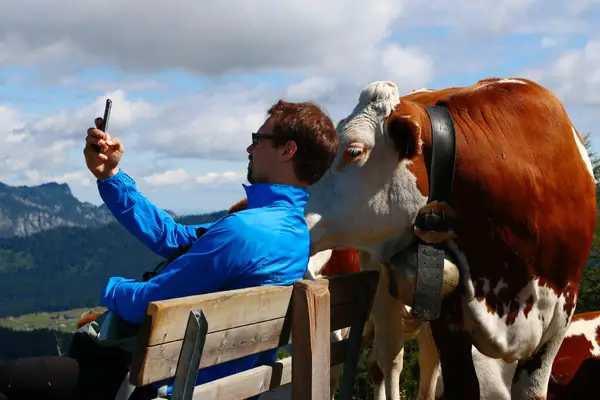 Always show confidence
All photographers value authenticity in their images. The power of a photograph increases greatly when the subject is fully present rather than trying to portray a certain façade. This also applies to selfies, even when you want to appear in your best light.
A selfie simply looks better when you're relaxed in front of the camera. While this can seem like a tall order, photographing yourself can be part of the process in terms of learning to be comfortable and confident in your own skin.
Have a look at how YouTuber and Instagrammer Dearly Bethany conquered her insecurities and learned how to exude confidence in her selfies :
When selfies won't do
New York Times made a conclusion that glamorous professional photos of you work way better on social media than selfies taken on smartphone.
However, selfies from phone will always be a part of social media branding as this content is really personal and shows real life "behind the scenes", in a manner of speaking.
Get That Shot
Taking a great selfie takes time and practice, just like any type of photography. Having the right light and equipment is a game-changer, as is learning how to capture a good angle. With these elements in place, your selfies will improve and your confidence in your ability will grow, too.
If you found this article useful, check out this one on how to shoot professional portraits.