It's become quite popular to present content for commercial use in the form of digital brochures. We now meet various booklets that aimed at delivering commercial info to the readers: product presentations, project descriptions, etc. A virtual brochure is a online alternative to a printed brochure or booklet. Such a booklet is usually very functional and has many benefits for both the project's owner and a potential customer.
Today we have showcased for you some interesting examples of flash page flip brochures created for definite projects with the commercial purpose.
The Challenge Network E-brochure
This online page flip booklet has been created for "The Challenge Network" program. You can turn the pages with the arrow buttons or by dragging the edge of the page. It is possible to zoom the page either by clicking on the page or dragging the slider.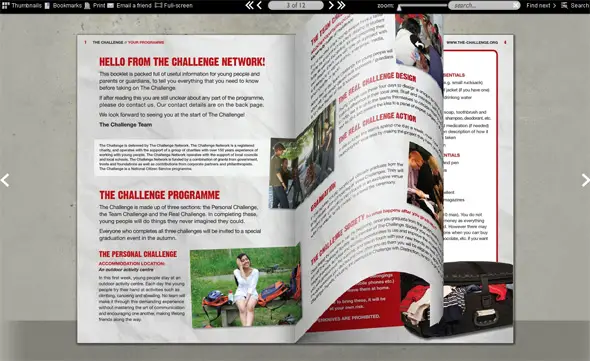 … Continue reading Flash E-brochures and Booklets for Commercial Use: Some Nice Examples