It's become quite popular to present content for commercial use in the form of digital brochures. We now meet various booklets that aimed at delivering commercial info to the readers: product presentations, project descriptions, etc. A virtual brochure is a online alternative to a printed brochure or booklet. Such a booklet is usually very functional and has many benefits for both the project's owner and a potential customer.
Today we have showcased for you some interesting examples of flash page flip brochures created for definite projects with the commercial purpose.
The Challenge Network E-brochure
This online page flip booklet has been created for "The Challenge Network" program. You can turn the pages with the arrow buttons or by dragging the edge of the page. It is possible to zoom the page either by clicking on the page or dragging the slider.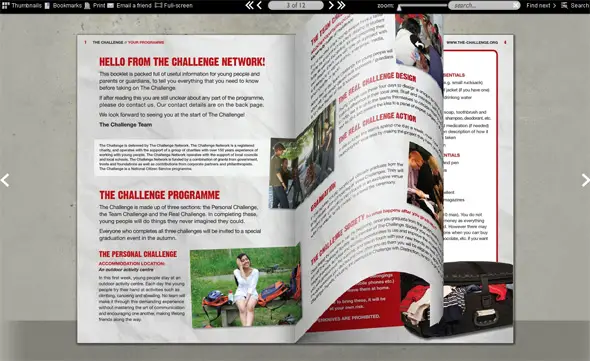 Safari Tanzania & Holiday Beach E-brochure
This Flash e-catalogue has been created to discover the Tanzania Safari Tour and Beach Holiday in the Mafia Island. There are all necessary functions available for this page flip book: Zoom In and Out, Share, Sound On/Off, Search, Help, Fullscreen, etc. It's a rather convenient solution for a digital catalog.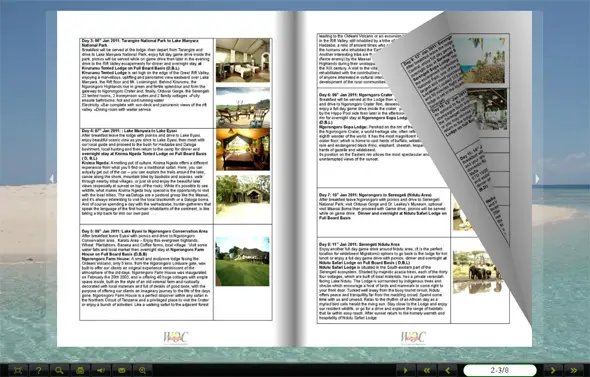 This "Sweet" digital brochure has been created for a chocolate boutique in Notting Hill. It is really easy to navigate the brochure. In addition to the convenient navigation, there are some handy functions like "Bookmarks", the "Search Box" section with advanced search, "E-mail a Friend", and others.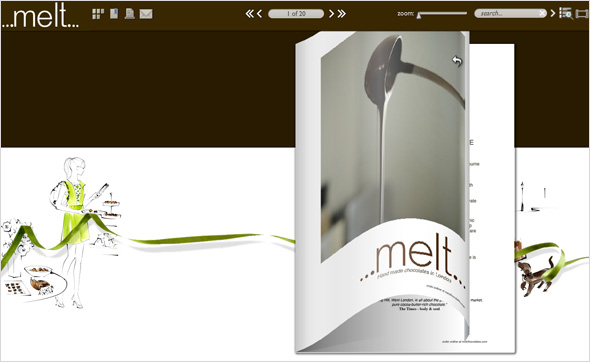 This Flash flip book is a good example of a professionally made digital brochure with page flip effect.  The instriction on how to use the brochure that is placed on the 1st page tells the readers how to navigate the brochure, access special features, find text, zoom in and out, etc.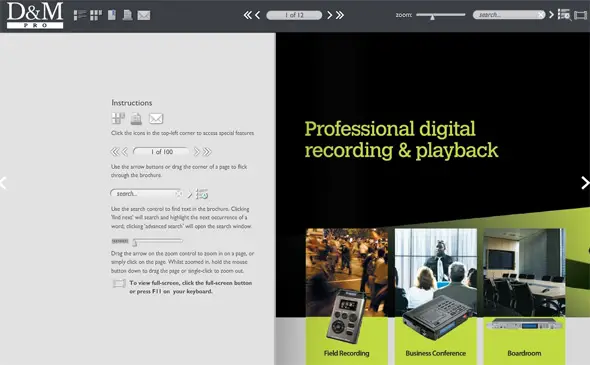 Siemens Freestanding Appliances
This promotional Flash brochure designed for the "Siemens" company is an attractive and handy solution for a commercial booklet like this one. It really easy to browse through the digital brochure, jump to the page you need, bookmark pages, search texts using the "Search" function, etc.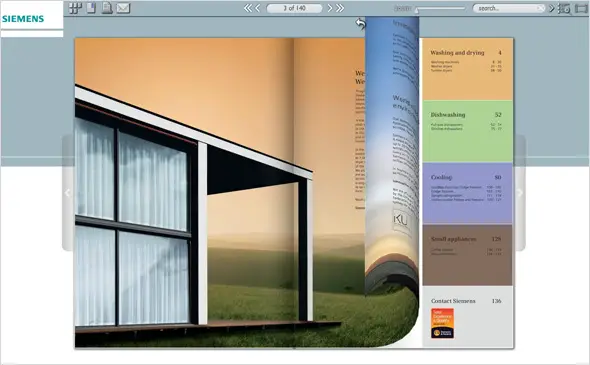 Take advantage of the ready-made Flash Flip Book templates that are complete Flash websites allowing you to create a digital brochure, book, catalog or even image gallery without a professional programmer's help.