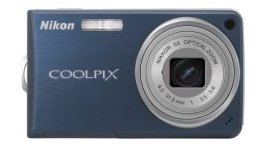 Before you even take it out of the box the Nikon Coolpix S550 looks cool (mine looks especially cool being "cool blue" coloured). But while looking good is nice the important thing is how it performs. Nikon give very simple instructions for getting started with your camera, step one in the quick start guide is, no joke, "remove the camera from the box"! This might give you the impression that this camera is only for first time photographers and people who frequently try to use electronic devices without removing the packaging. Whilst the S550 would be a good camera for both of those consumer groups I've been testing it out as someone with a reasonable amount of digital photography experience and so far, to borrow a phrase from McDonalds, I'm lovin' it.
Using the S550 on the Brooklyn Bridge in NYC.
It is fantastic to have a camera that fits in my pocket! Nikon markets the S550 as having the "smallest body among competing compact cameras" and it certainly is small for a camera with so many awesome features.