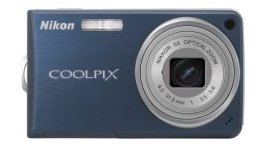 Before you even take it out of the box the Nikon Coolpix S550 looks cool (mine looks especially cool being "cool blue" coloured). But while looking good is nice the important thing is how it performs. Nikon give very simple instructions for getting started with your camera, step one in the quick start guide is, no joke, "remove the camera from the box"! This might give you the impression that this camera is only for first time photographers and people who frequently try to use electronic devices without removing the packaging. Whilst the S550 would be a good camera for both of those consumer groups I've been testing it out as someone with a reasonable amount of digital photography experience and so far, to borrow a phrase from McDonalds, I'm lovin' it.
Using the S550 on the Brooklyn Bridge in NYC.
It is fantastic to have a camera that fits in my pocket! Nikon markets the S550 as having the "smallest body among competing compact cameras" and it certainly is small for a camera with so many awesome features. First off it's easy to put it in a fully automatic "scene" mode and just point and shoot. There's every imaginable type of scene mode available from portrait to fireworks and beach to panorama. Face recognition allows the camera to recognize up to 12 faces which means getting clear group shots is easy. I played around in the automatic scene modes for a few shots but then switched to "shooting" mode which gives a surprising amount of control over the camera's settings. Exposure, aperture, and the point of focus can all be easily changed. ISO sensitivity can be set from 64 all the way up to 2000 (I haven't really found any reason to test the highest settings yet) and the white balance can set to any of seven different options.
Fishermen at sunset on Cape Cod.
I took the camera on a camping trip and a weekend away in New York City. For the camping trip it was great to have a camera that could both fit in my pocket when I was biking/hiking and easily attach to my tripod for some sunset shots. The only problem I had was with some blurred images when I was biking. My hands were a little shaky from biking fast in hot weather and even with the camera's image stabilization I got some blurry shots of a group of geese when I tried using full zoom to capture them. For me part of the problem was the lack of a view finder which meant holding the camera with arms tucked close to my body for some extra stability didn't work very well as then I couldn't see what I was taking a photo of! However I did find the ability to record a quick voice note reminding myself what I had just photographed was helpful, especially on the camping trip where I would otherwise have quickly forgotten which harbour that sun was setting over. In NYC I had fun experimenting with the "smile" mode, which allows you to add a list of recognized faces (by taking a quick portrait of the person you want to be recognized). Then when you're photographing one of those faces the camera detects when they are smiling and the shutter is automatically released. It's a nice feature, especially photographing kids whose smiles can be fleeting and the camera also alerts you if the subject blinked so you can try again.
P-town harbour on a Saturday afternoon.
Another feature I would like to try, but have yet to find a suitable subject for, is the time lapse photography feature. This allows you to take photographs at intervals of between 30 seconds and 1 hour until either 1,800 shots have been taken or the memory card fills up (whichever comes first). And of course there's also a movie mode, which allows you to shoot movies with sound, the length of the movie depends on the size of the memory card.
Overall I would certainly recommend this camera to a friend, it's a good all round camera with plenty of features for those who want to experiment or the option to just point and shoot for those who like to keep it simple. The battery charged quickly and has yet to require a re-charge, the LCD screen is a good size (2.5 inches diagonally) to see what you're photographing, and the lack of sliders, knobs, or other twiddly bits means it's a reasonably easy camera for someone like me with reduced fine motor skills to use. I do wish Nikon had provided at least a basic case though, to provide some protection for the LCD screen. So far I've been keeping mine in an old binoculars case until I get around to shelling out for a real camera one! You can buy the Nikon Coolpix S550 from Amazon.com.