The hunger for knowledge and the willingness to learn are priceless, but you may have noticed, sometimes both the reason and the aim of a question are ignorant. Sometimes questions are not asked to gain knowledge, but to show off, simply provoke you or… just for really no reason.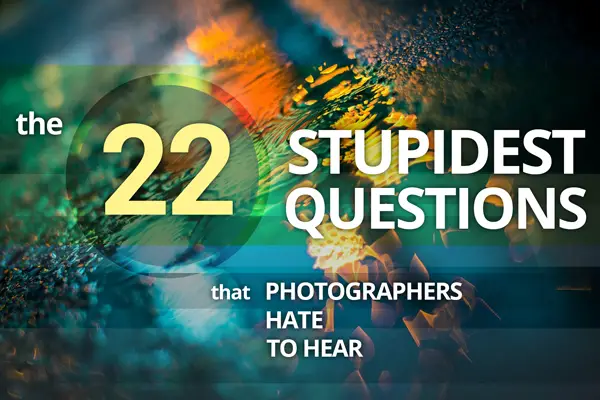 People of many professions probably have a list of the stupidest questions they often hear regarding their job. And I bet they are not that unique; just take one or two stereotypes about a profession, add laziness and narrow-mindedness, and here we have a magic recipe for really, really annoying questions.
In this post, I have gathered some of the most popular questions photographers hear. As you also might have noticed, what people say and what they truly mean are usually quite different things, so I have also included a possible hidden meaning. There are also possible variations of answers, but I am sure everyone's got their own 🙂
What camera do you have?
Read: Is your camera expensive?
Answer: I have a camera worth $1 billion. I forgot what it's called.
Do you use Photoshop?
Read: Are your original photos too crappy to be shown without editing?
Answer: I mostly do basic post-processing in lightroom. Then, of course, I export photos to Photoshop for further, visual adjustments, enhancing them with Illustrator-made vector graphics to both preserve the photographic intent and spice up the work with extra aesthetics.
I am just starting to learn. What camera should I buy as my first: the Nikon D4 or the Canon EOS 1Dx?
Read: I actually don't give a damn what you will recommend. I will simply buy the most expensive one, and I am most definitely sure that it will add around 10 years to my experience.
Answer: I don't think those are good enough. In your place, I would rather go for Hasselblad or Mamiya with a digital back.
You work looks pretty easy. How come you make a living from it?
Read: I bet your parents give you pocket money, you douchebag!
Answer: I sometimes wonder about this, too. I work two hours a week and ride a Jaguar. Funny thing, eh?
Why did you choose Canon over Nikon?
Read: How come you are SO ignorant about technology?
Answer: I just got a Canon body as a gift, and now I have no choice but to expand the system.
Why don't you invite girls to a shoot to make a move on them?
Read: As silly as it is, the question is usually direct.
Answer: I do, but they always run away and call the police.
Why don't you watermark your photos?
Read: Unlike you, I always watermark my photos, because they, unlike yours, cost a fortune!
Answer: No need to worry, no one wants my crap even for free.
Can you add some makeup in Photoshop and make me thinner?
Read: Maybe I should finally start eating less and…ah, screw it. It's not my problem anyway.
Answer: Sure, I will also make your face look like you're as smart as having read 50 books last year.
Why don't you have a BIG lens?
Read: I strongly doubt that you're a pro.
Answer: I actually had one, but the FBI confiscated it because I was making headshots of Martians.
What are the correct settings for night shooting?
Read: Don't give me all that exposure theory nonsense. Just tell which button I should press.
Answer: Just use the settings for daylight, only with a minus.
How many megapixels does you camera have?
Read: Is your camera modern and expensive?
Answer: You know, what matters more is the size of the matrix, not the megapixels because…ah, whatever! It has 1 trillion megapixels.
How much do you charge for a wedding?
Read: What else could you possibly do as a photographer?
Answer: I charge one night with the bride!
How do I zoom in on your camera?
Read: Stupid, big camera!! 🙁
Answer: With your legs, it is a prime lens.
Why do you tell me to turn off the flash? This landscape is totally dark!
Read: You must be really, really stupid to tell me to turn off the flash at night!
Answer: Just turn it off–it will scare the Yeti!
Can you make me a couple of photos. I will invite you to a dinner someday.
Read: Hooray, a free meal!
Answer: I will clean your toilet, too, of course…for a cheeseburger.
Do you take black-and-white photos?
Read: I think only black-and-white photography reveals the real, true essence of a person, does not it?
Answer: Castrating a donkey does not make it a stallion. Taking away color does not necessarily add value.
I am starting to pursue nude photography. What would you recommend?
Read: Yep, I am that sophisticated.
Answer: Exposed nipples make a photo a work of art automatically. There's nothing to master anymore.
What point-and-shoot under $150 would you recommend for my little sister?
Read: Google? Never heard of it.
Answer: I'll tell you right after you recommend me the best umbrella under $20!
Where does your inspiration come from?
Read: Come on, don't tell me you just sit and plan stuff.
Answer: I drink absinthe with vodka and think about eternity.
Can I have all the original photos from the shoot?
Read: I just cannot trust you to sort out the best ones.
Answer: Yes, sure, I will also give you the contents of my kitchen-sink filter as a bonus.
Where do you make the Photoshop effect?
Read: Tra-la-la-la-la…I want a lollipop…la-la-la…
Answer: In Microsoft Paint, of course.
Is it film or digital?
Read: I am looking at your photo, and I am not yet sure if it is a work of art or just a digital piece of crap.
Answer: It is a beer-can pinhole with a medium-format digital back.
This list is far from being complete, so if there are any questions you are sick of, please share them with us in the comments!