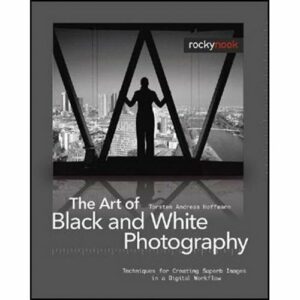 First of all, let me get something off my chest. I'm not picking on this book in particular, but generally, when will photography book authors quit talking about digital photography like it's some crazy new thing that people need to be gently introduced to? Why does every photo book have an "introduction to digital" section that is all but useless filler? It's 2008 people! If I wanted an introduction to digital photograhy, I'd have bought an introduction to digital photography book. Ok, rant over.
Read on to learn more about the book and find out how you can get a free copy.
Mercifully, The Art of Black and White Photography by Torsten Andreas Hoffmann keeps the intro to digital section to a mere 9 pages.
The meat of this book starts in section two. Section two devotes a full chapter to each of many different genres and concepts and attempts to show by example how to make black and white photographs.
Topics include overcoming clichés, architecture, portraits, street photography, and moods. Arguably, these are all topics that apply equally well to color photography. And in fact you could easily open this book to the chapter on, say, street photography, and apply the advice easily to color photos. If the example photos were in color you might even forget you were trying to learn something about black and white.
The example photos are quite good but very little space is spent explaining why these photos are better in black and white or how the removal of color enhances them. A person unfamiliar with the attraction of black and white might come away scratching his head. Technical details are lightly sprinkled throughout the text. For example, page 121 states "The photograph was taken with an analog camera, a 20 mm wide-angle lens, and a red filter. Yet, in spite of this red filter, the sky had to be burned in towards the top in the darkroom so it could unfold to its full effect." On page 93 you'll find "It was important to bring out the white highway stripes in the darkroom and to increase the contrast as well."
And for a book subtitled "Creating Superb Images in a Digital Workflow," a surprising number of images were creating using film cameras and traditional darkroom techniques. In many of the examples, rather than black and white techniques we get discussions of history, Greek mythology, and rather bland details like "This photo was taken with a 20mm wide-angle lens." It's an interesting read but not at all what I thought the book would contain based on its title.
Section three is devoted to compositional techniques. Again, most of these principals apply to photography in general, not just black and white. In this section though, I think it's easier to see the connection to black and white because composition deals with concepts like shape, line, and form—basic components that often become more prominent once color has been removed from a photograph.
Section four covers digital conversion techniques using Photoshop CS2 and CS3. This is a solid but brief section with good information on basic conversion, dodging/burning, contast, sharpening and more. (Although, at one point the author shows one example of replacing a bland sky with an even blander gray scale gradient.)
Would I recommend this book? Well, maybe. Not if you're looking for an introduction to black and white photography, certainly. But if you've already got some experience with black and white and you're looking for some inspiration? Sure. I would have liked to have seen a lot more explanation of why particular photos work better in black and white or why the photographer chose to use black and white over color. But possibly, the best audience is anyone who can benefit from the lengthy and detailed discussions on various photographic genres and compositional techniques that fill most of the pages. And if you want to talk philosophy, mysticism, or history in relation to photography, this is the book for you.
Want my review copy? Leave a comment with a valid email address. One reader will be chosen at random this weekend to receive a free copy.
This book was provided to Photodoto free of charge for review.