Many professional photographers rent lenses. Rather than spending huge sums on lenses (or other equipment), they rent just what they need for the job at hand. Sounds good, right? But not everyone has a decent camera shop nearby with rental service. In fact, I'd wager that you could only find lens rentals in large metro areas. Rentglass.com, an online lens rental company operating out of Florida, solves that issue by delivering lenses directly to you and at a price often cheaper than bricks and mortar stores.
I admit I was a bit skeptical when I first heard of Rentglass.com. They rent lenses for periods of one to three weeks at a time for prices as low as $11 per week. How could they possibly make a profit at those prices? The $11/week price is for a three week rental of the Canon 50mm f/1.4, a $300 lens. Say they rent it continuously for three week terms for an entire year. That's $561 in rentals (17 rentals x $33). If they sell it used for $150 at the end of the year they've made $561 + $150 – $300 = $411. Factor in that most people probably won't be renting for three weeks at a time and the higher rental rates for the more expensive lenses and it's easy to see that even at these low prices Rentglass.com can make a profit. The more lenses they rent, the more revenue they make.
Rentglass.com has been renting Canon mount lenses for a while but just started a "preview" of their Nikon mount lenses, so I decided to give it a whirl. I'm not affiliated with Rentglass.com in any way, I paid for my own rental, and no one at Rentglass.com knew I was going to write this review.
The website itself is typical for an online storefront with a visual catalog and shopping cart. Quite easy to use. They show the current stock status of every lens on the site. Most of the time you'll see that almost everything is out of stock. That means that all of their copies of that particular lens are being rented. But click each lens and you'll find a convenient link to be notified when the lens is returned. You can choose to get a one time email notification or to be notified every time the lens becomes available for the next 7, 14, or 30 days. You currently can't reserve a lens, so when you get that notification you have to hurry to the site to get it before anyone else does.
When you select the lens, you choose a rental term from one to three weeks. You get a discount for the longer terms. In addition to the rental fee you also choose a shipping method and pre-pay for return shipping. In my case, renting the Nikkor 18-200mm VR for one week cost $42 + $17.10 shipping both ways for a total rental price of $59.10. My local Calumet doesn't even have this lens on their price list yet. And Calumet costs about twice as much for their other lenses. No deposit is required, but they do have your credit card number, and you agree to pay for any damage while the lens is in your possession as part of the rental. Shipping is automatically insured against damage and loss both ways. And your homeowner's or photographer's insurance may cover rented equipment in your possession.
Out of box experience
I ordered the lens on Tuesday night, June 27. It shipped the next day and it arrived Friday morning, June 30, exactly when they said it would. Since they use USPS, they are able to provide Saturday delivery. And delivery confirmation lets them know exactly when you received your lens. This is important because your rental week does not start until you actually receive it. Delivery time to and from Rentglass.com is not included in your rental week. I had to sign for the package (a reasonable precaution to prevent loss). Here's what was in the package: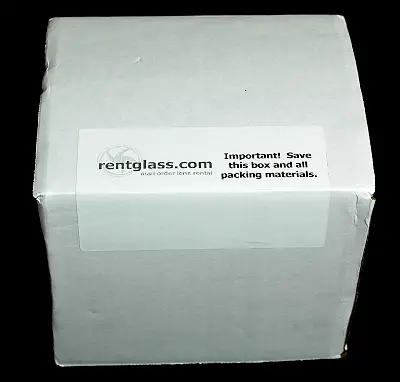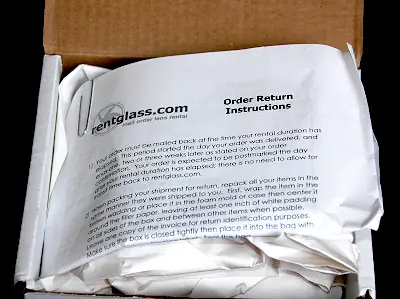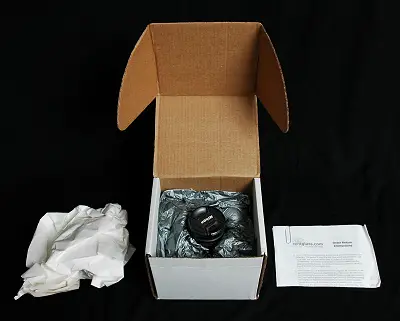 The lens itself was securely and carefully packaged. Included were return instructions, two copies of the invoice, and the prepaid return label and shipping bag. The lens came with both end caps and a UV filter attached. It was clean and in like-new condition.
I haven't returned it yet but they make it very simple. Their instructions state to simply keep all of the original packing material, repack the lens just as it was delivered, include one copy of the invoice (provided) for identification, and put the whole thing in the provided shipping bag with attached return label. You can drop off the package at any post office or schedule a free pickup from USPS. It's all pre-paid so no additional postage is necessary. And you don't need to account for return transit time since that is not counted against your rental week. Simple.
Conclusions
Overall, I really like the service. They delivered exactly what they said they would. I hope they can keep it up. It all depends on them being able to keep those lenses rented. Each day a lens goes unrented costs them money.
What I liked:
The lens was at my door less than 3 days after I ordered it.
The website was straightforward to use and their email notifications worked fine.
Similar rentals at my local Calumet cost twice as much.
What could be improved:
They need more copies of each lens and a bigger selection. I'm pretty sure, for example, that they only have one 18-200 VR because it went out of stock again as soon as I ordered it. I'm sure as the service becomes more popular they'll add additional inventory.
It would be nice if I could prepay for a lens to reserve it when it is out of stock. I'd like to be able to reserve a lens for a future date and have it arrive when I need it rather than hoping I'm quick enough to get it when it is returned.