While big chain stores have a great selection of gear  including lenses, lighting, bodies, and accessories, they don't deliver and their rates are high.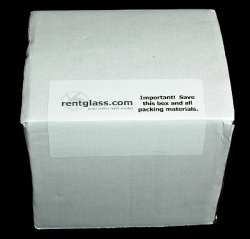 If you just want to try a lens out before you buy a copy, if you are looking for a bargain rental and don't mind waiting a little while to get it, or if you just can't rent anywhere locally, then one of these online lens rental shops could be the perfect fit.
Read on to find out more.
Each of these services have their differences but they all basically operate the same way. You order your lens online and pre-pay for the rental as well as both shipping and return shipping. The rental period (usually 1-3 weeks) begins when you receive the lens. Send it back the day after the rental period ends in the provided return shipping materials. In addition, none of the services reviewed below requires a deposit.
It's important to note that while shipping is usually insured and normal wear and tear is acceptable, damage and/or loss are not automatically covered. You can purchase rental insurance with some of the services. But you may already be covered under your home owner's insurance, credit card agreement, or photographer's insurance.
No matter where you rent, read the rental agreements and damage/insurance policies carefully.
Below are our reviews: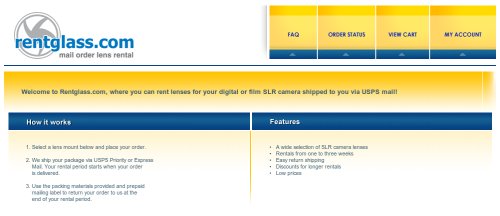 RentGlass.com is a great service that I've used in the past. Click here to read my original review of the service. The biggest problem with Rentglass.com is that they are so popular. That means that the lens you want is usually out of stock. You can sign up for an email alert when the lens returns to stock. But you have to be quick to be the first to claim it.
I've been away from the computer when the email came in on more than one occasion and clicked through to find the lens had already been rented to someone else. It can be frustrating.
But once you order a lens the process works beautifully. I've never had any issues renting from this shop and I can recommend them without hesitation.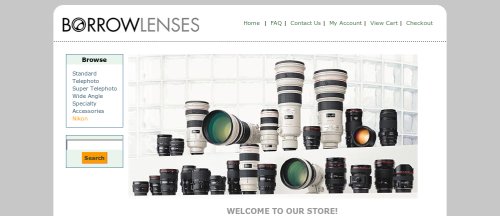 BorrowLenses.com is a solid offering and now carry many more brands of lenses than we previously noted. Prices are competitive and they are on the west coast so shipments to this side of the country may arrive a little faster.  They now have pickup locations all over the country.  They also offer overnight shipping if you absolutely need a lens tomorrow and will rent locally (San Francisco) for one or three days.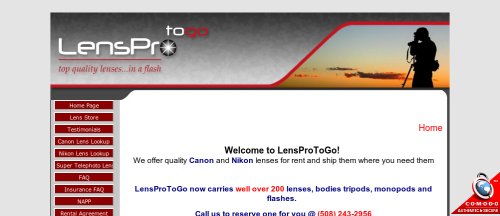 LensProToGo.com's website is  easy to use and you have to pick up a telephone if you want to  get prices on certain lenses but most have an easy cart system. Another thing I didn't like about LensProToGo is that they've bundled the shipping cost with the price of the rental. I'm certain they're making a nice profit on shipping as a result. For comparison, 1 week rental plus shipping of the Canon 70-200 from ZipLens costs me $90. LensProToGo charges $95.
Update: This article has been corrected from its original version. The $240 price is for 4 weeks, not 3 as originally stated.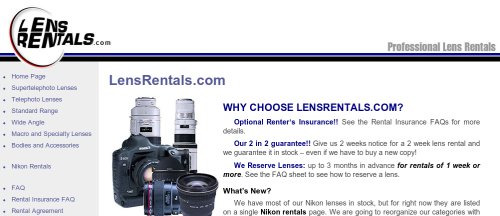 Also rents some bodies, lighting, tripods and accessories.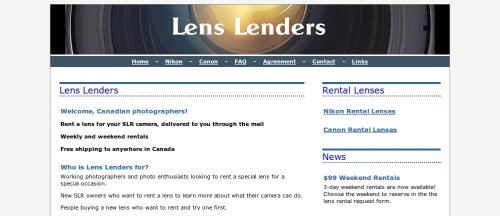 LensLenders ships exclusively to Canada. This is the only non-US service reviewed. Unfortunately for Canadians, the service has a poor lens selection, only offers payment via PayPal, and the prices (even with "free" shipping) are ridiculously high ($149 CAN is about $141 US right now).
Founded in 2007, Camera Lens Rentals has added a fleet of drones in 2013.  They rotate gear out of service every one year or so.  Shipments are guaranteed to arrive within 2 days.  Reservations accepted.  Rentals from 3 to 90 days.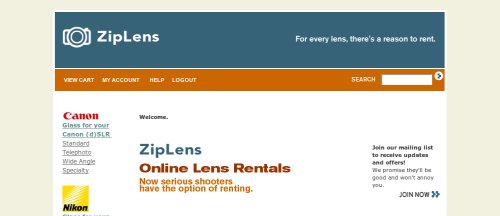 I've personally used both Rentglass.com and Ziplens.com and I like them both. Read my detailed ZipLens review here. Their policies, procedures and prices are virtually identical.
I hope you enjoyed this review of online camera lens rental places.