Picasa was the first online editing software that I heard people rave about, but I was left out of the fun; I couldn't use it from my Mac. I still can't, because I haven't upgraded to 10.4, so I'll never know what all the fuss was about. However, now I can play with Picnik.com, so I'm a happy camper.
Although Picnik is still in Beta, most of the time you wouldn't know it. The site, which is powered by Flash, smoothly performs many of the tasks that most users want from a photo editor. Furthermore, these tasks are logically organized.
When you first visit Picnik, you are faced with four large tabs: Your Photos, Edit, Creative Tools, Save & Share.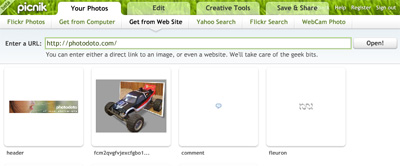 The first, allows you to add photos from all sorts of places. You can upload images from your computer, take them from flickr, or take them from any other website, such as Photodoto. You can even take them from a WebCam photo, although I didn't try this.
Once pictures are uploaded, you can edit them in any number of ways. No, you cannot do all the fancy tweaks that a high-end program like Photoshop does, but you can do most common tasks, including Auto-Fix, rotate, crop, resize, change the exposure, fiddle with the color, sharpen, eliminate red-eye, and undo.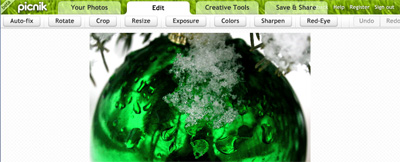 Click each tool to see a menu of choices. For example, if you click Colors, you can change the warmth, the saturation, or the white balance.
Choose the Creative Tools tab and you will remember that you're in Beta, because you see a whole lot of buttons labeled "Coming Soon," but click Special Effects and you will get some idea of what those buttons might include. The site already offered so much functionality, that these empty buttons just made me want to return.
When you have finished playing–oops, editing–you have numerous options. You can save images on your own computer, send them directly to flickr, or to several other websites, including Costco and Wal*Mart.
All in all, I was impressed. I found Picnik to be useful, fun, and easy to use. That last remark does not often fall from my fingers, because I find few new sites easy to use. I easily become confused by a multitude of options sprinkled liberally over a page. However, Picnik is organized so thoughtfully and logically that I was up and running within minutes. Try it and see for yourself.