Peak Design is familiar to any pro photographer and their latest Kickstarter project for their Everyday Bags that gathered over $6,000,000 of funding has made them famous far beyond the photography world.
While their new backpack, tote, and sling from the Everyday series are conquering the world, I've got a chance to put my hands on Peak Design's Every Messenger that has already become classics to many.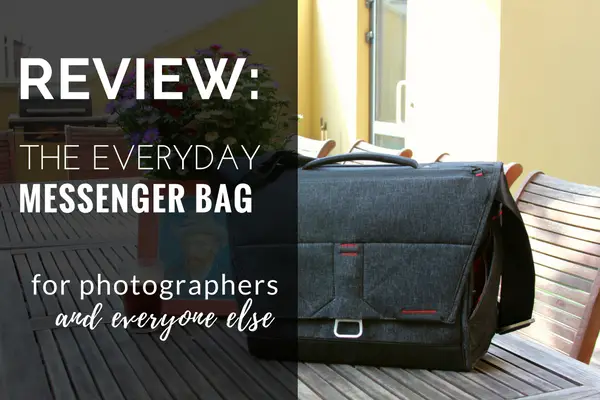 Below is my review of this stylish camera bag and messenger which includes a brief unboxing video.
Whether you're a photographer looking for a functional bag to put your gear into, or you're a smart gift giver preferring to shop for gifts before they are out of stock during the holiday season, this review will come in handy.
Thanks to Peak Design for providing a bag for this review.
Unboxing and overall impression
The bag was delivered in a branded envelope with my favorite unstitch-to-open end. Seriously, I can't help loving that kr-r-r-r-r-r sound of a thread being pulled, or watching the loops coming through the holes one by one (I told you I'm an unboxing junkie, right?).
Here's the video of unboxing the Everyday Messenger 15", as well as packing it with some photo gear and, you know, everyday belongings.
As you can see from the vid, the bag is not your average photo equipment bag, nor is it an average office messenger.
The bag was designed to fit the needs of both photographers throughout their day and everyday commuters who might take their DSLR along from time to time.
Capabilities
My bag review process usually starts with checking the product's features listed by the manufacturer one by one. I heard of a few innovative elements the team at Peak Design implemented in their Everyday Messenger, so I couldn't wait to put my hands on it.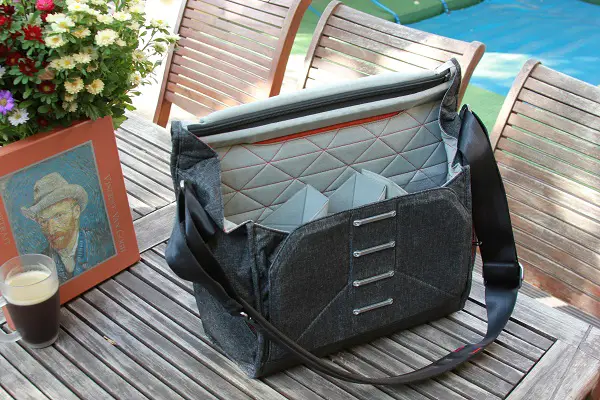 Here's what the Everyday Messenger includes inside and out:
Weatherproof waxed shell and interior zippers
1 main spacious compartment to hold a DSLR, up to 3 lenses, and multiple photo accessories
1 dedicated rear pocket for a 15" laptop
1 velcro tablet sleeve located in the rear pocket
3 fully versatile padded dividers
1 quick access front panel pocket with multiple compartments for smaller items
2 side pockets with a hidden key tether in one of them
Fold-over flap with a latch-based closure system for quick, no-look, one-hand access
1 top zipper for quick access to the bag's interior
1 Adjustable internally padded strap enabling both classic messenger and shoulder-bag wearing manner
1 stabilizing strap to wear cross-body or around the waist (converts to luggage trolley strap)
1 top-grab handle
Quite a list, huh? And here are the bag's key specs:
Exterior dimensions: 12 x 17 x 7 in / 30 x 43 x 18 cm
Volume: 823 – 1251 cu in (13.5 – 20.5 L)
Nude weight: 2.5 lb (1.1 kg)
Some of the features were easy to spot, such as the latch flap or top zipper. I had a few "Aha!" moments, though, discovering certain elements. But more on it later.
I really like the versatility of the bag's dimensions. It looks quite slim at first sight, but should you need to carry some bulky things, it will cope with the volume graciously, so that you won't believe it can hold so much stuff.
Materials
The Messenger is made of the ultralight waxed Kodra synthetic canvas with DWR undercoat for weatherproof capabilities. The interior features poly-spun mixed twill and high-density EVA foam dividers. The same compression-molded foam is used for the interior protective panels. The bag's hardware is manufactured from premium stamped aluminum with applied sandblasted finish and clear coat for extra protection.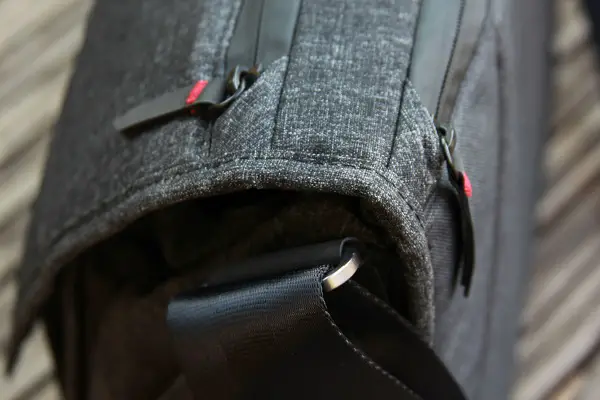 For this review, I've received the Everyday Messenger in Charcoal and I must admit there couldn't be better option for you if you have little kids in the house, and if you're living in a 4-season climate with sleety falls and snowy winters.
Design
The design of the Everyday Messenger very well reflects the idea of the universal multi-purpose bag that the founders of Peak Design once decided to put into life. How is this achieved? Well, the bag has a classic shape, neutral color options, sophisticated functionality, and even provides several wearing styles.
The 15" Messenger I've put my hands on for this review is a bit too large for my body type, but there's also the 13" version for smaller figures.
Special hooks
As you might know, the Everyday Messenger was created by the San Francisco-based Peak Design in collaboration with Trey Ratcliff, the well-known photographer and traveler.
No wonder the bag has a number of special elements that any photographer would appreciate. Besides, the Messenger is equipped with a few quite nifty functions making it pleasure to use, regardless of whether you're into photography or not.
Latch flap
The closure system of the Everyday Messenger consists of 4 ladder lock bars riveted to a stainless steel plate. It takes a moment to pull up on the latch to make it securely locked onto the closest lock bar. Same works for opening the flap. The best part is that you can open and close the latch flap with one hand and without the need to look at it. Plus, the mechanism produces almost no sound so you can check your gear quietly without disturbing anyone around.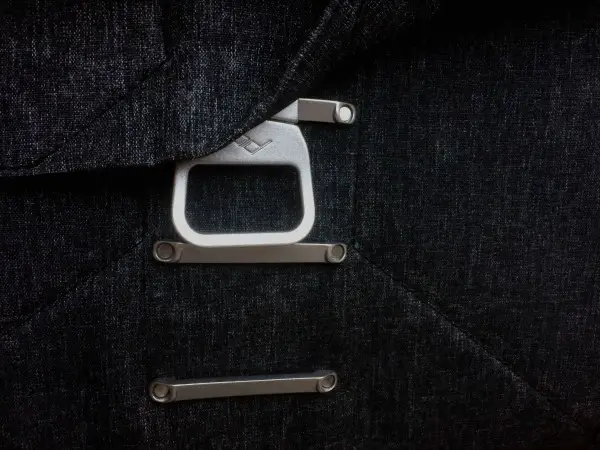 Origami-inspired inserts
Unlike regular-rectangular dividers provided in most photo camera bags, the FLEX-FOLD™ inserts you can find in the Everyday Messenger are pre-folded in all directions so you can bend it in any possible way you like. It's possible to customize the dividers specifically to your gear or current bag contents, which is definitely a win.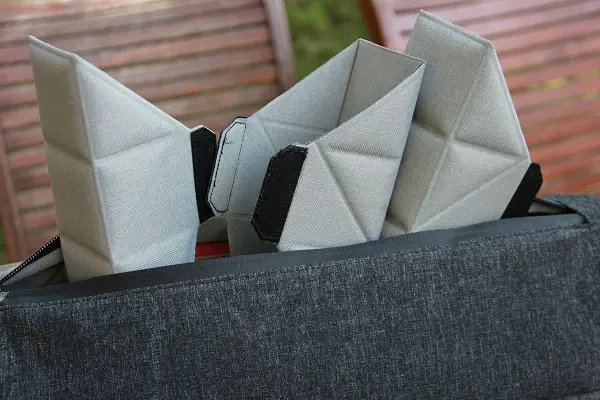 Stabilizer straps
These are ingenious. Seriously. My husband who helped me test the "everyday capabilities" is not a big fan of messenger bags because of the uneven weight distribution they usually cause.
With the stabilizer straps it feels so much different, though. You might use one strap to fix the bag cross-body (to ride a bike, for instance), or you can fix the straps around your waist while in the classic messenger mode so that you could feel comfortable even with a loaded bag.
A minor downside to using the stabilizers is that it takes a couple of extra minutes to hide the straps back into the hidden side compartments after you use them. This is probably a cavil since using the stabilizing straps is so much worth it.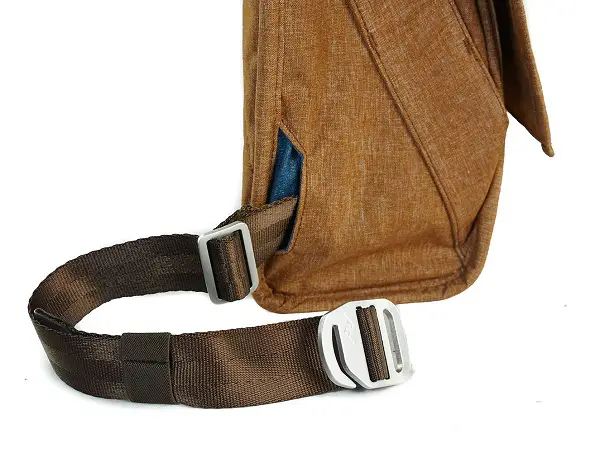 Trolley strap
The abovementioned stabilizers easily turn into trolley straps to securely place your Messenger on your luggage. A small yet super handy feature we're happy to see, especially after our latest trip when we made like hundred of attempts to fix that damn backpack on the suitcase.
By the way, the Everyday Messenger is approved for carry-on by all major airlines.
Tripod carrying
To be honest, when I saw a silicone band in one of the pockets, I thought this is a hand accessory (girls will be girls). The aha! moment was when I saw the "tripod band" legend on it. There's a secret tripod sleeve on the back of the front flap, which together with the tripod band makes a built-in tripod carrying mechanism.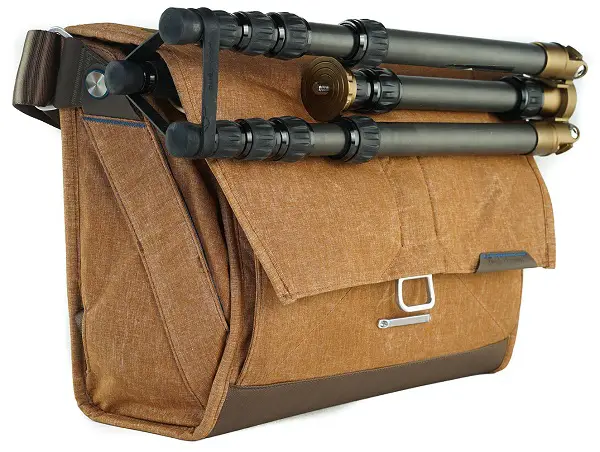 Just as promised by the manufacturer, the Everyday Messenger is tailored to carry a tripod of nearly every type with ease. Don't have one? Hint: see the first sentence of this paragraph. You're welcome! 🙂
In real life
I used the Everyday Messenger once for our family photo walk in a local park. As I mentioned above, the bag is a bit too cumbersome for me. However, this was by no means a disappointing factor for me. Quite the contrary, the bag's versatility and extreme capacity made me want to get a 13" model rather than reject the product at all.
My husband Dmitry (the handsome guy in the unboxing video) loved the Messenger's overall style so he happily agreed to help me test it for the review. Hence, this article reflects our combined impression.
Dmitry is into photography too (check out his photos, he's cool!) but he's only carried the bag for work so far and for the most part he's quite happy with it.
The latch closure mechanism felt quite secure even with a more heavy-load setup.
Top zipped pocket also proved its value in everyday use – it's way easier to just unzip and take out what you need rather than take the bag off and open it in a regular way. This is especially cool for some quick-access things like your water bottle or camera during a shoot. If you remember its position in the bag, just unzip and take it with one hand without even distracting from whatever you're doing at the moment (I hope you won't do this when driving, though).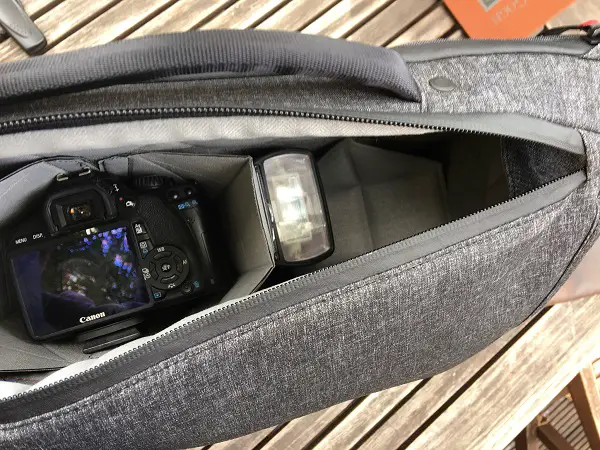 One more element I want to applaud Peak Design for is the color-coded mesh pockets inside the zipped front panel compartment. Now you can quickly separate full memory cards and low batteries from fresh ones.
Another thing worth mentioning is that the bag has the ambidextrous design. This may not be obvious at first sight, but here's a helpful video from the manufacturer which shows exactly how you can adjust the strap to carry on the left side (skip to 6:10).
"What about the cons?", you may ask. Well, frankly speaking, the minus list is quite short in the our case.
In particular, I noticed that the strap starts sliding when the bag is loaded to its max capacity. It's quite easy to readjust it with a special handle (can be done with one hand without taking off the bag), but this can get a bit annoying if you plan to load it to the fullest often.
Dmitry's observation is that the side pockets lose much of their function without some kind of closure. The small things he tried to put there, including his keys attached to the key tether, were constantly falling out when the bag was placed horizontally or just slip off the seat in the car.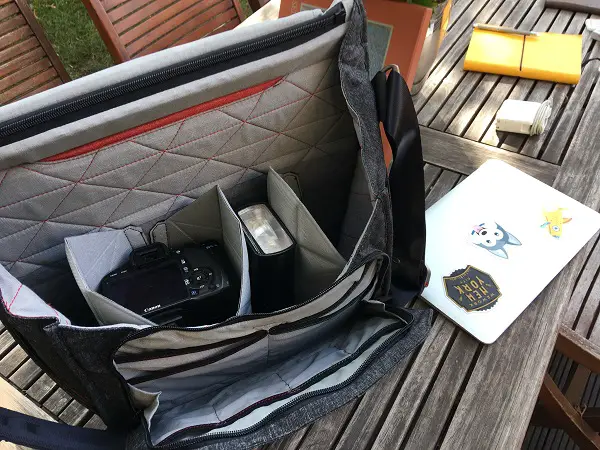 The Verdict
Peak Design did an excellent job with the Everyday Messenger. The bag is super stylish, super functional, and super versatile. To recap our impression, here are our favorites:
Durable, weatherproof materials
Innovative, multi-functional design
Lots of space for photo gear and smaller accessories
Lots of small yet life-saving functions
Weight distribution with stabilizer straps
Elegant, universal style
Carry-on approved
What we thought could be improved:
The side pockets could use some closure to prevent things falling out when the bag is placed horizontally.
The strap starts sliding when you carry a lot of things in the bag.
In general, the Everyday Messenger is very close to being the perfect everyday bag for photographers, office workers, city wanderers and, quoting the manufacturer, "everyone in between". It features an exceptional design, both from the technical and aesthetic points of view.
I think it's fair to say this bag can be your No.1 candidate for the perfect gift this holiday season, so be sure to check out more reviews and order the Everyday Messenger on the Peak Design website or pick up your Everyday Messenger at B&H.