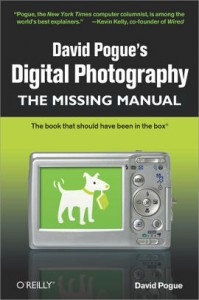 Digital Photography: The Missing Manual from O'Reilly sets out to answer all of the questions beginning photographers face before and after they open their new cameras and file away the unopened and often unfriendly manual that came with it.
I'm giving away my review copy. Read on to find out how to enter the drawing.
For the digital novice, this book opens with two chapters on choosing a new camera in the first place. These chapters are great if you don't know what to look for in a digital camera or you find yourself exasperated from teaching a friend or relative about megapixels and digital sensors. The advice can help you determine what you need, what's important, and what can be ignored.
The following five chapters deal with actually using the camera itself. Chapter 4 covers decisions that are often made on a shot-by-shot basis, chapter 5 is devoted to avoiding blur. Chapter 6 contains nothing but "recipes" for certain types of shots: panoramas, frozen action, classic sunsets, outdoor portraits, etc.
Chapter 7 has a little advice specifically for SLR owners. But other than that and few notes here and there, this book is really for any beginner regardless of camera type.
The book concludes with Part 3 which is sort of a short course in using iPhoto and Picasa. And Part 4 deals with printing and sharing photos online.
All in all, it's a pretty good book for: anyone new to digital photography who needs help choosing a camera; beginners who feel that the owners manual that came with their camera was, to put it nicely, somewhat lacking in helpful information; folks who need help learning how to use iPhoto or Picasa; or for photographers who need instructions for taking certain kinds of photos (the recipes in Chapter 6).
Pogue does a great job of explaining, in easy to understand language, what can sometimes be a complicated topic. It's nonintimidating, easy to read, and provides a good introduction to the breadth of digital photography topics from choosing a camera to keeping digital backups.
To get my review copy, leave a comment with a valid email address. I'll choose a recipient at random this weekend.
This book was provided to Photodoto free of charge for review.