If you've ever had an interesting project for which you needed funding, then you've already likely heard of Kickstarter, the crowd-funding website that was launched only in 2009. Since then, though, the site has already provided the means for funding various video games, movies, food-associated projects, comics, stage shows, journalistic endeavors and music aspirations.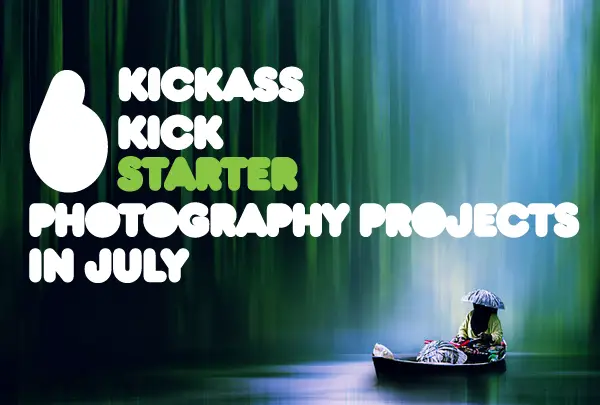 The site doesn't allow people to invest in the project asking for funding. Instead, it only allows people who back projects to receive either tangible rewards or once-in-a-lifetime opportunities in return for their support and funding.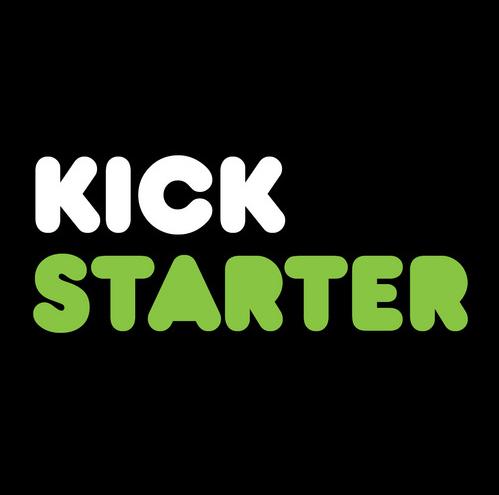 With such a practical-though-ingenious approach, it's no surprise that Kickstarter is also the place on the Internet to find a host of highly interesting, photography projects. We want to walk you through the best photography projects currently on Kickstarter, so that you can find out right now what'll be hot in photography tomorrow! Here are the Kickstarter photography projects you'll want to closely watch.
Meet the Spinpod!
One of the most exciting, new, photography projects on Kickstarter is the Spinpod, the brainchild of partners Daniel Aharoni and Zhiping Chen. Excitement for this photography device has been steadily building: The Spinpod reached 100 percent of its funding needs in late June. Billed as the "seamless panoramic & motion time-lapse photography device," it promises to allow even the most unsophisticated user to snap great panoramic photographs as well as motion time-lapse videos.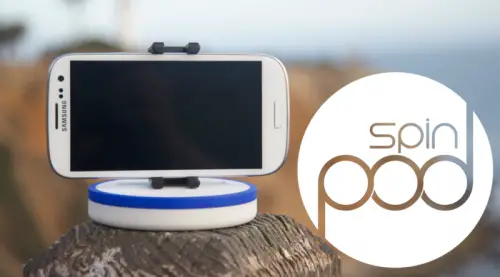 The goal is for the Spinpod to be affordable for basically anybody on any budget. In addition, it's also compact enough that people can take it with them just about anywhere, also making it highly durable.
The Spinpod works with your smartphone or digital camera, and its handy docking slot makes fitting iPhone 4s and 5s into it a breeze. The mounting adapter allows for the use of cameras while a special landscape mount permits for horizontal phone mounting.
At Photodoto, we haven't yet had the opportunity to test this little baby out for ourselves, but from all that its creators are promising, it would definitely be a hot gadget to play around with this summer.
Link: http://www.kickstarter.com/projects/665986460/spinpod-seamless-panoramic-and-motion-time-lapse-p
Meet Infragram!
Are you a farmer, so-called "geek gardener" or just an open-source, do-it-yourself scientist? Have you also been looking for a really affordable infrared camera? If you said "yes," to both questions, then your prayers have just been answered! For no more than just $35, you'll be at the forefront of plant photography. Yes…plant photography.
This nifty piece of photography technology was originally developed in the wake of the BP oil spill in the Gulf of Mexico, which lasted for 87 days in President Obama's first term. Since then, its creators—Cambridge, Massachusetts', Public Laboratory—have discovered all sorts of additional uses for it.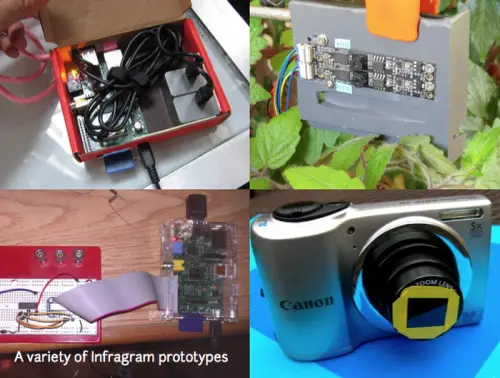 For instance, Infragram can:
Monitor household plants
Snap photographs to evaluate plant health in parks, wetlands and gardens
Educate people about photosynthesis and the growth of plants
Keep track of unhealthy sections of local ecology
Be of use in highly interesting science-fair projects
Infragram has already shot past its funding goal at the time of this writing, which is attributable to the great excitement that it has attracted from backers.
Link: http://www.kickstarter.com/projects/publiclab/infragram-the-infrared-photography-project?ref=search
Meet Poppy!
In a nutshell, Poppy is a device that can turn any phone into a 3D camera. Sound too good to be true? The 1000-plus people who pledged $40,000 to this photography project in the first 9 hours it was on Kickstarter don't think so! This device allows people to capture, view and, of course, share pictures and 3D video clips cheaply.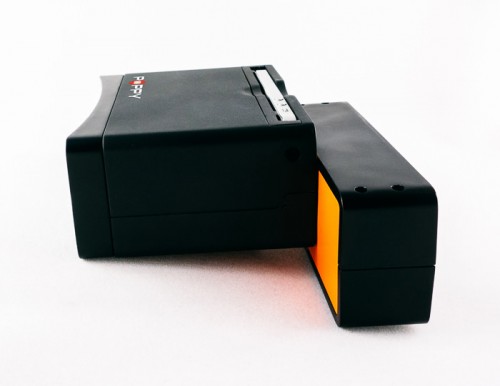 Poppy only works with the 5th-generation iPod Touch, the iPhone 4, the iPhone 4s and the iPhone 5. Just stick your smartphone into Poppy's slot so that its mirrors can capture two stereographic pictures with the iPhone's camera. When a person looks into this device's viewfinder, he'll see just one, crisp, 3D video, the product of the combination of the two video streams. You don't need batteries since Poppy only relies on your iPhone's screen, camera and optics.
This ambitious photography project is the brainchild of Seattle's Joe Heitzeberg and Ethan Lowry. We'll definitely be on the lookout for more news from Poppy in the future!
Link: http://www.kickstarter.com/projects/935366406/poppy-turn-your-iphone-into-a-3d-camera-0?ref=live
Meet the Handleband!
This photography project is made especially for people who love bicycling and photography. The Handleband is a universal bike mount that has the power to turn your phone into a camera, light, ride tracker and even navigational tool. With all of these diverse uses and applications, it's no wonder that it's already skyrocketed well beyond its initial funding goal!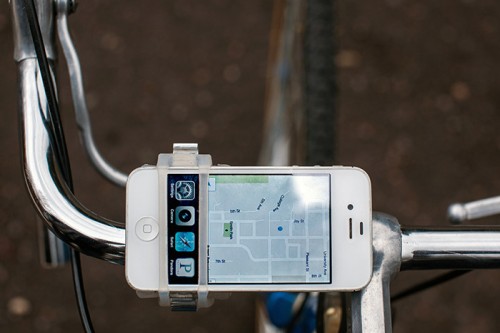 It's essentially a hardcore, minimalist device because it's just a band, but by wrapping it once around your smartphone and another time around your bicycle's handlebars, you're all set to go. The beauty of this simple gadget is that it will work with any bicycle and any smartphone—guaranteed! In addition, it will also hold pumps, flashlights and, should you need them, diplomatic flags.
The aptly-named Handleband is also extremely secure, fitting tightly and snugly on your bicycle's handlebars. Its creators have tested this gadget on even the most rugged mountain-biking trips!
From creator Daniel Haarburger from Boulder, Colorado, the Handleband would make an ideal gift for a photography-loving bicycle enthusiast.
Link: http://www.kickstarter.com/projects/445602678/the-handleband?ref=live
Meet the RAM: The Motorized Camera Dolly/Slider!
The RAM is an acronym for revolve automated motion; it's a motion-control kit that promises to bring exact, automated movement to either your camera slider or dolly for video or time-lapse. In essence, the RAM solves the problem of putting extremely costly motion-control systems into the hands of your average photography enthusiasts. It offers precision motorized control of all of your camera movements, and it's available for a fraction of the cost of typical units.
If stunning footage is what you're after, stunning footage is what you'll get with the RAM. It's the ideal motion-control system for extremely smooth video and time-lapse. It's also highly versatile, making it easy to use with any camera slider or the dolly kit from the same creator of this project.
Get this system if you're sick and tired of available motion-control systems being hard to travel with, extremely complicated, very costly and utterly lacking in versatility.
At the time of this writing, this project still has a ways to go until it meets its funding objective, though!
Link: http://www.kickstarter.com/projects/626733935/revolve-automated-motion-motorized-camera-dolly-sl?ref=search
Meet ParaShoot!
ParaShoot bills itself as smart HD videography that everyone can wear. That's right—with this gadget, you actually shoot HD pictures with a small smart camera that dangles around your neck like a fashionable chain! Sound too good to be true? The 200-plus backers who've already put up more than $35,000 don't think so!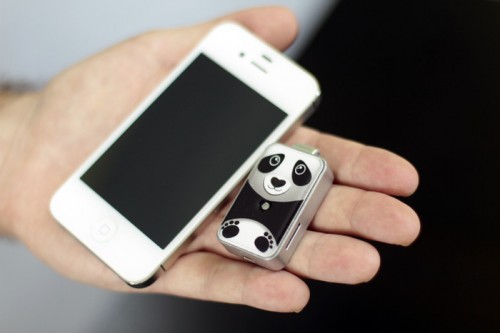 ParaShoot is a camera that you wear and is utterly wireless, making it absolutely ideal for all those situations you just want to capture with your camera at a moment's notice. Here's a bonus feature you weren't expecting: It permits you to upload any content directly to the cloud, so that you don't even have to bother with connecting ParaShoot to your desktop! The convenience is staggering, and it can also shoot video for you in 720 HD.
According to tentative plans for this nifty gadget, pre-production models are slated to go out in September 2013, but only to the first 200 early adopters. The brainchild of New Yorkers Matt and Colin, ParaShoot has a lot of promise indeed. We're eager to see how this project is received in the marketplace.
Link: http://www.kickstarter.com/projects/540550394/parashoot-smart-hd-videography-everyone-can-wear?ref=search
Kickstarter Equals Creativity
Kickstarter was an ingenious idea for a website. It empowers ambitious people with very interesting ideas and creativity to get funding for various projects that otherwise would never see the light of day. The laws of the marketplace rule on Kickstarter: If people think that your idea is interesting and highly desirable, then they'll reward you with funding. Let's face it: Good ideas don't just happen to everybody.
The various photography projects on the website illustrate this reality very effectively. At Photodoto, we scoured Kickstarter far and wide to find you the very best photography-related projects on the site…and there are quite a few of them. However, what the ones on this list that made the cut share is that they've got promise. Big promise.
Many of them have already blown way past initial funding goals and expectations. Some have even moved on to the production phase of their respective projects. We're definitely interested to see what happens with each of these projects in the near future!
What about you? Do you have a photography project on Kickstarter that you think will take off, but just hasn't been given sufficient exposure yet? If you're just a regular visitor to Kickstarter, do you think that other photography-related projects should have made this list instead? Whatever you think, feel free to sound off in the comments, as always. Oh yeah, and do be sure to share this post to your heart's content!