You might have lots of black and white photos captured in the days of black and white film cameras or just captured in black and white. Are you interested in colorizing these images?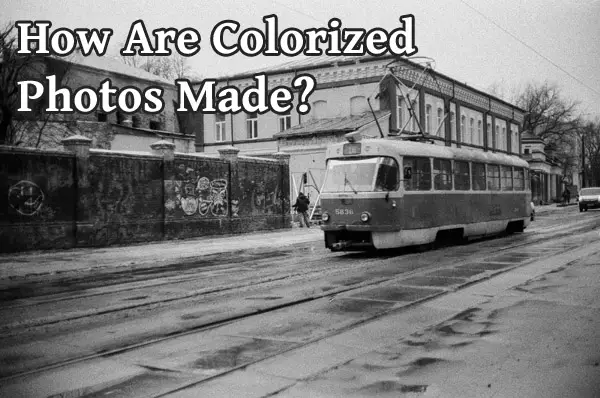 If yes, you will definitely find this article very useful as it describes all the options you have for performing this task.
In this article, you will learn the different websites, software, and application that you can use for colorizing photos.
Generally, photos are colorized applying different layers of colors, often using proprietary technologies, including artificial intelligence in some software. There are both paid and free colorization options. If you are interested in using the service of a professional colorizer for your monochrome images, you can do that also.
Let us get started.
Why do people colorize photos?
Colorization of black and white pictures helps to give life to the old images. It will make you see the image from a new perspective. You can clearly see many differences between the monochrome image and its colorized version. It also makes them appear more lifelike since we see the world in color outside a camera.
Black and white pictures are known to take distractions away from an image. But, when you colorize an image, you will be able to see more details in the picture. For example, you can see the patterns and textures of the old clothing styles.
It is like seeing the history in color. Some black and white photos can be made more visually interesting and appealing to the viewer by converting them into color.
When did photos become colorized?
It is always good to know about the history of colorized images. The first color photography process came in 1890. It is called the "Additive" coloring process. Here, the colors were generated using the mixing of green, red, and blue light.
It was Fredric Ives, an American photographer, who invented the three-colour separation negatives technique with the help of colored filters. This negative was developed into positive with the help of a special viewer called the Kromskop. But, this system was complex and expensive.  
Later, Dr Jon Joly devised another technique of generating the negatives with the help of a single filter comprising red, green, and blue instead of separate filters in 1894. This process was employed commercially in the year 1895. However, the results were not successful because of the limited color sensitivity of the plates.
Next, autochrome was invented for getting colors in the image by August and Louis Lumiere. It was the first successful commercial screen process.
How accurate is the colorization of black and white photos?
The accuracy of colorization of black and white pictures depends on many factors.
You have two options when it comes to image colorization. You can either use a software and do it yourself or use the service of an experienced professional photo colorizer. Both these options have got their pros and cons.
The basic process of colorization involves applying different layers of colors to the monochrome image. Some colorization applications are known to do a great job. But, most such software does not come for free. In the case of a professional colorizer service, you will have to pay for the retoucher.
Color cast in the image was a common issue in the old black and white photos. So, the colorization process needs to include a technique to remove these color casts. Only then the accurate colors can be restored to the image. With the launch of Artificial Intelligence (AI) in photo colorizer softwares, it is possible to get an accurately colorized image with little effort.
Software options for colorizing
There are many software out there that are capable of colorizing photos. I will share the most popular and best software that you can use for colorization.
Picture Colorizer from Image Colorizer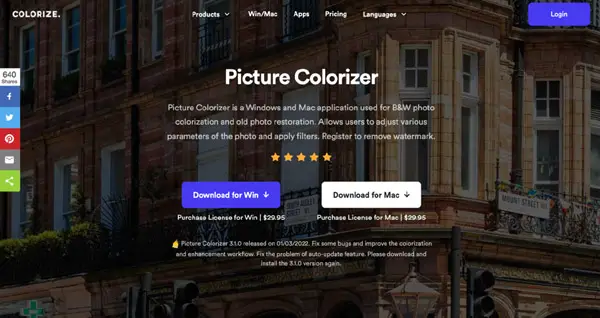 Picture colorizer is a popular software for colorizing pictures. It is available for both Windows as well as Mac OS. It comes at a price of $29.95. All future upgrades are free once you get a license. This software is also capable of repairing old pictures with scratches.
AKVIS Coloriage
The AKVIS Coloriage software is capable of accurate reproduction of colors with minimum effort. It supports different image file formats like jpeg, png, RAW, tiff, and PSD. It is an easy to use software that demands no professional photo editing skills.
Adobe Photoshop
As you all know, Adobe Photoshop is one of the most powerful image editors capable of doing lots of complex image editing. You can also use Photoshop to colorize your images.
Consider watching this video from PixImperfect, where Umesh Dinda explains how you can colorize a black and white photo realistically in Adobe Photoshop.
Blackmagic Photo Colorizer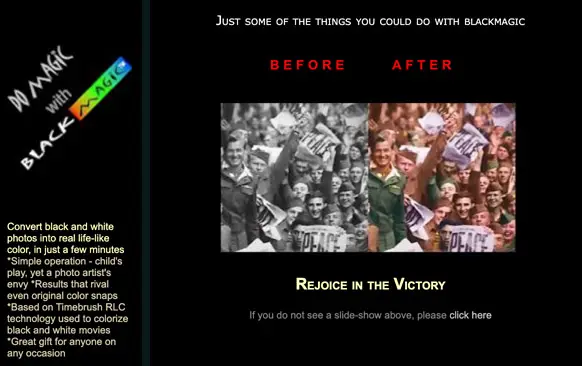 Black Magic Photo Colorizer is available for the Windows platform. It can generate real-life colors with the help of its proprietary TimeBrush technology. It is also capable of coloring Sepia and Infrared images. It costs $49, and the updates are free for one year.
Websites for Colorizing
There are many websites that offer to colorize monochrome images. Some of the popular websites are listed below.
Colorize.cc
Colorize.cc is one good website where you can drag and drop monochrome images and get them colored. But, it does not come for free. You need to select a plan first.
They have three types of plans- Standard, Advanced, and Pro accounts. The standard one comes at a price of $9, Advanced at $29, and Pro at $99. The number of images supported in each of these accounts will vary. You can also give it a try without paying. But, the final image will come with their watermark.
Image Colorizer
You can drag and drop your black and white image to the Image colorizer website and get it colored for free. The site accepts jpeg, png, and .jpeg files. You don't need to create any accounts here. It supports images up to 3000 x 3000 resolution.
Playback.fm
Playback.fm website offer free colorization of your black and white images. You can click on the "Upload Photo" option and select the appropriate image from your computer and upload it for processing to a color picture.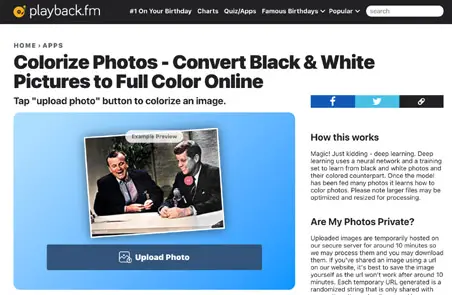 The uploaded image will be stored in their server for only 10 minutes. The image URL will be only visible to you during this time. Thus, they prevent others from accessing and using your images. So, you need to download the colorized image within 10 minutes. Otherwise, you will have to redo the whole process of uploading again.
Hotpot.ai
Hotpot.ai is an AI-based website that can convert your black and white images to color. Here, you have the option to select the colorization factors like 12, 15, 18, 20, and 25. You will get a small size colorized image with the free option. However, for a full resolution image, you need to buy credits. Their starter plan of 1000 credits per month will cost you $10.
If you are looking for a website option, you will find the above sites really useful.
Apps for Colorizing Photos
You can also use the apps on your smartphone or tablet to colorize pictures. These apps are available for both Android as well as iOS platforms.
Colorize App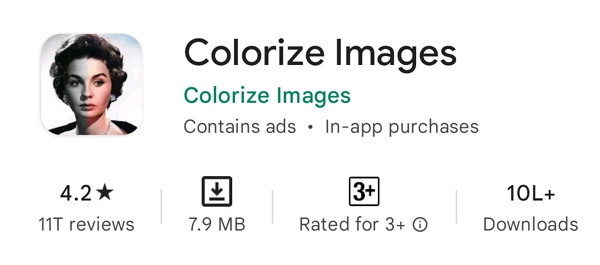 The Colorize app is from the Image Colorizer. It is available for both Android as well as iPhone. You can download and use it for free.
Colorize: Old Photo Colorizer
This photo colorizer app is based on AI and deep learning. It does a decent job of colorizing black and white photos.
Colorize- Color to Old Photos
This app is from the Photomyne company. It is available for both Android and iPhone users. If you have hard copies of the old pictures, you can easily capture the digital copies using this app and convert them into color images.
Another great thing about this software is that it can even scan old black and white film negatives and convert them to color. It comes at a price of $59.99 per year. If you have lots of old pictures to convert, then this app will be a good option. You can always give it a try with their free trial option.
Cost to colorize an old photo
There are some websites and apps that offer image colorization for free. You can also go for the paid software and websites. The color reproduction accuracy will be better for the paid ones. The cost of the application will vary for different software.
If you don't want to use any of the websites, software, or apps to colorize your images, then you can consider using the service of a professional image retoucher who can colorize your pictures. Now, lets talk about the cost of colorization. The actual cost will depend on various factors. Different photo editors charge differently. It will also depend on the condition of your image. If the monochrome image is in good condition, the charge will be less. If there are lots of scratches etc in the picture, then they tend to charge more.
The cost will be less for a single portrait when compared to a group portrait. You can either go for a digital copy of the final colorized image or get the hard print copies along with the digital copies. Some even offer it as a package. In the case of the package, there will be multiple package options, and you can select accordingly.
Now that you are done reading consider reading this article on improving your black and white photography skills.