Guest blogging is one of the marketing techniques that many bloggers and site owners make use of and serves at least two purposes. Firstly, it's great exposure for the guest blogger, and secondly, it's a new post for the site owner that they haven't had to spend any time creating.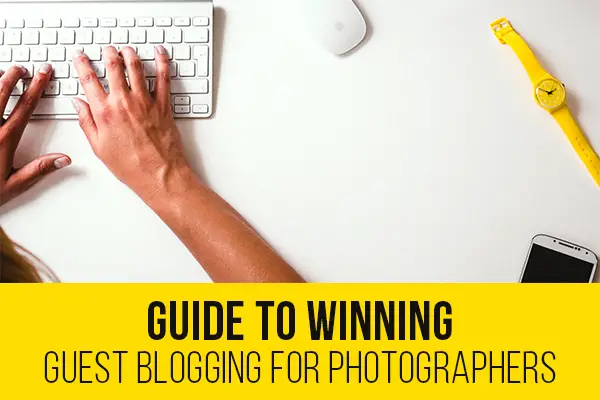 You may be a brilliant blogger with huge experience and exceptional skills, but you will not be recognized until you get the right type of exposure. That's exactly what guest blogging was created for.
Many writers are getting into guest blogging these days. Are all of them successful? Not even close. Only writers who spare no effort and time to provide well-written, useful, and unique content have a chance of success. In this post I'm going to tell you about the reasons guest blogging is so popular, share some tips for writing kick-ass guest posts and provide a few photography blogs to submit your articles to.
Reasons to Write Guest Posts
It's true that guest blogging is one of the best ways to promote your work online and give exposure to your brand. Here are a few good reasons to write a guest blog post.
– Guest posts increase your branding: writing useful guest posts is a great way to get your name out there and gain additional exposure for you and your business.
– Guest posts create online identity: earlier Google showed author photos alongside search results, but as of this year Google removed all authors photos to "clean up visual design of search results". Anyway, with various guest posts your name will appeared everywhere and make you look very experienced in your subject.
– Guest posts promote your products: some blogs might be interested in reviewing your products and services which is a great way to grow your traffic and sales.
– Guest posts improve your writing skills: the more you run, the faster and fitter you get. With each post you write (no matter if it is guest posts or an article for your own blog) you gain practice and experience, and improve your writing skills.
Of course, I can name at least 10 more good reasons for writing guest posts, but to me these seem to be the biggest benefits.
10 Tips for Writing Better Guest Posts
The tips I'm going to share with you below will help you to write some winning guest posts and submit them to really cool blogs in your niche. I have been doing guest posts for over three years now and I have some useful tricks to share with you.
1. Write About What You Know
These tips may sound pretty obvious, but this is what most writers fail to consider. Obviously, everyone has expertise in some specific areas. Analyze your area of interest and choose the one you're the most knowledgeable in. It will give you an advantage over other writers and give your content a chance to go viral.
2. Keep Your Article Clean
Write in a simple, clean, easy to read manner. Don't try to show off your vocabulary skills and force people who are reading to check every word in a dictionary. Take into account people who are not first language English speakers (or other languages if you're not writing in English) and keep your post plain. Avoid grammatical and typographical errors.
Moreover, avoid any jargon that could be misunderstood. Don't write for length, but for meaning. Even a simple 200 word post could be more effective and drive way more traffic than 2000 words. So be sure to keep your posts tidy and clean.
3. Share Useful Information
The information you share should be useful. To understand what people like and would like to read, search for other similar blog posts and choose the topics that are most liked and shared. Of course, don't copy the titles and wording, as guest blogging is all about unique stuff. However, analysing other blogs can help you to get an idea of what to write about.
Keep in mind that you write for someone's blog, and your post affects not only you and your name, but the blog owner's as well.
4. Be Unique and Creative
A lot of things have already been written about, and sometimes it's really difficult to come up with a creative, unique idea. However, while writing a guest post try not to plagiarize someone's content as it would never help you build credibility and a good online reputation.
5. Think of Newbies
This tip is similar to the one about "keeping it clear and simple". Most of the readers who read your content, subscribe to your email list, and buy your products are newbies. People Google a question they what to know the answer to. Newbies are looking for the foundatinos of in particular topics.
Try to write posts in an instructional way with links and tools to help beginners understand the basics of the topic. You can later start writing more detailed and in-depth articles and then reference to these from your "basic" articles.
6. Don't Write for Backlinks
Of course, the major aim of any guest post is a backlink that could be placed in the author's bio or in the post itself. As Matt Cutts said – guest blogging for SEO is dead due to Google's new quality guidelines. So, guest blogging is not about building links anymore – it's about exposure, branding, increased reach, and community building.
7. Don't Funnel People to the Homepage
Of course, in your author's bio there should be a backlink to your site, Twitter account or some other social media account to give readers and idea of who you are and why they should care about what you write. Try to funnel people to the outcome, not the homepage.
If you write about SEO or web design, you may suggest in your bio some exclusive ebook or other useful relevant product from your site. This will lead to exposure and reach a bigger audience rather than just redirecting your users to the homepage.
8. Choose the Right Blogs
Most writers miss this trick while submitting a guest post. Many want to write for prominent blogs like Mashable, Digital Photography School, Hongkiat, and so on. It's fine to submit posts to these great blogs, but writing for them is not that easy as it may seem. Therefore you should aim to write for cool blogs, but try smaller blogs first, and then slowly build your name and reputation up.
Once you truly understand how guest blogging works, learn how to convince other bloggers to accept your posts.
9. Follow Their Guidelines
When you're going to submit a post to some particular blog, spend time to familiarize yourself with their guidelines and what they expect from guest bloggers. For instance, if you want to write for a blog, your posts should be unique and should contain no less than 1500 words, as well as images with proper credits to the owners. Also, it's great if the post has headings and subheadings, is well-written without grammar and typography mistakes.
Following the rules of blogs will help your post get published as soon as possible. If the blog doesn't have specific guidelines, you can take a look at other posts on the site to get an idea of what your article should look like. Also be sure to submit images that area already properly edited and sized. Don't make the blog owner spend time resizing your images.
10. Reply to Comments
After your guest post is published be sure to visit the post from time to time to reply to all comments that readers leave. Remember, every comment should be replied to. That's how you will gain respect from your reader audience.
Top 20 Photography Blogs to Submit Your Guest Post
Here is my list of cool photography blogs you can write a guest post for. I tried each blog myself and I have to say they're really awesome and every time the results were even higher than I expected. Remember to follow their rules in writing posts and try your best to fit in with the topic.
What Guest Post Tips Do You Have?
To be honest, guest blogging is the thing I can talk about for hours and hours. I hope these tips and blogs for submitting guest posts will help you to become a cool guest blogger and build credibility with both bloggers and readers. Don't be shy to share your thoughts in the comment section below. Any feedback is welcome!