Your portfolio website could be the most beautiful, functional and user-friendly site in the world, but if no one ever sees it, then what's the point? If no one visits your precious site, it wouldn't do you any good. So you have to make search engine giants like Google, Yahoo or Bing notice you and send loads of targeted traffic to your site. To make it work out, you should take care of Search Engine Optimization (SEO).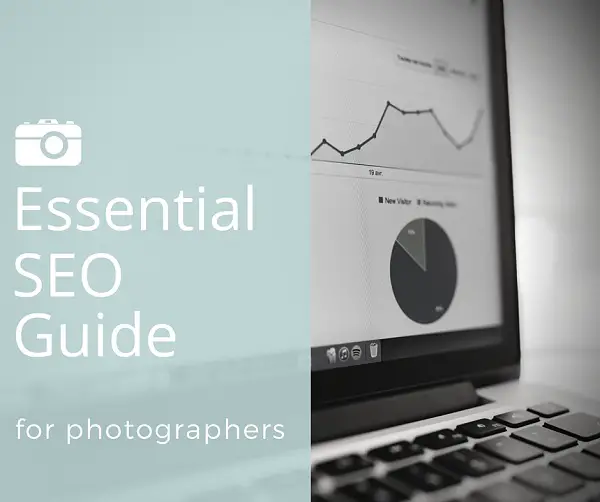 I know this word may sound scary and complicated for many artistic types, like photographers. But if you want to give your photography business the boost it needs, you should have at least basic knowledge of SEO and put a little effort into optimizing your site. SEO includes the knowledge of how the Internet works, how search engines rank content, and how to move your website to the top in search engines and get more traffic.
As this topic seems to be intimidating for many photographers, I wrote this quick guide about basic SEO tips for newbies. Still, it will be useful for those experienced in Internet technology, as some SEO trends may change from time to time.
SEO Trends Every Photographer Needs to Know
SEO is what you do to make Google fall in love with your photo website!
Search Engine Optimization or SEO is a technique that helps search engines find and rank your website within the organic search results. The higher your site's rank in results, the more people will come to your site. This turns into an opportunity for you to convert prospective clients into real ones and make them buy the products and services you sell. Let's take a closer look at the SEO trends.
These days, an SEO-optimized website is defined by three elements: its links, content and social media. Content is a king, and it must be high-quality and focused on specific needs of your audience. Social media shares and likes show Google that your content is really useful and deserves spreading across the world. And links prove that your site is really trustworthy.
Content marketing was the trend and it's here to stay. It's no longer enough to have SEO strategy. You should focus on providing high-quality content to your clients, built on keywords and competition research.
Guest blogging is a great way to build links and brand authority. Guest blogging means not just putting content to some other relevant website to get a backlink. It means providing excellent content to build your reputation and audience. There are a lot more reasons to do guest posting: These involve community, branding, exposure, increased reach and many more. They existed way before Google, and they won't vanish in future. (Hey, guest authors! We're waiting for you here on Photodoto! Don't hesitate to write a cool photography post for us 😉 )
Build your brand, but not links! Having a strong brand is important for SEO. For instance, there is a program called Google Authorship that connect the post with the author. So,you see the author's picture and name right near the snippet in search engines. I'm going to tell you about that trick later in the article, so keep reading!
While developing your photography business SEO plan, remember that it's important to find balance. Invest in three key elements of SEO optimization: providing good content, building links and updating your social media accounts, but remember that all these elements constantly support and depend on each other.
SEO & Images
It's obvious that photography is all about images. SEO optimization should also include images of the sites. People even use the Google Images tab to make image-specific searches. So try to rename your images with an SEO-friendly name, depending on your keywords and website specific. For example, if someone is looking for "portrait-retouching tutorials," it's more likely they found a photo with the proper name like this: https://www.photodoto.com/wp-content/uploads/2013/05/portrait-retouching-tutorials-preview.jpg than the one named DCS547754.jpg.
Moreover, make sure every image you use has an informative caption, detailed description and relevant keyword in the "alt" and "title" attributes. I think it's pretty clear what the "title" attribute is, but what is "alt?"
The "alt" attribute specifies an alternate text for an image, if the image cannot be displayed. The "alt" attribute provides alternative information for an image if a user for some reason cannot view it (because of a slow connection, an error in the "src" attribute or if the user uses a screen reader). I'd like to give you an example.
Here is an image for which the "alt" attribute is "Orero Fotografia Wedding photographer at Valencia, Spain"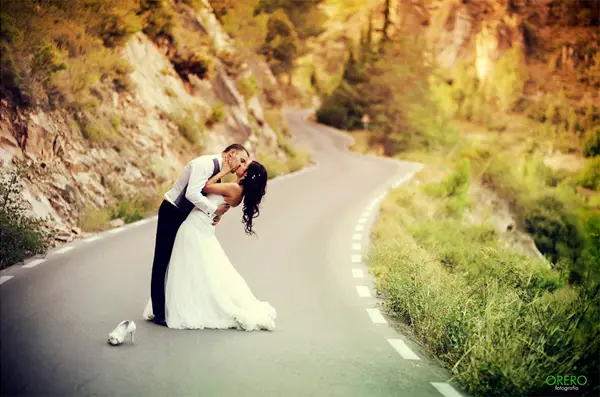 The HTML for this image might be something like the following:

Natch, a graphical browser will display only the image and will display the alt text only if the user asks it to show the image properties or has configured the browser not to display the image, or if the browser was unable to retrieve or to decode the image.
Keywords, Titles & Tags
Pay attention to the keywords you provide. Imagine the situation where you need some photography tutorials. But if you think of the photography tutorials, you'll see that it's the most common phrase that can be used. As a result, you'll get millions of sites using this phrase. So narrow down the choice and make it more specific. For example, "retouching tutorials." In that case, Google will give you proper results and good, high-quality web pages on this topic for you to choose.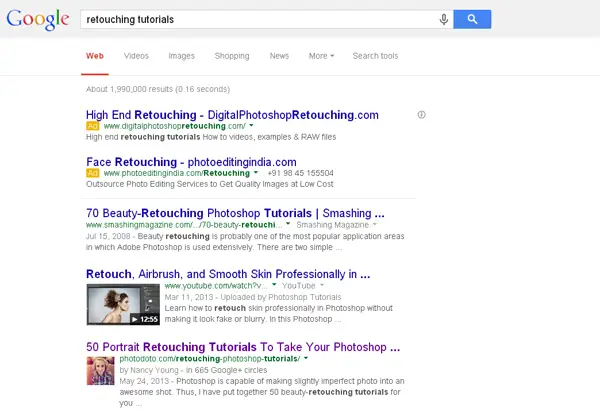 As a photographer, you should think of what your potential clients will be entering in the Google search bar and add these keywords in a proper way. One more thing that should be considered is making sure you have relevant names of the web pages and keyword-based headlines. Especially, if you run your own blog on the base of your personal website.
In fact, you can create your own title, link and snippet for each post to be sure that it displays exactly how you want in Google results. Here on Photodoto, we use the WordPress SEO plugin (you'll find a link for downloading it in the end of the post) that helps to choose the focus keyword and adjust title and meta descriptions according to it. Besides, you can see the snippet preview.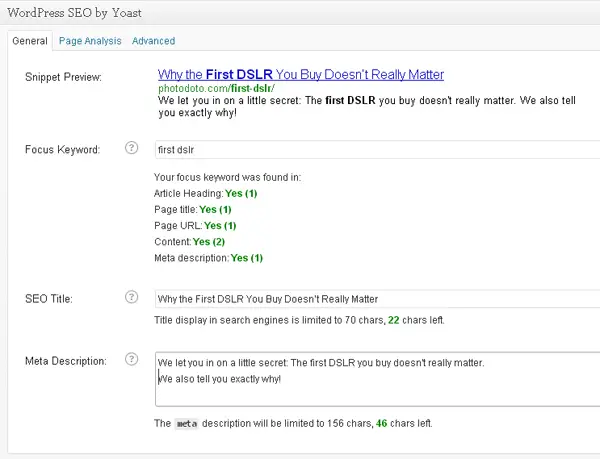 Having relevant information in the snippet will increase the likelihood that someone clicks on your link over the others displaying on the page. You can also add yourself as the author of the article, and your picture will be showing along with your post's title. It's called Google Authorship. Authors' content performs way better in Google than other posts. To do it, just specify a contribution to your site on your Google Plus page right in the tab "About." Your picture adds some personality to the articles showing in Google search results. It would look like this:

SEO & Social Media
Like peanut butter and jelly, social media and SEO are made for each other. Your website and social media channels should work together, using keyword-rich content on your photography business.
Since social media has become one of the factors that search engines use to index the content, you should know for sure how social media could impact your ranking in major search engines.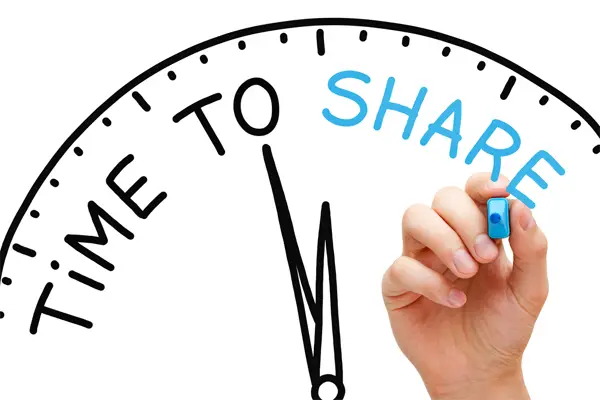 Social media is a new form of link building. These days, links are mainly archived by providing high-quality viral content that is in turn shared via various social media accounts. For example, a link that was tweeted many times with some specific keyword would be more visible compared to the link with the same keyword that was never tweeted. Search engines assume highly tweetable content better, as a lot of people decided to share it via Twitter.
Moreover, the content that has been extensively tweeted for a short period of time can speed up the process of indexation in search engines. Your social connections and followers also mean a lot for the site's ranking. A well-known company's social account is more likely to rank for the content it shares than users with a low number of followers or with lots of spam followers.
Marketing your site through social media networks is a powerful way to drive traffic to your site. Sharing some new photograph on Facebook: You can also cross-post it on your other social media channels and include a link to your site, inviting users to visit it for more information. We do the same with Photodoto, see below: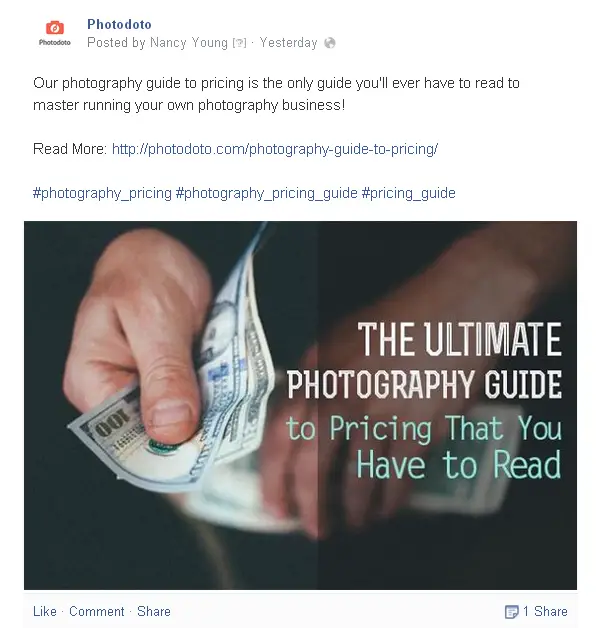 Pay attention to the Google Plus social network, as it's highly integrated with Google, while Bing has integrations with Facebook. Don't also forget about other cool instruments from Google, such as Google My Business.
Google My Business (former Google Places) is an interface designed to make life easier for local business as well as brands to be better found with Google. It's another instrument to utilize if you manage a photography studio. It helps you connect with your clients and collect reviews that play an extremely important role in how Google treats your brand.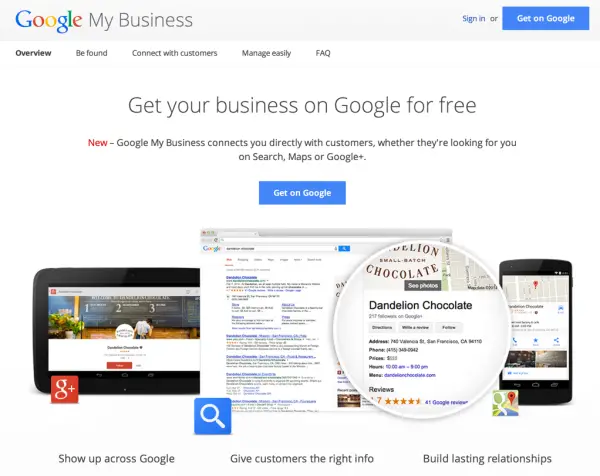 Again, participation in social media is crucial. If you don't have a Twitter account, Google Plus profile and Facebook fan page, you're not building the network that will help to spread the word about your photography, site and brand.
Bonus SEO Tools & Resources
Below, you can find somee top-quality SEO tools and relevant article to help you get your SEO efforts on a fast track.
In this ultimate list by Defrozo, you can find the essential set of tools needed to conduct a thorough SEO audit of your content optimization efforts.
Demetrio Fortman, the founder of Defrozo and MotoCMS, has done a terrific study of Trey Ratcliff's website StuckInCustoms.com and you can find all the takeaways in this post. Loads of value here!
This checklist includes some of the must-do SEO tactics described in a helpful cheat-sheet format for your convenience. And the best part is that the resource is free!
Last Word
Let's draw a conclusion from all I told you above. SEO seems to be a boring and time-consuming job (it sure is), but as long as you make SEO part of your workflow, your ranking stats will improve. Remember the SEO optimization of titles, descriptions, captions and images, and update your social networks often. Seeing the results will not take long!