Yup, you read that right: If you want value on top of value that you can't beat or find anywhere else, then you absolutely have to make plans to check out the Big Bang Bundle from Inky Deals. You won't regret it, and you'll be surprised at the insane degree of value that you'll find there. Calling all photographers: This means you!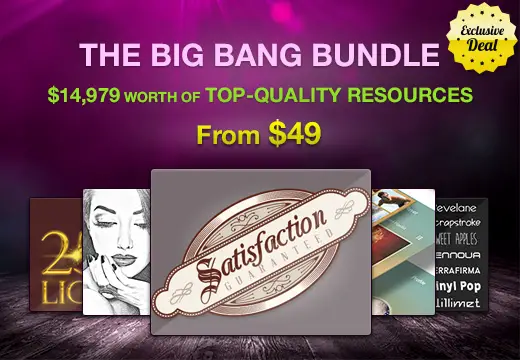 Photographers are highly creative people and professionals, so a design bundle like this is just what the doctor ordered. Let's say that you're using Photoshop to edit one of your stunning pictures…why not use some vectors as well to make it even more stunning? Perhaps you're just sprucing up your portfolio website and would like some inspiration? In that case, how about a whole plethora of fonts and font families from which to choose?
The possibilities for your creativity as a photographer are virtually endless with a humongous bundle pack like this. So read on to find out why you absolutely, positively have to have the Big Bang Bundle!
Why Inky Deals?
Well, why not Inky Deals? Have you any idea at all what Inky Deals is? Why, it's just one of the most cutting-edge, design-deals websites on the Internet. That's what! As such, you shouldn't be surprised that they offer value like this like it's nothing at all. They do this 24/7/365, after all.
Boasting an extended family of some 300,000 design enthusiasts, Inky Deals is the one-stop destination on the Internet for when you want to purchase highly affordable and premium resources! As long as you want to improve your work and make it even more attractive for potential clients—and what photographer in his right mind doesn't want this?—then Inky Deals is your only destination on the Internet.
Another reason to choose Inky Deals for this amazing Big Bang Bundle is because it is a win-win situation for you. This means that you seriously can't lose on this deal. Here's why: You actually have the pleasure of getting a 200% money-back guarantee on this offer (and other Inky Deals promotions, too, just so you know!). A 200% money-back guarantee means that you get all of your money back if you're not happy with the deal, for whatever reason.
That sounds like a 100% money-back guarantee only, right? Well, here is what makes this deal a 200% money-back guarantee: You actually get to keep the entire bundle, too. Now isn't that deal just sick (in a really good way?!). We think so.
Why This Awesome Big Bang Bundle?
If the name alone isn't enough to make you want this deal, then hear this: This is the largest and the best design bundle of its kind that you'll ever see. We're so confident that you won't ever find a comparable deal quite like it that we're telling you to go ahead and look far and wide for something similar. It doesn't exist!
Where else but Inky Deals can you actually find top-quality, design resources for just $49? And we already mentioned that the total, actual value of the whole bundle is really almost $15k. Value like this just does not come along all too often, so when it does, you had better jump all over it.
So What Are You Actually Getting?
Great question—we've been dying to tell you exactly what you're going to be getting with the Big Bang Bundle. Without further ado, here is what you're going to receive:
The Big Bang Bundle with $4,916 worth of Brand-New Resources—You Pay Just $49!
120 Vector Packs worth $1,800
500 Vector Illustrations worth $2,000
15 High-Res Texture Packs worth $225 (6000 x 4000 px)
14 Photoshop & Illustrator Addons worth $210
20 T-shirt Designs worth $300
5 Premium Tutorials worth $100
9 UI Kits worth $135
268 Fonts in 24 Font Families worth $70
8 Bootstrap 3 Templates worth $76
The Extended Big Bang Bundle worth $14,979—You Pay Just $79
For another $30 extra, you will receive all of the resources mentioned above, plus the following cool stuff, too:
350 Vector Packs worth $4,045
425 Vector Illustrations worth $1,700
101 Web & Print Resources Packs worth $1,070
109 Photoshop & Illustrator Addons worth $1,036
87 High-Resolution Texture Packs worth $994
40 T-shirt Designs worth $600
67 Photoshop Brushes Sets worth $486
Tatianna Font Family worth $35
10 Premium Tutorials worth $97
In addition, this entire bundle will also come complete with an extended royalty license, which is always a good thing, right? Of course, it is!  An extended royalty license is absolutely key because it lets photographers utilize all of these designs in both merchandise and for unrestricted commercial purposes.
So the next time that you're contemplating putting a cool, new logo design on your T-shirt, maybe as part of a prize that you're running for a contest on your portfolio website or photography blog, you won't have to worry about running into any troubles with usage issues. We can all agree that peace of mind is definitely something that all photographers and creatives are entitled to.
So Much You're Getting for so Little!
After we carefully explained the sick value of this awesome bundle, you'd be crazy not to get it for your creative needs. After all, you have nothing to lose since you can always fall back on the 200% money-back guarantee, should you really not be happy with it in any way, shape or form (but we think that you won't have this issue at all!).
Just in case, for whatever reason (maybe you were sleepwalking), you missed the link to the Big Bang Bundle above, here it is again. After all, we value our readers, and we want them to know all about the brand-new and awesome design resources that can help them polish and improve their photography in any way.