In a world of digital keepsakes and endless selfies, there's a definite pressure to be camera-ready at any moment. Between Youtuber friends and Instagram-addicts, you never know when you'll next be thrown under the lens, so it never hurts to have a few tricks up your sleeve to help you look as good as you can, and feel happy with the resulting pictures.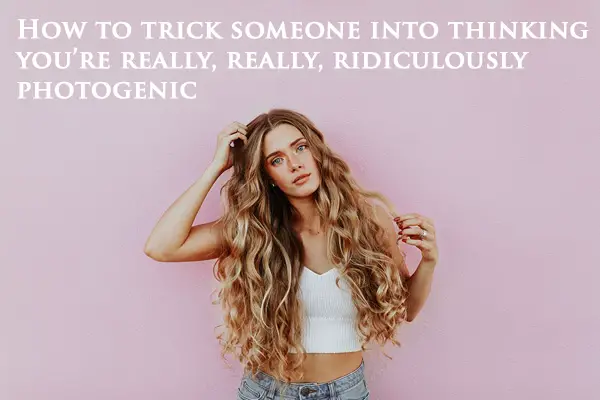 Before I spill the tips and tricks, you need to remember two things.
Firstly, everyone looks goofy sometimes. Even supermodels aren't pretty when they cry, and we've all seen what Queen Bey looks like when she's feeling the groove. The point is, sometimes your honest human emotion is going to get the better of you, but that's far more captivating in a photo than a smize.
Secondly, when everyone rushes to see the squad selfie, everyone is checking out themselves. If you keep schtum about how that the spot on your chin has turned you into Frankenstein's monster, you'll probably find that it's NBD to everyone else.
You haven't come here to hear that you're naturally beautiful though, have you? Thought not. Well, no problem. Here are the hacks to help you look glam in the three main photo situations; the candid, the planned-it, and the killed-it.
Image courtesy of Unsplash.com
CANDID
You only nipped out for a quick frappé with your bestie, but her eyebrows are on fleek and she wants a commemorative pic of the two of you. If you've offered to be her photographer but she's having none of it, there are four things you need to remember to work it.
Zhoosh that mane. A girl's best accessory is her hair, so flip your head upside down and give it a quick ruffle to give it some supermodel volume.
Unsquish yourself by sitting up straight, pushing your shoulders back, and giving each limb some room. Slouching over is going to give you the silhouette of a sack of potatoes, so combat this by putting a hand on one hip, gently bending a knee and ditching any bulky items like bags or heavy scarves.
Harness your inner Tyra, and find your light. Wherever you are, find the nearest window or lamp and turn your face directly towards it to even out your complexion and keep unflattering shadows off your features.
Elongate your neck, then jut your head forward a little, tiling your chin downwards. You should feel like you're doing a pigeon impression. This combining this with the tongue trick (if you don't know it, where have you been?) simultaneously stretches out your chin and neck, and emphasises the shadow under your jawline. Trust us, you're now a hair's-breadth closer to looking like Kate Moss.
PLANNED IT
Image courtesy of Unsplash.com
Whether it's a pal's birthday or an epic club night; you know before you leave the house that there's going to be evidence of the evening, but you won't be controlling the shutter. Here's what you can do to work it;
Carve out your cheekbones with a contouring stick or shimmer-less bronzer. Drag it from the top corner of your cheekbones to about halfway along your cheeks, heading towards your mouth. Complement this with some strobing (check out this guide from Cosmo) to help the camera capture your best bits.
Find an outfit which emphasises your favourite features, whether that's a waist belt to give show off your cinched outline, or some oil-effect tights to celebrate those legs-for-days.
Keep it low – literally. A photo taken from a slightly higher angle is more flattering than one taken from slightly below, and will accentuate your eyes and face, instead of your torso and neck.
KILLED IT
Image courtesy of Unsplash.com
Treat other people's pictures as a warm up, so you can truly harness the moment when it's all about YOU. Whether you're having a self-staged shoot at home, or have splashed out on a professional session (there are some fun makeover options at Into the Blue right now), don't be afraid to shamelessly slay.
Don't say: 'cheese', say: 'money' instead. Your mouth will be pulled upwards into an easier smile, and the thought of extra cash seems to naturally make most people a little happier!
Take a zillion. There's no shame in having 20 pictures of subtly different poses – do you think Cara and Karlie get it right first time? It's just the law of averages.
Have fun! Put on your favourite soundtrack and just relax. There's nobody to feel self-conscious in front of, and you are in total control of which pictures are too extreme to share with the public, and which ones totally capture your inner fierceness.
A little tip for DIYers? Even if you're using a smartphone to take your snaps, you can still nail a pro-looking white balance without faffing around with filters. Simply grab a bit of blank paper (a napkin will do), and hold it in the frame of your picture. It will help your camera measure the lighting levels and prevent your skin from looking too sallow or flushed – just remember to crop it out after!
Sponsored