[Please welcome Jim Crotty to Photodoto. Jim is a pro photographer with a studio in Dayton, Ohio, called Picture Ohio, LLC. He shoots using Canon EOS digital, both the 5D and 1D Mark II, as well as Canon L lenses. His personal and stock work involves nature, landscapes and wildlife. Like many photographers, he started young, developing prints in a black and white darkroom. His work can be viewed on his site at ohiophoto.org or on his Flickr account under username jimcrotty.com. — JW]
I have finally gotten around to writing my first article for photodoto.com. I'm thrilled to be part of such a talented online community of photographers.
Rather than starting-off with an article that has to do with the more technical aspects of photography, I thought I'd talk a little bit about artistic approach.
Nature and landscape photography is the type of work that I find most enjoyable and represents the foundation of my photographic career—a foundation that I still try to stay actively involved with while becoming more involved in commercial photography.
I have discovered that there is one constant that runs throughout all areas of successful photography, whether it be fine art nature, commercial, editorial or even sports. It is the necessity of obtaining that higher state of self-awareness combined with patience, experience and peace of mind to allow the image to come to you. In other words, expect the unexpected.
It is almost always the photograph that I'm not looking for that becomes my best image of the day. The photograph posted with this article represents exactly what I'm referring to.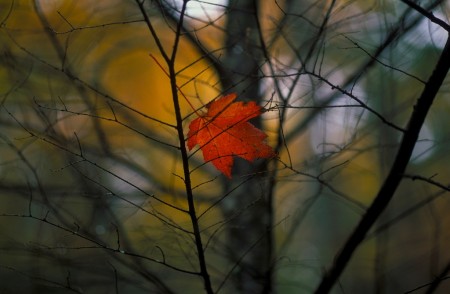 This lone Maple leaf caught in the branches of a pine in Red River Gorge, Kentucky was not what I had in mind when I first set-out on that particular photo trip. What I had pictured in mind were much wider landscapes showing swaths of autumn color amongst cliffs and rock formations of the gorge.
I captured those images, but it was this one that has withstood the tests of time, critique and preferences of both the stock and fine art print markets.
The technical aspects of capturing this image involve my old Canon 1V film camera (since sacrificed to the gods of digital), Fuji Velvia and a Canon 100mm macro lens set at the widest aperture.
More importantly though I was in the right frame of mind to allow the image to come to me, which happens more often than not when I'm out in nature. I try not to rush myself, or get bogged-down with too much gear or be over-sensitive to someone else's rules about how to do nature and landscape photography. I simply immerse myself in the entire environment of my subject, which can be hard to do when you're not quite what your subject is going to be!
As stated before, I've found that this same approach and frame of mind works well in producing unexpected results with various commercial photography assignments. When I do business or home interiors it is almost always that previously unseen detail shot that the client falls in love with and uses again and again.
Being successful at photography and creating images that people remember—whether it be pro or amateur—requires that fine balance between the patience of the artist and technical skills of a craftsman. Too often photographers are in a hurry to get off to the next great location, fearing they will miss the right light or shooting opportunity.
Many times the shot will come to us if we learn to be still and see the unexpected that's at our feet, just behind us or off someplace where no one else is looking.
About the author: Jim Crotty. Website: http://ohiophoto.org/