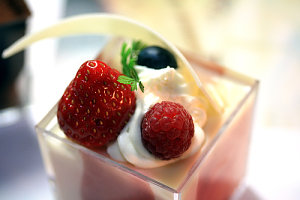 I've got a nice roundup here of food photography sources with a ton of great tips, tutorials, and videos for making food look tasty on camera. How seriously you take this probably depends to some extent on whether you've ever heard the term "food stylist."
Last week felt like food photography week with several blogs posting about it. It was interesting timing for me because I've coincidentally been shooting a lot of food for the past couple of weeks. I don't have much to add tip-wise except this: it is more challenging than it looks.
If you've got food photo tips, please share them in the comments!
Photo credit, above right: Mr. G (cc-by)
Tips, Tutorials, & Inspiration
The Ten Tastiest Food Photography Tips, Photojojo.com
Tips from Pixar's Sharon Calahan, the director of photography for Ratatouille, Becks & Posh
Food Photography—An Introduction,
… Continue reading Big and Tasty Food Photography Tips Roundup