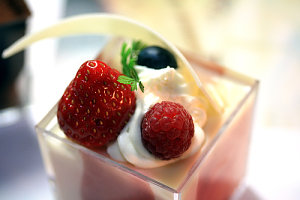 I've got a nice roundup here of food photography sources with a ton of great tips, tutorials, and videos for making food look tasty on camera. How seriously you take this probably depends to some extent on whether you've ever heard the term "food stylist."
Last week felt like food photography week with several blogs posting about it. It was interesting timing for me because I've coincidentally been shooting a lot of food for the past couple of weeks. I don't have much to add tip-wise except this: it is more challenging than it looks.
If you've got food photo tips, please share them in the comments!
Photo credit, above right: Mr. G (cc-by)
Tips, Tutorials, & Inspiration
The Ten Tastiest Food Photography Tips, Photojojo.com
Tips from Pixar's Sharon Calahan, the director of photography for Ratatouille, Becks & Posh
Food Photography—An Introduction, Digital-photography-school.com
Tasteful Food Photography, O'Reilly
Food Photography Tips, 101 Cookbooks
Food Photography Flickr Group, Flickr.com
Blogs
Still Life With — The definitive food photography blog. Full of useful information, beautiful photos, and an active group of readers. Written by Lara Ferroni (Flickr), freelance food and lifestyle photographer. That's one of her delicious looking photos to the right.
Digital Food Photos — Written by Lou Manna, a commercial food photographer and author of Digital Food Photography (Amazon).
Food Designs — Brought yo you by Lisa Golden Schroeder, a veteran food stylist and writer with 25 years experience in the food business.
Nikas Culinaria — written by Nika Boyce, food and scientific photographer.
Videos
A lovely bit of slideshow inspiration from Matthew Noel.

The Art of Food Photography. "The business of food photography is really a business where it's a collaboration with many people."

Behind the scenes at Cottage Living magazine. "Robin our Food Stylist brings all the food and she and Kim and I and her assistant prep all the food and get it ready. So, it's really a joint effort. Everyone works really hard to get this one perfect picture."

The Food Photographer. A more amusing take on food photography. "That's why, when I'm shooting food, I scream at it."

Books
Buying these books from Amazon.com helps support Photodoto.

Digital Food Photography
Capturing the perfect image requires a trained eye, finesse, and photographic skill. Digital Food Photography gives you the ingredients to cook up your own recipe for success-with professional lighting techniques, composition, food and prop styling, retouching, and tricks of the trade. You'll learn how digital photography combines teamwork, creativity, and technology, and how to make money creating delectable works of photographic art.

Food Styling for Photographers
You eat with your eyes first, and no one turns a photograph of food into a culinary masterpiece like a food stylist. Food Styling for Photographers is the next best thing to having renowned food stylist Linda Bellingham by your side. Linda has worked with clients Baskin Robbins Ice Cream, McDonalds, Tyson Foods, FritoLay, and many, many more. Jean Ann provides a seasoned photographers point of view with helpful tips throughout.

Working the Plate: The Art of Food Presentation
Acclaimed food writer and culinary producer Christopher Styler describes seven distinctive plating styles, from Minimalist to Naturalist to Dramatic, with several striking examples of every genre. Each plating suggestion is accompanied by clear instructions along with color photos of step-by-step techniques and finished plates. Complete with essays on plating from ten leading chefs and recipes for the dishes featured, this book is a work of art in itself–a must for the kitchen shelf.

Food Play
Now, for the first time, Food Play compiles more than 300 of the very best images from a decade of astonishingly imaginative publishing. This compact collection will surprise and delight both fans of the series, and newcomers to the enchanting world of Food Play.
Take our latest poll: How would you classify yourself as a photographer?