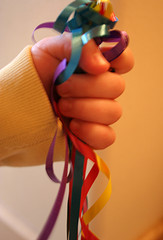 We celebrated a 6th birthday here recently and, of course, one of the aims of the day was to get some nice photographs. But how does one go about getting good birthday photos? Well, here free of charge, are ten tips for you:
1. Have a designated photographer (or two). Get someone who is not in charge of putting the candles on the cake, keeping the dog away from the kids, paying the magician, and keeping track of which present came from which child, to keep a camera in their hands and use it often during the party. If you can get two people even better. If there are specific moments you know you want shots of let your designated photographers know what they are before the party starts.
2. Start early. The party preparation can make for some great photos too, especially if the kids are helping set up or if a family member is baking the cake.
3. Get the light right. If you're having the party indoors try and arrange key moments like blowing out the candles and opening presents to be in an area with good lighting.