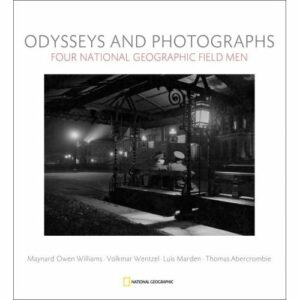 I finally had a chance to sit down with this book over two nights and read it through. And I'm bummed out that I didn't do it sooner. Odysseys and Photographs: Four National Geographic Field Men is fantastic.
Read the rest of the review and find out how you can get a free copy of this book.
These amazing biographies, written by editors, friends, and spouses, bring us a personal and stirring account of four National Geographic photographers. Each story reveals the adventurous spirit and innovation these gifted photographers brought to their craft. From Maynard Williams' epic 10 month overland crossing of the Asian continent in 1931, to Luis Marden's pioneering work with underwater photography and his discovery of the Bounty in 1957, to Volkmar Wentzel's adventure prompted by his editor to "Do India," to Thomas Abercrombie's coverage of the Middle East in the 60s and 70s—these men all seemed to be the right man at the right place at the right time in history.
Each essay, lovingly written, reveals details about these men and their assignments that were only known to friends and colleagues, and provide an account that gives an intoxicating glimpse of what it must have been like to be a National Geographic Field Man in these golden years. These men were the Indiana Jones' of photography.
Accompanied by beautiful 8 and 10-inch photographs throughout, Odysseys and Photographs covers nearly a century of world history–the people, the places, the politics—in a behind-the-scenes kind of way, through the eyes of these gifted photographers, writers, adventurers.
Click here to buy this book from Amazon.com.
Want my review copy? Leave a comment with a valid email address. One reader will be chosen at random this weekend to receive a free copy.
This book was provided to Photodoto free of charge for review.