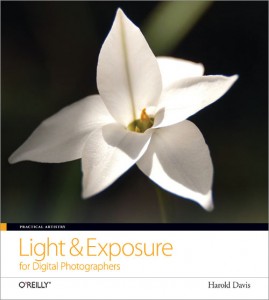 Light & Exposure for Digital Photographers by Harold Davis (published by O'Reilly) is a new book that teaches basic but important lessons: understanding light and how to capture it creatively with a digital camera. The author sums up the philosophy of the book in the introduction: "Today's photographer is one part digital artist and one part photographer." But he also warns that "it is fundamentally flawed to assume that incorrect exposures can be corrected in Photoshop."
Read on to learn more about the book and find out how you can get a free copy.
Light and Exposure then proceeds to reintroduce the basics of exposure, the exposure "equation," and how exposure can be used creatively. From there he devotes an entire chapter each to aperture, shutter speed, and ISO and noise. For $20, it's the cheapest Digital Photography 101 course you'll find. The topics are covered in depth and the author uses an approach grounded in understanding concepts rather than telling you exactly which buttons to push (which would be practically impossible since everyone's camera is different).
I agree with the approach. Photography is part artistry but it is also part technical know-how. An artist who is also a master of his tools can create images that match his vision with precision and confidence. Reading about apertures and shutter speeds and exposure equations can sound daunting but Mr. Davis writes plainly and explains the concepts clearly.
The book is also filled with wonderful photographs, each with a caption that describes how it was made. One could skip the main text entirely and just browse through the photos reading about how each was created. Lens choice, ISO, aperture, and shutter speed are provided for each along with descriptions of the conditions and thoughts of the author as he was capturing the image.
The final chapter of the book is devoted to digital darkroom techniques. It is not a comprehensive tutorial in Photoshop by any means but it does cover the basics of RAW conversion, adjusting exposure and white balance, noise reduction, and some creative effects including HDR, cross-processing, and black and white conversions.
After reading it, I was struck by how similar it was to my copy of Understanding Exposure by Bryan Peterson. They're very similar books in many ways and there is a great deal of overlap in topics (and, let's face it, cameras have been about shutter speed and aperture since the very beginning). Understanding Exposure is a great book and I still recommend it. However, it was originally written for film photographers and barely scratches the surface when it comes to digital. Light and Exposure is focused exclusively on digital and has a few more tips to share in that regard.
If you've already read and comprehend Understanding Exposure or have a very strong understanding of exposure, then you won't get a lot from Light and Exposure. But if you shoot digital and want a good introduction to the all-important basics then I strongly recommend reading Light and Exposure for Digital Photographers.
Want a copy of the book? Leave a comment with a valid email address. One reader will be chosen at random on Wednesday (May 7) to receive my slightly used review copy.
This book was provided to Photodoto free of charge for review.