A month ago I wrote about some myths and misconceptions about the differences between RAW and JPG formats. And at the end of that article I asked of RAW, "Is the quality really better?" Continue reading to find out what I learned. The answer may surprise you.
I wanted to see if there was a noticeable quality difference between a RAW image and a JPG produced by the camera. I setup a test scene and shot it twice from a tripod: once using RAW format and once using the highest quality JPG setting. In-camera processing settings were set to: Tone +1, Sharpness +1, Saturation enhanced. The RAW image was processed using Nikon Capture NX. No additional sharpening or noise reduction was applied to the images.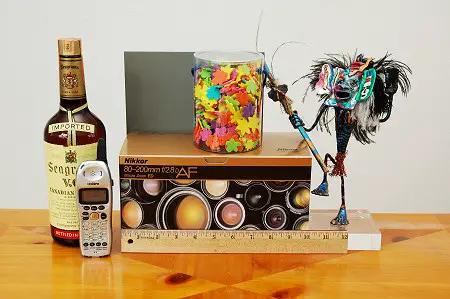 Conventional wisdom says that opening a JPG and re-saving it reduces quality. That's because JPG files use a form of compression that actually throws away some of the image information (thus "lossy" compression). I was curious how bad it actually was in practice. So, as a third test, I opened and re-saved the camera JPG ten times using the highest-quality JPG compression setting.
All three of these images were then sent to the same lab (ezprints.com) who produced three 11×14 matte prints for me. Each of the images below show a full-resolution (300ppi) scanned sample from each of the prints. "RAW" is the RAW format image, "Camera" is the in-camera JPG version, and "10-gen" is the JPG opened and re-saved ten times.
See if you can spot the differences.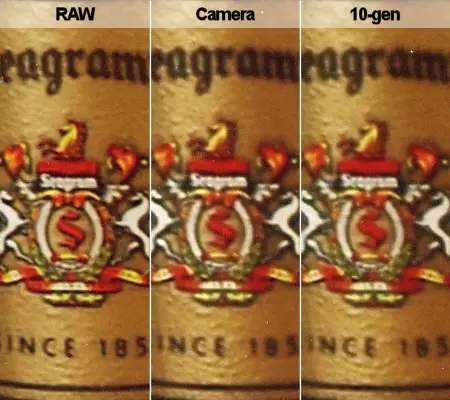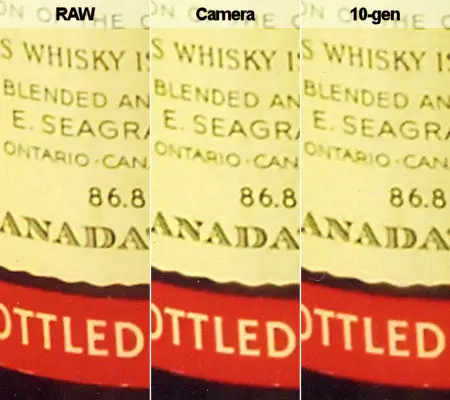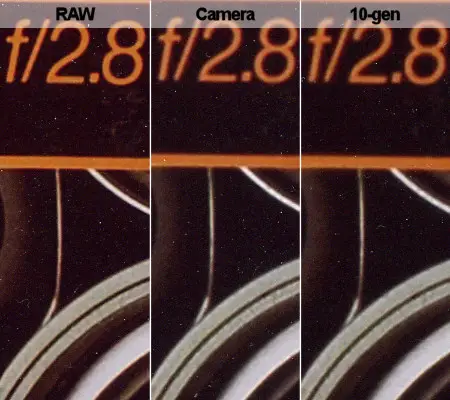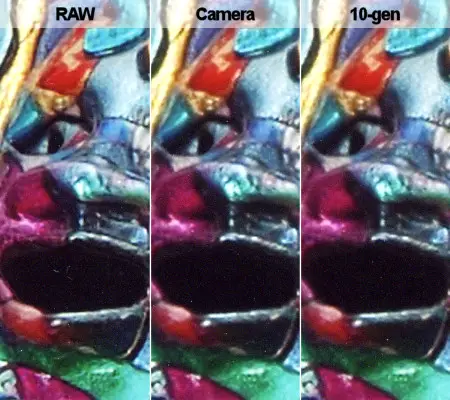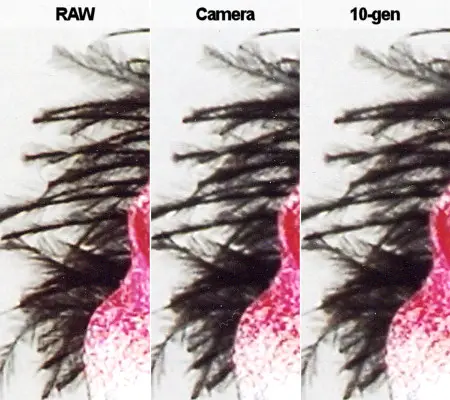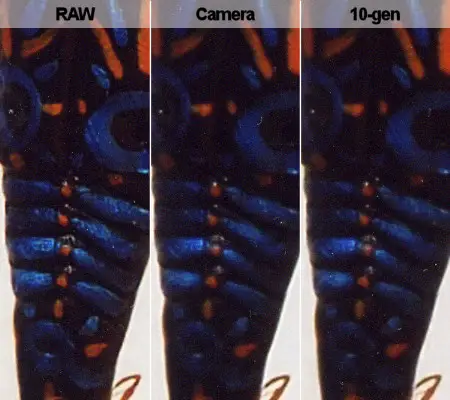 Conclusions
It's clear from the examples that the RAW image provides superior sharpness and resolution. It's most noticeable in areas of fine detail like the feathers but the RAW image also appeared to provide better definition and contrast, especially in darker areas of the photo.
But what's it like looking at the actual print? When viewing these at a distance of about 5 feet they are completely identical. I think that's important because it applies to how most people will view prints like this in real life. Most people aren't going to get out loupes and examine them as closely as I have in this article (especially if they're hanging on a wall).
At closer than five feet, I can spot the RAW print but I still can't distinguish between the JPG prints. I have to bring the prints to within about 20 inches to distinguish between all three.
I asked a few non-photographers to look at all three prints as well. The first impression from everyone was that I was trying to trick them. They thought they were identical. I had to tell people exactly what to look for and let them examine all three prints side by side before they could find any noticeable difference.
It's clear to me from this test that RAW does provide better sharpness and detail than an in-camera JPG. If you absolutely must have the best possible print then you must shoot in RAW. Most people, however, can happily shoot in JPG mode without worrying about any noticeable difference in print quality.
As an added bonus, I was pleasantly surprised to find that the lossy JPG problem isn't nearly as bad as it sounds. Despite the compression, JPG files can tolerate a number of generations before any quality issues arise.