If you want to delight your friends and family, send them a picture by snail mail. While I am a great fan of online photosharing websites, especially flickr.com, I have discovered that people are thrilled to receive a nicely presented print. Yes, you can always stuff a snapshot into an envelope, but a frame makes it a gift. Frames also allow recipients to display pictures on a table or shelf.
Since many of my friends and family members live far away, I do this often. Two products make the task easy: photo card stock and Send-!t Picture Frames. Both can be used both for horizontal and vertical pictures. Both take 4 x 6 prints.
Photo card stock is heavy paper that is designed to display a photo. You either stick the photo on top of the card stock or behind a window that is cut out of the paper. Many art supply stores and online shops offer card stock, but I have to admit I'm partial to that sold by The Photographer's Edge. Their paper is rich and heavy. Colors include white, natural, and black. Windows come in different sizes and shapes. Cards may be purchased plain, with decorations, or with quotations. You can even order custom imprints.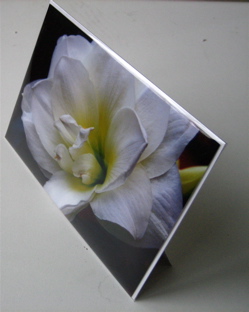 These cards come with tape to hold the photos and instructions for folding and sealing. I find that rolling the creases afterwards makes a more professional appearance. I use an inexpensive wallpaper seam roller.
Personally, I love the large rectangular windows with colored hairlines around them. I've made hundreds of these cards, and occasionally give a boxful to a special friend (yes, this company also sells boxes, as well as sleeves and other paraphernalia). I send thank-you notes on these cards, birthday greetings, and holiday wishes. Most recipients tell me they love receiving such cards.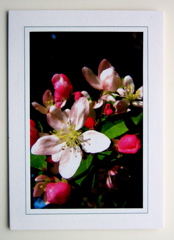 Another way to send photos is by sliding them inside the clear plastic Send-!t Picture Frame, which is then sealed, addressed, and sent as a postcard. The image arrives clean, fresh, and unbent. The recipient can read your message, then open the attached easel stand to display the card. You can buy these mailable picture frames in sets of 6, 12, or 24 at the Photojojo store.