The other day I had mom bring her daughter in for fine art dance pictures. "Oh, just snap away while she's doing her competition routine… she doesn't like to be interrupted," the mom said as the daughter grand jeted halfway off my roll paper half in the storage room, facing completely away from me.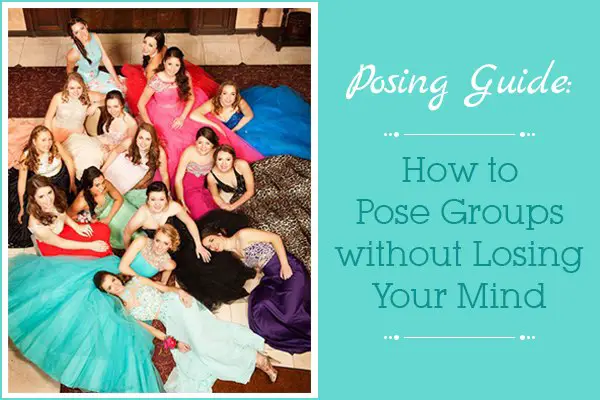 Shooting that would be crazy, right? If you don't know what's going to happen, where should you place the lights to make a beautiful and amazing silhouette? How can you shoot if you don't know when the height of the action will be? Or even if the model is going to turn around?!
You're the Photographer, so Take Charge
Well, the answer is, you can't. You ask them to show you what a move will look like, and then you adjust your lights and shoot accordingly. Same thing with a large group. And by large group, I mean any more than four people in a shot. Any time you have more than one person in a shot, the likelihood that every single person is going to be engaged and have their eyes open goes down exponentially. I don't believe in spending hours "editing" one shot, so I try to get it right in the camera.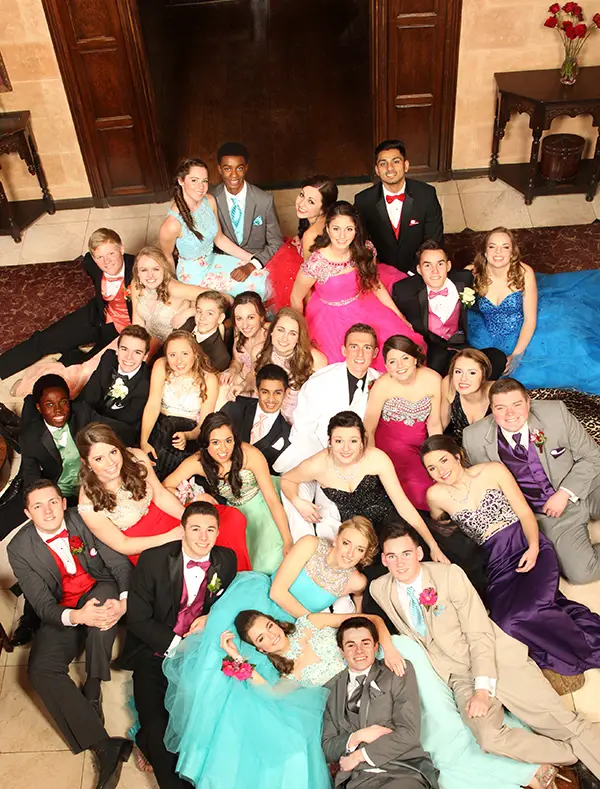 If you let everyone do what they want to do, they WILL. So, take control immediately. The above shot was for a magazine article on what to wear for the prom. It was three in the afternoon on a freezing winters day at the Lake Forest Country Club in Hudson, Ohio There were 16 girls and 14 boys there, 15-18 years old, and most had been in makeup and hair since 8 a.m. and had shot all day, so they were exhausted. They weren't allowed to eat or drink anything but water, due to the nature of the thousand dollar dresses, and of the 30, I had only worked with seven of the kids before, so most were hungry, cranky and nervous. My parameter was that it had to be a vertical shot, because it was for the cover. So I put pillows and boxes on the ground and had the girls arrange themselves first.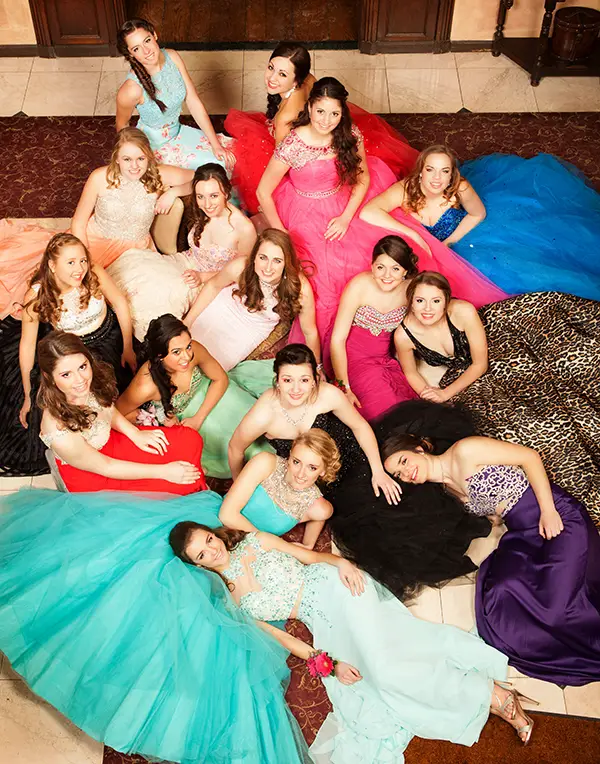 Shooting from above made it easy to make the shot a vertical, a good trick, if ever you need it. I had the girls sit where they wanted, and then I quickly tweaked them individually to make a beautiful, cohesive pose. I must admit, there is one thing about this shot my eye immediately goes to and bothers me. So I'm going to host an impromptu contest.
If you are one of the first five people to tell me what it is at [email protected], I will give you a free 30 minute phone advice session on how to make anything you're shooting better. Then I added the boys. This was in the front entry hall of the club, so I just had the girls stay where they were, and asked the boys to squish in the space they had, and then I adjusted each boy individually. I had them tilt their heads up toward me and said stupid stuff so that they would relax and smile. We got both shots, start to finish in 20 minutes and 20 clicks of the camera. No head swapping needed. The kids were magnificent.
Have a Gimmick
These are rational teens, so it's easy, you say? Surely you can't do this with little kids?!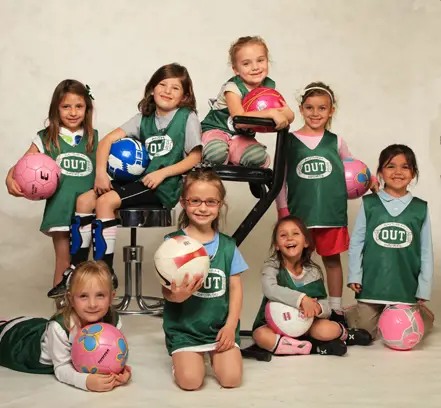 This shot was a group of five year olds for their soccer team. I hate the traditional "line them up and shoot them" sports shots, so I used my secret weapon: the "Princess throne", a/k/a a bar stool and it's runner up, the "Lady in Waiting" posing stool. Only the soccer princess with the best smile got to sit in the princess throne, (meaning that every single princess filtered through that throne), and you can't think that any of those kids posed themselves. I arranged the kids in triangles, highs, lows, bent limbs, just like what we always talk about, then I had all of the mommies stand behind me and shake their groove thangs. The kids smiled, and I took the shot.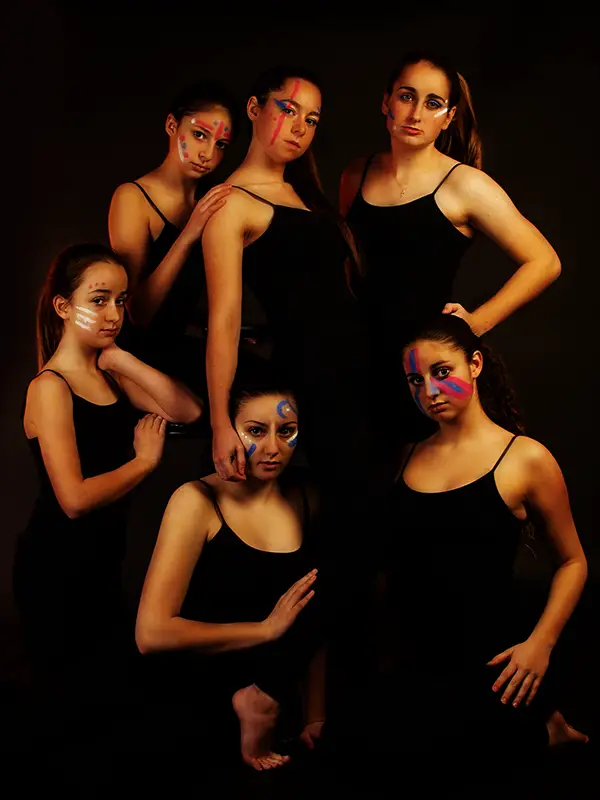 Use your posing basics
When you shoot a large group, you're not out to change the world. It's a win if you can get everyone looking at the camera with an interesting look on their face. The kids hanging out in my basement (a/k/a, my girls and their friends) had a "paint day", so of course, we shot it. Six kids, aged 11-16, same thing…you have them come close together, vary their head heights, bend their extremities, and shoot. Most people don't know how they look good, so tell them.
They can sit on the ground, chair, stool or box, stand, go low or high on their knees, or lay on their side or belly. Incorporate as many of these basic poses as you can, then turn them so that each person looks their best. Look at everyone in the camera. Don't assume that they'll stay in the pose you put them in. Tell each and every one who needs it what to do between each click.
Become a Baby Whisperer
What if you have little kids and babies? They need to be happy. Make sure that the kids are well fed and well rested. Then tell the parents that every thing the kids do is right, so that they're not threatening to hit the kid If they don't smile, which happened to me on so many occasions that I implemented the "Whatever you do, it's right" rule Because, trust me, threatening a kid categorically doesn't work, just in case you were wondering.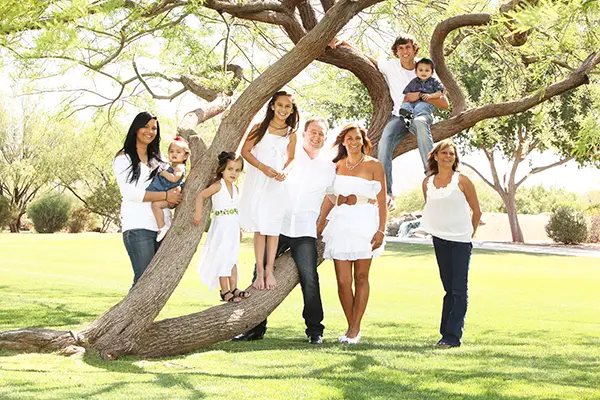 In this case, I positioned the family around this awesome tree. The girl baby was just starting to walk and cried if she wasn't on the go, so I had the mom twirl that baby in a circle before each and every click of my camera. I had the ten year old girl stand on the tree, so her three year old cousin naturally followed.
But the little boy baby was going wild and running all around, so his uncle climbed up in the tree and I loudly asked everyone if there might be a "big boy" who might be interested in going up there with him. Well, that little boy went nuts, and we handed him up there, and voila!
Get Traditional
What if you have a family who wants a really traditional photo?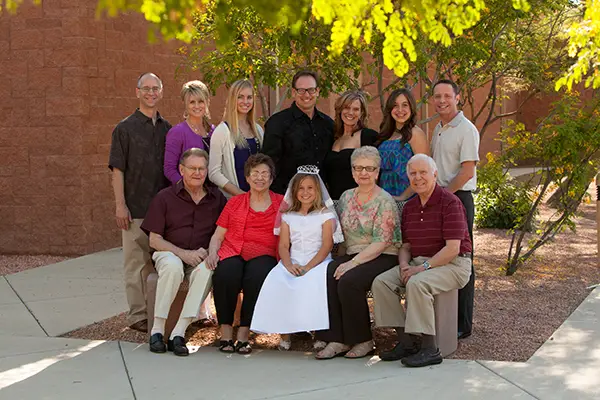 It was little Baylor's first communion and the family wanted "just a regular picture" of the group. It was about 95 degrees out, it had been a long ceremony and everyone was pretty miserable, and the scenery was just brick, street, and parking lot, so I found a bench, moved it to the shade, had my assistant and a few random people pull down the tree branches so that there was some foreground visual interest and less brick, and had everyone turn toward the middle.
Usually, when you have large groups, especially at a life event where family flies in, everyone is looking at each other and talking and doing anything but staying still and looking at the camera. One thing that happens a lot with large groups is that they want to stay a socially acceptable distance away from each other, resulting in a really disjointed group. So I squeezed them in closer about five times, asked them to let me know who hadn't taken a shower that morning and when they laughed, I took the picture.
Send me your wins and fails to [email protected] and we can go over them. Let's get better together!!