As a beginner photographer with over 5-year background in the Internet Marketing, I understand the importance of establishing a firm online presence. I surely need to master my shooting and retouching skills, but I also pay attention to the business side of my hobby to ensure that there's a market for my product and it's growing along with the quality of my pictures.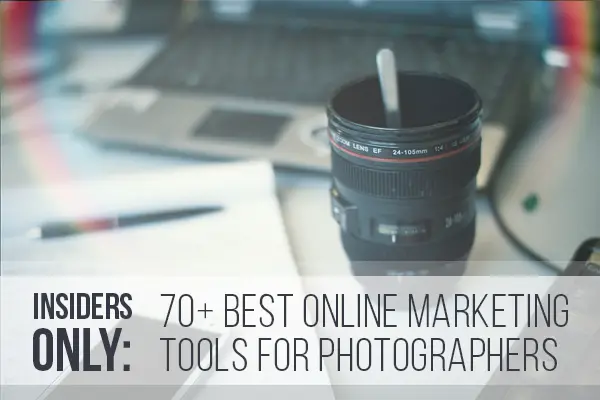 In this post, I'm sharing 70 online marketing and workflow organizing tools for photographers. I've collected this list for myself so that when I need a website building tool or a booking app, I could skip hours of googling and simply refer to this catalog of select links.
You may not need all the tools listed below now, but I suggest you to bookmark this post so that you could easily pull necessary info whenever you want. By the way, if you'd like to have a shorter, "best of the best" list, you can find it in my recent post on Digital Photography School.
Click the following links to jump to specific categories or simply scroll down to view them all.
Image Proofing & Selling Prints
Photography Websites
My website is built on MotoCMS and since I was looking for a self-hosted solution, I couldn't be happier. For $139, you get a sleek website template based on the powerful CMS including such features as drag-and-drop website editor, social sharing & SEO tools, shopping cart widget and others.

Squarespace is a hosted platform providing a gallery of 25 modern templates with e-commerce integration, custom domains, mobile-ready designs, and support. Prices start from $8/mo, and you have 14 days to give it a try for free.

There are 12 web templates to choose from if you go with Orosso. You get an integrated website editor and logo maker to customize your template. Plans start from $24/mo and a free 14-day trial is included.

Besides regular portfolio hosting and building tools (basic plan is $239/yr), FolioLink offers packages to address the needs of stock photographers and studios. With their Image Archive ($349/yr) and Pro ($695/yr) plans, you get some advanced features to manage thousands of images. It's a yearly service with major discounts for the first year available.

Registering a free account with Portfoliobox, you can add up to 40 images to one of their minimalist templates. More design options and other features require an upgrade to the $6.90/mo Pro plan (paid yearly).

Wix offers a vast library of templates available for free. The cheapest Premium plan costs $4.08/mo, but for this price you won't be able to remove Wix brand ads both on desktop and mobile versions of your website. If a web site builder sounds like the option for you, make sure to check reviews to find the best match for your online portfolio.

Pixpa offers several all-inclusive plans (from from $4.00/mo billed annually) that include hosted photo websites, private galleries, Fotomoto shopping cart, custom domain, and other features.

Unlike its competitors, Portfolio Lounge offers custom domains as part of their free plan. You can get extra storage space subscribing for the Pro ($7.99/mo) or Max ($16.99/mo) plan.

You can run your site on a WordPress-based Folio Websites platform for $175/yr. There's no trial period offered, so you can only rely on shown examples and product description.

You can set up a Folio HD website for free. In this case, you'll be limited to 36 uploads, some social-media and design-customization options, and the ability to upload videos and documents in addition to images. The most feature-packed plan will cost you $17/mo including Fotomoto support and custom domain.

This one seems to cater to European folks, as the pricing is stated in Euros. Create a simple, 30-image portfolio for free, or pay up to 9 EUR/mo, to get more space and more options, including a custom domain, iPhone/Android optimization, private galleries and the ability to sell your work via PayPal.

Carbonmade is definitely fun to use. The free "Meh" plan provides a 35-image portfolio on the carbonmade.com domain. Upgrading to the $12/mo "Whoo!" plan will bring you 500 image and 10 video slots, custom domain, private galleries, no ads on your site, and support.

Dunked is a brainchild of the well-known web designer and WordPress theme producer Orman Clark. No wonder the 9 templates you get to choose from are sleek and modern. However, I got an impression that the service was built with the design crowd rather than photographers in mind. Anyway, Dunked is definitely worth considering if you need a simple, clean portfolio. Prices start from $6/mo (billed annually) with a free, 10-day trial available.

One feature that received a separate page on the Viewbook website is the iPhone/iPad portfolio app. You can try this service out for free during 30 days, and if you like it, it can be yours for $19/mo or $190/yr.

For you geek'tographers out there, Subfolio is a lightweight, PHP5, file-browser app that installs on your own server and reads your file system to instantly turn the content into a website — folders become sections, files become pages. Yup, it's not your average drag-and-drop builder, but this tool is pretty powerful if you know how to use it. The app is currently available as a private beta.

A10-image portfolio that you can have translated into a language of choice is available for free; choose between a $4.99 basic or $9.99 pro plan for more features.

What's unique about Brushd is that you can connect your portfolio with your Etsy shop. There's a free plan allowing up to 20 images and videos. If you want a custom domain, unlimited media files, and private galleries, feel free to swtich to the $12/mo Pro package.

Sliding Boxes

You pay $0 to add up to 5 projects / 35 images to your portfolio, but you'll have to credit Sliding Boxes in the footer. The maximum feature set costs $11/mo and includes up to 500 images, a custom domain and Google Analytics.

A portfolio of 35 images and videos won't cost you a penny with Folio24. For $9/mo, you'll get 1500 upload slots, a custom domain and no Folio24 logo on your website.

Advertisers and magazine editors can send briefings to Foliodrop members. This feature is only included in the Pro plan with a price tag of 5 EUR/mo. There's a free plan, too, which is limited to 80 images and one design template.

The starter package costs $9/mo and includes 1 gallery of up to 50 images, 1 external link (seriously, Big Folio?), a mobile website, 5 Slideshows and a few more features. The pro plan ($19/mo) adds FTP access and a WordPress blog. Integrated ecommerce raises the price to $29/mo when billed annually.

Koken is a free publishing platform designed with photographers and creatives in mind. It requires installing on your web server but the process is relatively easy even if you're not technically savvy.

With the right tool, building your own photo portfolio is as easy as a cup of coffee. Photo by Beep.

Portfolio & Networking

While everyone can register and upload photos on 500px, this network is built to give more exposure to professional photographers rather than amateurs. Custom portfolio only becomes available in their top plan, which will cost you $6.25/mo.

If you plan to make money out of selling prints, registering on 1x is definitely a must. Once your photo is approved by 1x's curators, it will appear in the main gallery, which will result in some crazy exposure for your work.

While Flickr is more a photo-management and sharing app rather than a website-building tool, getting an account there can be really rewarding, especially for beginners. It's a great place to put your work in front of millions of people, not to mention it has a public API that integrates the service into numerous, third-party apps.

Behance is committed to connecting creative professionals and employers. Getting a free account may be really useful if you're looking for full-time employment or editorial assignments. However, the administration area is rather confusing, so, before you upgrade to their Prosite custom website for $99/year (free to Adobe Creative Cloud members), be sure you play with Behance for some time.

When you check the dA front page, you may often think "Geez, how could this even be called photography?" But at the end of the day, it has over 31 million members, so it may work as an additional showcase platform and POS for your photography.

Design:related

Design:related delivers portfolio, inspiration and news tools to professionals from various creative disciplines. Another social media outlet for your photography.

Krop can simplify your career pursuits by enabling you to quickly build a portfolio with an optional resume and submit it into their creative database that's used by such huge employers as Barack Obama's White House, GUCCI, Apple, Forbes, Nike, etc.

If you'd like to be a part of a refined community of web creatives, you can apply for a Cargo Collective account.

Dripbook offers tools for both building and promoting your portfolio in their database. An option to export your Dripbook folio to a custom website only becomes available in their premium plan, which costs $350/yr. It's also the only service I found that accepts quarterly billing.

Cloud Storage Media Library

Flickr delivers 1 TB of free storage. That makes it the option #1 for photographers to store and organize their photos. Even with such drawbacks as sluggish interface, 1 TB of space is enough to keep Flickr the no.1 service for photographers of all levels.

Streamnation

Multiple file-format support, including RAW and C2R, makes Streamnation an appealing choice for any photographer. Free plan gives you 20 GB of storage.

Dropbox may not be super tailored for photographers' needs, but unlike every other startup, it will not disappear tomorrow giving you some serious peace of mind.

What's great about Google+ is that, unless your photos exceed 2,048 px by width, Google won't count it against your total amount of available space. Storing up to 15 GB in Google+ Photos, Gmail, and Google Drive is free.

Picturelife is not the most easy-to-use tool, but it's a powerful desktop photo library, which you can try for free (1,700 photos or up to 5 GB of storage). The premium plan will deliver you 100 GB of storage for $7/mo. You can upgrade to Premium Plus and get 300 GB for $15 per month.

Bitcasa

Bitcasa has been referred as Dropbox's major competitor when it comes to storing photos. However, I found a few comments from Bitcasa users that pointed at some issues with data integrity. Good news is that the free plan gives 20 GB of free storage, so you can give it a good spin before putting your digital treasure into this chest.

Microsoft's OneDrive is a great, free option for basic photo storage. Its sleek interface makes browsing and viewing photos a breeze. However, there are no editing options available, so if you'd like to crop a photo or add a caption right in the cloud, you probably need to look elsewhere.

In Crashplan you can always recover a removed file, no matter how much time has passed. That feature alone makes it worth using. Unlimited space in the Crashplan cloud would cost you minimum $5/mo with yearly billing.

Zoolz is designed for long-time data storage. Have your photo archives rest quietly on trustworthy Amazon AWS servers for just $2/mo (minimum subscription period is 5 years).

If the cost factor is central to your cloud hosting demands and you're looking to get the most storage for free, then you should seriously consider Copy. It gives 15 GB of free storage for starters and with many referrals you can get a truckload of additional space.

Let your photos rest on cloud 9. Photo by Alister Babb

Image Proofing & Selling prints

Pixieset is a truly awesome photo gallery builder. It's free to use and offers a lot of useful features, including proofing system, instant download, audio, just to name a few. More storage and custom domain are available under their premium plans (from $8/mo).

If you only shoot events from time to time, take a look at Instaproofs. It takes 15% of your print sales and that's it. That means they only make money when you sell prints, so, as you may guess, this tool has all the advanced marketing features to help you sell more.

Another option with moderate pricing plans ($9.99/mo for 10 GB of storage and 1 active gallery, $24.99 for 25 GB of storage and 5 galleries, and $99/mo for unlimited storage and galleries). However, the fact that self-fulfillment is only available in their top plan seems a roadblock to me.

Nextproof

Nextproof offers a decent set of online proofing tools. There's a free plan on table and you can try their premium features for free during 30 days.

Even though the company website looks like a flashback to 1999, SeeYourPhotos offers a number of unique features such as event previews via automated emails, client coupons and gift certificates, and pay-per-event plans.

Signing up for OnlinePictureProof you get such features as slideshows, mobile app, and a shopping cart, to name a few. The payment options are limited to a $29/mo plan. A simple and straight-forward tool to proof and sell images online.

ProofBuddy is a free WordPress plugin, which will surely come in handy if you have a WP-based website.

A neat feature about ShootProof is a detailed report on gallery visitors' activity. Galleries you can build with this tool are mobile-ready, and under the free plan you can fill them with up to 100 images each.

RedCart boasts a giant list of features and many of them made me say, "Hmmm, that's cool indeed." For instance, their wizard-like ordering design walks your client through the ordering process, and collaborative image selection gets a whole lot easier with the star ratings system. Plans start at $12 a month and you can use your own lab.

Scheduling

Setmore provides an easy-to-use, wizard-like interface which makes using it a breeze. Free features include unlimited appointments, services, and customers. If you need some extra stuff like Google Calendar sync, SMS reminders and so on, you'll need to subscribe for the premium plan for $25/mo.

Making use of Ubooq's appointment tickets and reminders, you'll be able to drastically decrease the number of no-shows. It's quite easy for clients to schedule an appointment via the app's interface. You can organize up to 30 appointments in Ubooq for free.

In addition to online scheduling system and syncing with your favorite calendars, Genbook offers a number of handy features such as reviews and promotions, widgets, social network integration, and a mobile-ready web app. Plans start from $20 per month and include all features. You can also test this tool for free within 30 days.

By registering on ScheduleOnce, you receive your personal booking page with meetme.so/yourname link, which you can include on your website, social profile or even print on a business card. A single booking page costs $5/mo (monthly billing) and includes booking with approval, along with reminders and follow-ups.

BookedIn delivers its own booking app that you can add to your Facebook page. You can pay for the service as you go or subscribe for $20 per month.

You'll be surprised to see how much time you can save for shooting by organizing your business workflow. Photo by Purple Sherbet Photography

CRM Systems

Simply Studio is a cloud CRM system with a lot of features inside, such as accounting, invoicing, online proofing, task management, and other. The pricing plan is $29/mo billed annually with a free 15-day trial available.

StudioCloud is more geared for the workflow of photography studios. You can download this software for free with an option to buy additional modules whenever your business requires it.

The list of features offered by ShootQ is very impressive, but so is the price. There are three plans available, starting from $39.95 per month.

It includes some basic client and task management tools for $37/mo (or $199/yr). By signing up to ShootZilla, you automatically join its referral network for extra bookings at no cost.

StudioPlus offers both on-premises and cloud-based software for managing photography businesses. There's also an ecommerce package available that can be used with any version.


Client galleries

I found lots of positive reviews of the customer service Myphotoapp provides. Even though I didn't contact support, my review of this tool is positive too. Lots of cool features are inside, such as client email collection, integration with MailChimp and Mad Mimi, etc.

With StickyAlbums you can create a nice mobile gallery with your own branding that will work on iOS and most Android devices. Plans start from $19/mo with a free trial available for 14 days.

ShootProof users can take advantage of the mobile photo albums for free. There's an option to use this feature alone and it's free as well, but there's a 100-photo limit you'll have to stick to.

Plover's goal is to help you showcase and sell your photos in a more elegant way via beautiful online galleries you can create for each of your clients. Subscription plans start from $8/mo with an option to try before buying during 14 days.

Pass is a desktop-based tool for creating and sharing photo galleries viewable on any device. It's free to use for 30 days, but you'll then need to upgrade for $29/event in order to keep current galleries alive and get premium features.

Tog

For $5 per gallery, you can add up to 100 photos to your photo album. which will be made public for 2 months. Unlimited VIP users and one full-res gallery download are also included in this plan. Unlimited photos, public galleries for 2 years, unlimited VIPs and downloads are the features of the Premium plan that comes with a $25/gallery price tag. Tog is currently invite-only.

ProImageShare

If you're a Lightroom user, you will like this tool for sure. With ProImageShare you can publish and host your own web app that can be downloaded on iOS devices with the look of a custom app. For $69 you get a plugin to publish as many apps as you want to your own unlimited web host.

Impress your wedding clients by giving them an easy way to share their special moments with friends. Photo by Tomasz Wagner

Universal platforms

Photoshelter is one of the industry's biggies. It helps photographers to host and market their photo portfolios from A to Z. However, I'd say it's an option for pro photographers with established brand and sales funnel. The basic feature set would cost you $9.99/mo with the price rising to $49.99/mo for the premium toolbox.

Zenfolio is another name that needs no introduction. You get tools to host, proof, and sell your images online. Plus, they've recently added the ability to order and sell photo books, which is great for sure. The basic plan costs $30/yr, and you can try it for free during 14 days.

Queensberry Workspace is an online platform for photographers to build and market their online presence, as well as, work with the range of Queensberry's print products. There's a free plan available, and you can get a wider set of features for $4 monthly and higher.

Websites, Ecommerce, Blogs, Design and SEO Services are the four main products Photobiz is offering. The emphasis is laid on dedicated support here, so if you prefer professional assistance in your digital marketing pursuits, Photobiz is surely worth checking out.

Pictage

Pictage is geared at providing complete studio support including post shoot sales and proofing tools, answering client phone calls and delivering direct lab and fulfilment services. Prices start from $29/mo, new member get 1 month free.
Bonus Service
Before this mega list is officially closed and you can finally get to the comment section, I'd like to show you one more tool, Defrozo.
Currently available as public Beta, Defrozo is a new universal marketing platform for photographers. It has started with two features on board, which are a drag-and-drop photo website builder, and a cloud media library with powerful multi-sorting and sharing capabilities. Among other features announced on the Defrozo website are Online Proofing, Scheduling, CRM, Ecommerce, and Client Websites. Platform developers promise frequent updates (every 2 weeks) and the main functionality will be followed by a photo book design tool and retouching service.
Even though Defrozo will always be free to use, the dev team is mulling some premium packs of features. I know that because I'm participating in their focus group of photographers. I suggest you to sign up early too as they hinted at bonuses and extras for early adopters.
This thing looks quite ambitious and promising so I thought, why not join it now and then just skim the cream off when it grows big.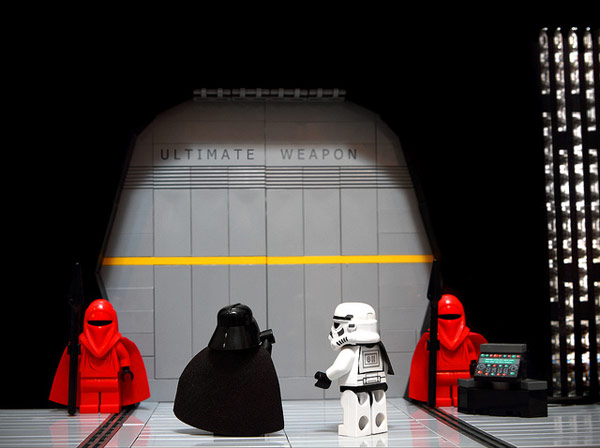 What tools do you use for online marketing?
I hope this list will come in handy, and I encourage you to share your own marketing toolbox with us. What apps and services do you use to organize your workflow and get new clients? Share your ideas in the comments please.