After many months of waiting, the iPhone 6 and its big brother, the iPhone 6 Plus, have finally arrived! Apple made the decision to keep the 8-megapixel sensor for the iPhone 6 iSight camera, despite other smartphones which have up to 20-megapixel cameras. However, the iPhone 6 camera is not the same as the one you'll find in the iPhone 5S.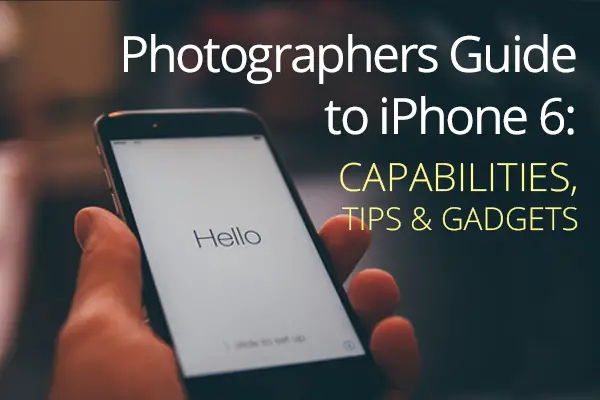 It has a number of features designed to enhance smartphone still-photography and video. Most of these features take the iPhone 6 photographic ability to an entirely new level.
The new camera in the iPhone 6 combined with the capabilities of iOS 8 result in breathtakingly amazing photography. Some might argue it is the best smartphone camera on the market. Let's take a look at the new camera and iOS photography features and see what gadgets will be suitable for iPhone 6 this fall.
Key iPhone 6 Camera Features
The larger format and thickness of the new iPhone 6 and iPhone 6 Plus have grabbed the attention of all the headlines. However, for photographers, features such as a wider viewing angle, increased brightness and improved contrast on the brand new Retina HDR screen is what really makes us excited.
Screen Resolution and Retina Display
The iPhone 6 Plus runs at 1920 x 1080 Full HD screen resolution, while its baby brother offers a resolution of 1334 x 750. The iPhone 6 and iPhone 6 Plus use the same 64-bit A8 chip, which comes with image processor and video encoder built in. The A8 chip offers improved efficiency, so you can shoot for longer.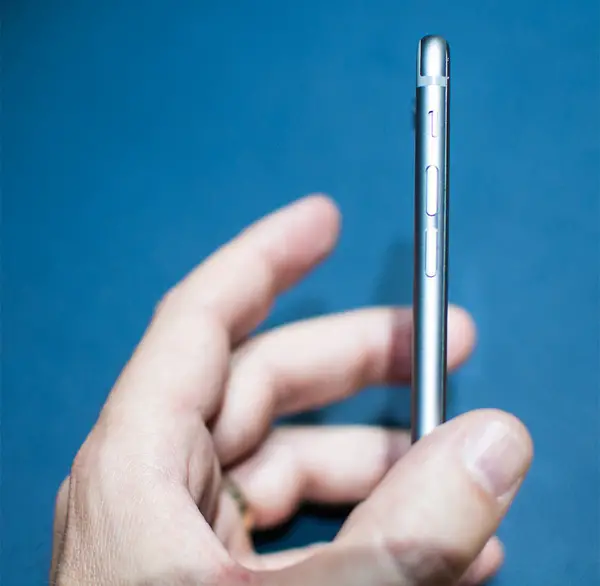 Creative video options, high resolution panoramas and longer battery life are going to need a lot of storage space. This time there is no 32GB option available. iPhone 6 and iPhone 6 Plus are available in both 16GB and 64GB versions along with a new 128GB solution which we'd recommend for those really long vacations when you don't have your notebook around to dump your images onto.
Optical Image Stabilization
The iPhone 6 Plus introduces vibration-reduction optical image stabilization. It detects any movement of your hand while you're holding the phone to take a photo or shoot a video. The A8 chip and M8 motion coprocessor adjusts the position of the lens unit to compensate for this motion.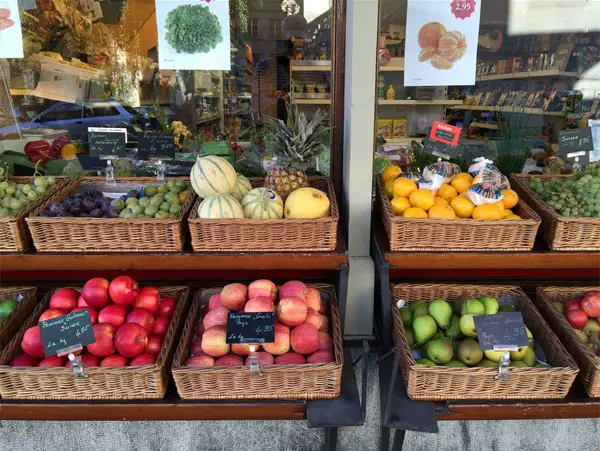 This feature has the potential to offer an improved low light performance, and it's also effective while shooting a video reducing the chance of motion.
New Frame Rates for iPhone 6 Video
The most significant gains have been made with the iPhone 6 iSight camera. In addition to shooting 1080p at 30fps, you also can record Full HD at 60fps. There is more potential to shooting smoother, sharper videos with an option to capture more frames per second. The iPhone 6 goes one step further than the iPhone 5S with its 720p at 120fps, letting you to shoot HD footage at 240fps.
Ben Canales, an Oregon-based photographer and filmmaker, wasted no time putting his new iPhone 6 Plus to the test once he had it in hand. Watch this video to see the capabilities of new iPhone 6 Plus camera.
3 Days with the iPhone 6+ from Uncage the Soul Productions on Vimeo.
"It feels like cheating going from shooting 240fps to time-lapse to stabilized video so easily," he says. But, of course, it's still not going to be replacing his professional equipment anytime soon.
Improved Face Detection
Both the iPhone 6 and iPhone 6 Plus camera gives better face detection in comparison with the iPhone 5S. Apple says that the new iPhone is better at face detection in crowds as well as selecting faces in burst mode.
High-Resolution Panoramas
The new iPhone 6 has an improved panorama mode by offering high-resolution images up to 43 MB while iPhone 5S panoramas max out at 28MP.

Having higher resolution images means you can make larger prints, but they will take up more storage space on your phone.
New Camera App Features on iOS 8
With the launch of iPhone 6 and iPhone 6 Plus, Apple has released their brand new iOs8 iOS 8 software.It contains a range of new features such as a manual exposure adjustment, a self-timer and a time-lapse video mode. Let's take a closer look at these new features.
Manual Exposure Adjustment
Have you ever had problems with finding the proper exposure using the native camera app? Manual Exposure Adjustment will solve them all!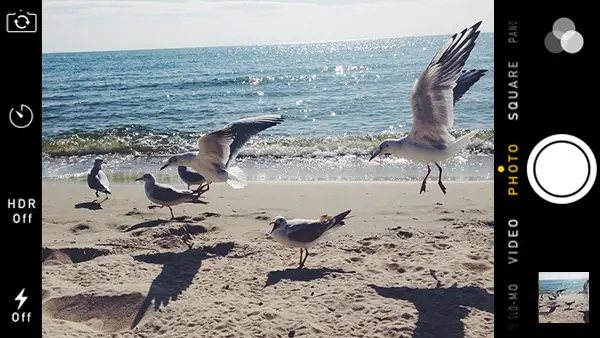 In the later version of the iOS 8 camera app you could only set exposure and focus at the same point. This was kind of frustrating as you might want to set them both at different points.
Begin with tapping (or tapping and holding) the part of the screen that you want to set focus for. This would be the main object of the photo. While setting up correct focus, a yellow square with the sun will appear. This is the point the camera sets exposure for. However, sometimes the exposure the camera sets automatically does not look good, just like on the picture below.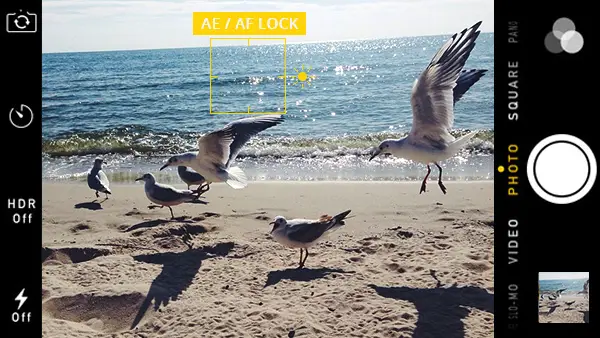 So, with the update you can adjust the exposure without changing the focus point. Just swipe up or down anywhere at the screen – up to make the image brighter and down to make the image darker. The sun icon will move as you swipe up or down.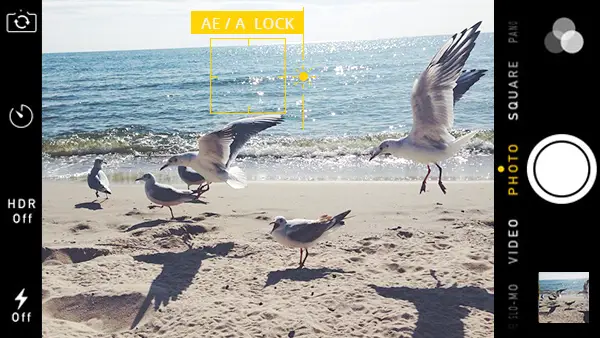 To start again with focus and exposure, just tape on the other part of the screen and start all over. It's really simple.
Self-Timer Option
The new iOS 8 software camera app contains a self-timer. You can delay taking pictures to 3 or 10 seconds. This is a great feature when you want to take a self-portrait or when you're taking pictures in low light and camera – shake is too obvious.
To turn on a self-timer, just click the timer button (clock icon on the top) and select the delay to 3 or 10 seconds.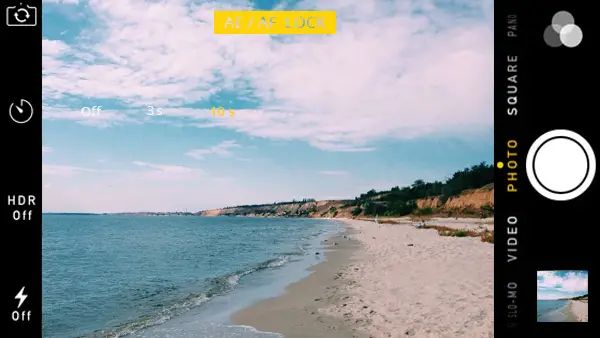 Compose the picture and click the shutter. A numbered countdown will appear on the screen indicating that the timer is counting down.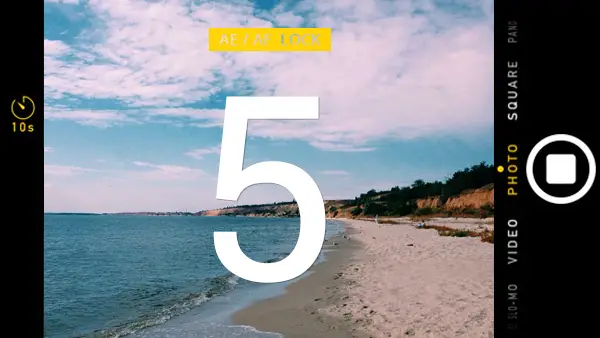 The greatest thing about the self-timer is that when it's working, it uses burst mode. The camera takes 10 shots in really quick succession. And you're able to choose the best one of the series of photos taken.
Time-Lapse Video
With iPhone 5S you had an opportunity to play around with slo-mo video mode which enables you to create a slow motion film.
With iOS 8 you can create time-lapse videos. Just film a scene over a period of time and then speed -up the footage so everything appears to be moving much faster. Do you remember those movies about the prehistoric era where the changing of the Earth is shown really fast? With new iOS 8 you can create a similar video.
To access time-lapse video mode go to the camera app and swipe through the list of shooting modes until you find Time-Lapse.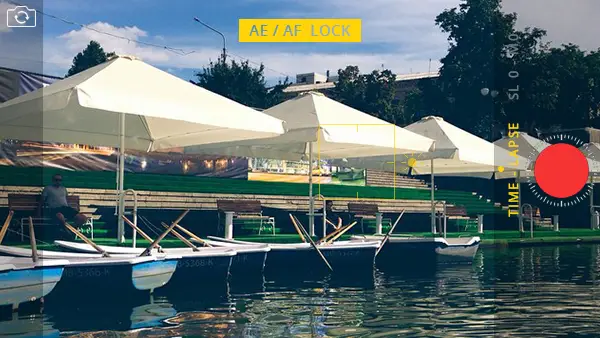 Taking the time-lapse video you can set up exposure and focus the same as taking a photo. Click the shutter button and start recording, and stop it when you're done. When you play the video footage it appears sped up. But if you're serious about time-lapse photography, then the native Camera App is not what you need. With the native app you won't be able to choose the rate at which the footage is sped up or the option to share on Instagram.
iPhone 6 Photography Tips
Knowing all the features of the new iPhone 6 and iPhone 6 Plus, I'd like to share some more tips to get the best photograph every time.
Use HDR Mode
Sometimes pictures seems too dark or too bright. Use the HDR option on the camera app as it takes a correctly exposed photo and merges it with overexposed and underexposed ones to get the best results.
Use One Hand as a Lens Hood
The new iPhone 6 lens sticks out a little to adapt its new sensor. You can hold your hand above the lens in order to get rid of unwanted lens flare and to boost the colors of your photo.
Shoot Without Filters
There is an option allowing you to shoot with the native photo app iPhone 6 filters, but it's better not to use them to get the shot most similar to DSLR. After you take a photo, you can edit it with any app you like. A great option to try is VSCOcam.
Don't Use the Flash
The iPhone 6 built-in flash is not that good at achieving high quality photos. You can use another iPhone's LCD light to control lights and shadows for your shot.
7 Smartphone Photography Tips & Tricks Video
While writing this post – I occasionally found an awesome video from Cooph featuring great smartphone photography tips and trick that can be applied to the iPhone 6. So, check it out! It's worth it.
iPhone 6 Best Gadgets
Here are our suggested gadgets for iPhone 6 and iPhone 6 Plus.
iPhone 6 as all its precursors have low battery life. Of course, Apple claims that an iPhone 6 battery will last longer, but a backup battery for your smartphone will be handy anyway. It's a great device for long trips.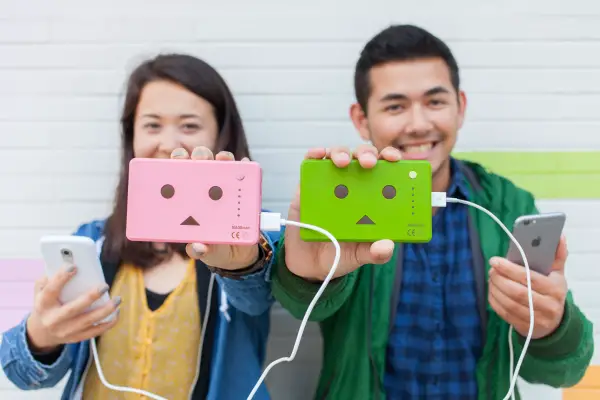 This fall is going to be cold so you can not do without gloves. These gloves will let you to use your touchscreen phone. Moreover, they have grippy palms help you keep a good grip on your phone.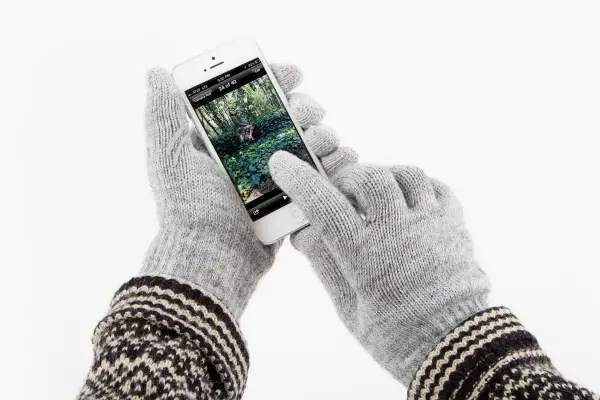 Of course, with the new iOS 8 you'll get the self-timer tool that allows you to delay taking photos for 3 or 10 seconds. However, sometimes 10 seconds is just not long enough. In that case, you need this cool remote shutter. It lets you take photos up to 30 feet away from your phone.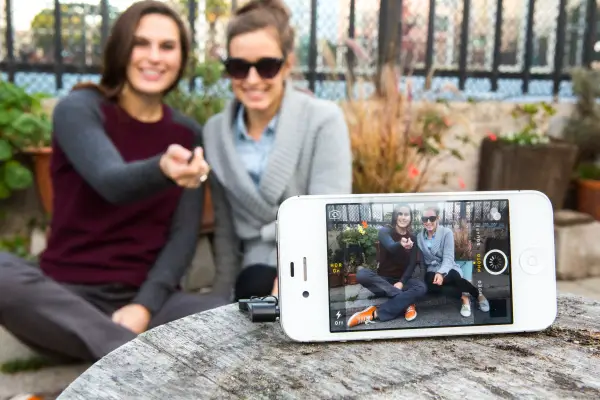 Cordito is an awesome organizer that will help you to get rid of the mess with your headphones once and for all. You can keep all your cords in it and they won't get tangled.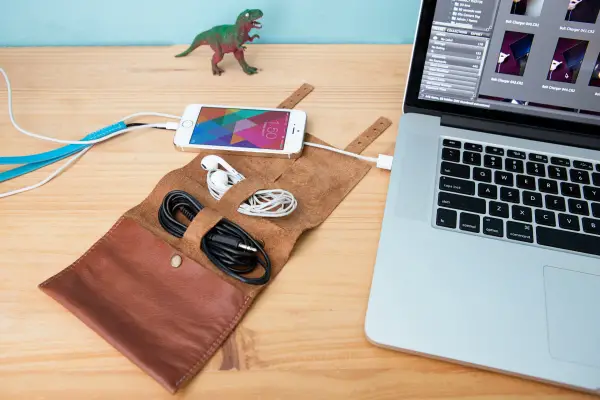 This kit of 4 lenses will give your iPhone 6 camera super-powers! There is a Fisheye, Macro, Wide Angle Macro, and Telephoto lenses in the kit to get the most of your smartphone camera.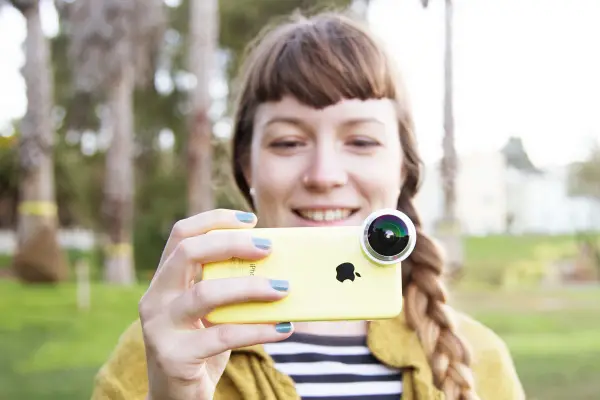 The Bottom Line
If you're an iPhone photographer, you might want to buy the iPhone 6 (or iPhone 6 Plus) and use iOS 8, or update your current iPhone to it. Of course, this is the biggest makeover of a camera we have ever seen. It will change the way we take, edit and store our photos and videos.
It's also definitely true that photos from other smartphone cameras with bigger megapixels are much bigger than what you'll get from the iPhone 6. However, it does not mean that these cameras always produce higher quality material. At the same time, I should point out that the iPhone 5 is still trendy. I still have the iPhone 5. 😉 Also, you should learn how to effectively use Instagram to promote your business and how to capture a perfect selfie. Stay tuned! More fantastic posts are on the way!