For millions of people worldwide, no family is truly complete without a furry friend. Cats, dogs and all the critters in between are quick to crawl their way into your heart, and it's no wonder why people want to capture their personality – forever.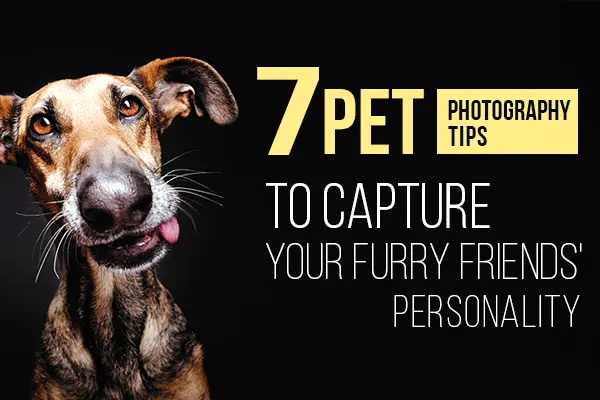 One of the best ways to do this is through snapshots. Like children, though, pets can be difficult to photograph because they get distracted easily and move around quickly. While it can be challenging, though, it's definitely not impossible.
Before getting that camera out, however, it's important you ask yourself what sets your pet apart from everyone else's. Consider his personality and how this can be portrayed through the photos – you want to take the perfect shot that really sums up your pet! Here are a few pet photography tips to truly capture your furry friend's character.
1. Keep Their Eyes Purr-fectly Sharp
When it comes to photography, the old saying, the "eyes are the window to the soul," really applies. Your pet's eyes say it all and help to reveal who they are. Experiment by taking a few different shots, and you'll notice their eyes will be slightly different in each image. This can change the whole feel of the photo. Use treats or toys to get their attention, and keep their eyes wide open towards the camera for the perfect shot.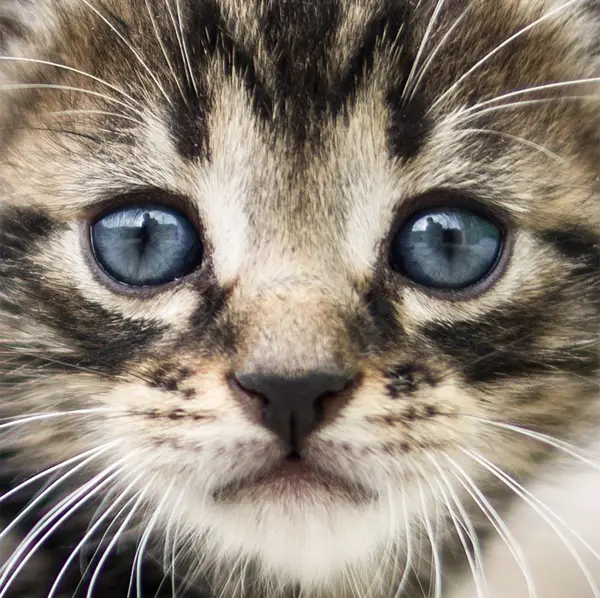 Pets are very expressive creatures, so learn to focus directly on their eyes and keep the tack sharp. Achieving this level of sharpness, no blurring and crisp details, you'll be able to create a truly eye-catching picture. This article provides some great tips for tack sharp focusing.
2. Playful Paws and Exciting Times
To really expose your pet's character, you want them to be doing what they love. Whether this is snuggling in their favorite spot or playing with their favorite toy, include an array of photos that mixes entertaining action shots with stills.
You don't really want to capture a "bored pet," so make use of toys and treats to keep them happy, and be lively with them. Another great benefit of getting them in their playful state is they'll eventually begin to get tired. This will help you take some still, relaxed shots of them later.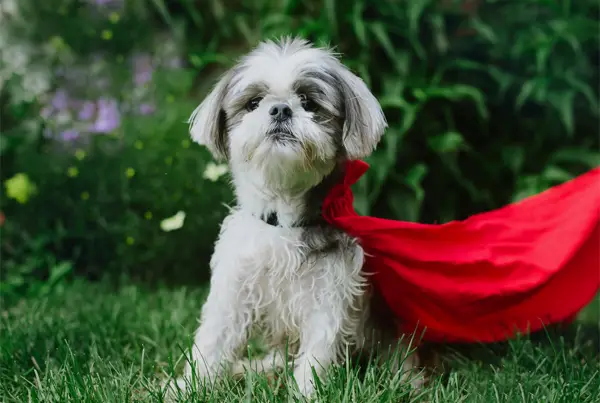 By learning to read your pet's personality, you'll be able to set up a scenario or location that brings it out best. Do you have a curious pet that's always getting into mischief? Capture him getting stuck in something or busted! Does your pet go nuts for water? Then take him down to the beach where you'll know he'll feel the most comfortable and content.
3. Get Down on All Four Paws
It can be super-intimidating for your pet if you're looming over, trying to take the perfect shot–especially when you're armed with a big camera in your hands. It's not unusual for people to take a standard photo of their pet, and see them from the same way we view them every day. Getting down on their level opens up more opportunities to get to know your pet and create a great photo.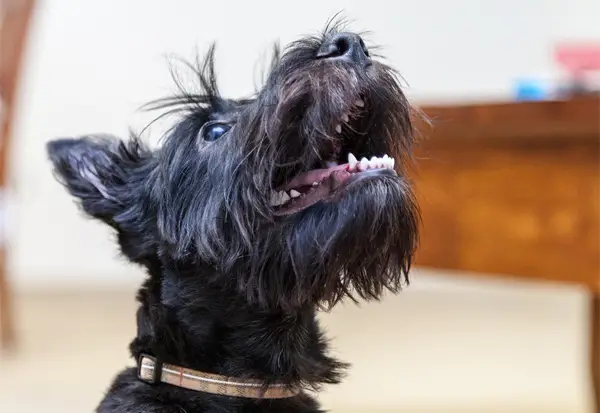 Your pet's personality is not going too be revealed at its best when you're forcing him to come to you. They need to feel at ease and comfortable with the situation. Going to them – on their level – will establish a more intimate and engaging composition, giving credit to their true character.
4. Macro Magic
Bring the smaller characteristics of your furry friend to life with some macro magic. Macro photography, the term used for close up shots, enables the small things to appear larger than life-size. For best results, use a long lens and fill the frame with a close up of your furry friend's fur, paw print, or something unique to them. A good time to do macro shots is when your pet is asleep or in his most relaxed state.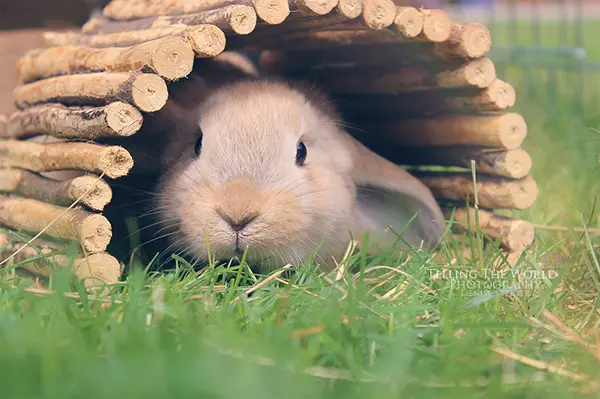 Getting up close and personal with your pet by using macro creates exquisite animal portraits. You don't always need to focus on a full body shot to capture the cuteness of your pet. Instead, find something small you love about them and enlarge it. Maybe it's a distinct pattern in his fur, a marking on his nose or the detail of his paw – it's these smaller specifics that spark visual interest with the magic of going macro.
5. Curiosity Didn't Kill the Cat
There's nothing better than capturing your pet at his most curious state. Not only does it make for a fun shot, but pets are naturally inquisitive creatures, so photos that express this usually turn out great. If your pet isn't used to your camera, his curious instincts are probably going to want to explore it. Allow your pet some time to become familiar with the camera "looking" at him. Let him sniff or paw the camera as he explores – sometimes peeping out from behind the lens will surprise him, too, and it makes for a great photo.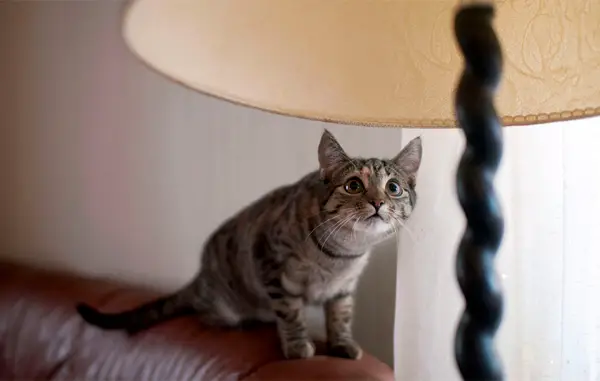 Another way to spark a sense of curiousness is rattling their toy or treats in a bag. That quick glance they make at the noise can offer a curious look in their face. And even if your pet isn't quite a "furry" friend, they're still going to want to explore – check out this blog post of a portrait shoot with a curious pet python!
6. Freeze Their Actions
The biggest reason pets (and children!) are so hard to photograph is because they are so active. This is where you can put your camera to good use and experiment with the right settings to 'freeze' their actions. Depending on how confident you're feeling, you can take photos of your pet in manual mode and mix between the shutter and aperture.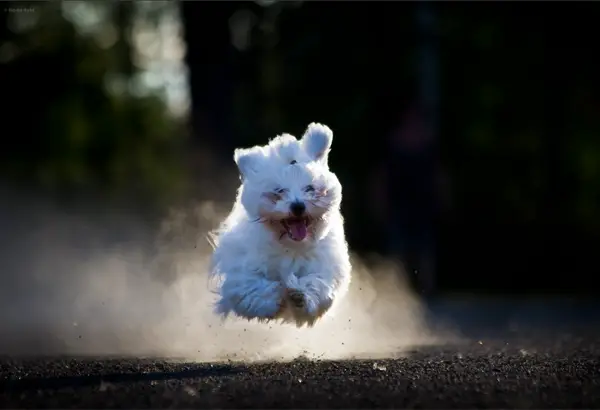 If you're not familiar with the best ways to do this, you can capture your pet in shutter priority mode instead. You'll need to set the shutter speed so it's faster than normal, and your camera will do the rest. This is ideal if you plan on taking photos of your pet running down the beach or in full play action at home.
7. A Lick of Natural Lighting
The right lighting is the key to any good photo and ultimately brings the subject to life. Ideally, it's best to stay away from using the flash because it'll distract your pet, frighten them or make them look like a spooky, red-eyed devil from a movie.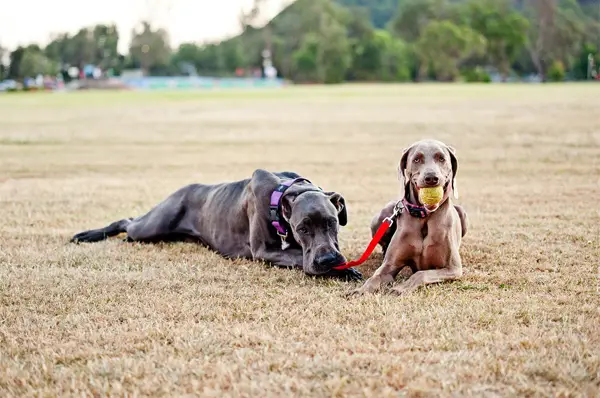 Whilst natural lighting is the best form for photographing your pet, avoid direct sunlight – especially if your pet has white fur. White pets photographed in direct sunlight or with a flash on tend to look over-exposed. With darker-colored pets, using a flash can sometimes add detail though because their black fur can absorb the light too much. Ideally, you'll want to make sure you furry friend is used to the flash before trying this.
There are no limitations to ways you can capture your furry friend's personality. Don't be afraid to shoot continuously between shots to account for any slight differences (opening eyes, blinking etc.). So what's your favorite way to photograph your pet!?
Author's Bio: Jayde Ferguson writes for Viva Photography who specialises in pet photography throughout Melbourne and Perth. Catch Jayde on Google+ to discuss this piece.