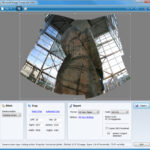 Image Composite Editor is Microsoft's over-engineered way of saying "panorama stitcher." This software takes multiple images and stitches them together automatically, blending seams, cropping, the works. It's extremely simple to use: just drag and drop a batch of images onto the interface and it gets to work immediately finding overlapping points, stitching the image together, correcting for distortion, and blending the results together.
To test it, I dropped two images from a simple two-frame panorama I shot a few weeks ago of Balboa Pier onto it. It worked quickly and did a fair job of compositing the images. It did have some blending trouble around the right-center portion of the photo. But overall the result was good and it was ridiculously easy. This is the easiest to use stitching software I've ever used.
Another nice feature is that it will export to multiple formats including JPG, TIFF, Photoshop, HD View Tileset, Deep Zoom Tileset, Windows Bitmap, PNG, and HD Photo Image. And you can export layers if the format supports it (for example, Photoshop) to help with additional post-processing.
Click here to download Microsoft Image Composite Editor (Free, Windows only).
Below are images from the pier I composited and the trouble areas: