I was hanging out in one of my blogging groups the other day, and people were discussing things they wanted to do to improve their photography. One thing that popped up a few times was switching to manual mode, and how daunting that seemed.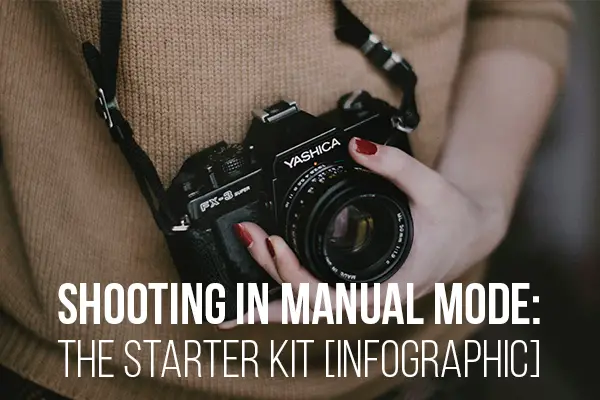 I am here to tell you that I thought the same thing until I actually went for it. Shooting in manual mode allows you access to a larger number of settings than automatic modes, so you can have fun adjusting all of them. But the thing is — you don't have to, your first time shooting in manual, or ever if you don't see the need for it! Shooting in manual mode can be as simple as 1-2-3.


Infographic design by Lix Hewett
Transcript:
Shooting in Manual Mode: The Starter Kit
Lesson #1: It doesn't have to be a big deal.
Lesson #2: You can get away with adjusting only four settings.
Those settings are these:
Shutter Speed
… 3″ …… 1/10 …… 1/500 …
slow —————————————— fast
bright ————————————— dark
Aperture
… f/1 …… f5 …… f12 …
shallow — depth of field — deep
bright ———————————— dark
faster ——————————— slower
Note: Shallow depth of field  = bokeh!
ISO
… 100 …… 800 …… 3200 …
slow —————————————— fast
dark ———————————— bright
clear ———————————— grainy
Note: Remember you can add grain but you can't take it back!
White Balance
… 3000K ….. 5000K ….. 8000K …
(temperature measurements)
colder —————————— warmer
bluer ——————————— redder
Tip: If you shoot RAW, you can adjust the white balance in post-processing.
Note: The default AWB (a = auto) works a lot of the time! Adjust if your pics are coming out red or blue.
Click on the following link to find out 6 things to learn after manual mode.
Further Reading
Credits:
LCD screen mockup based on Canon EOS 450D
Design and words by Lix Hewett · www.lixhewett.com for Photodoto · www.photodoto.com