Photographs have always been intended to provide us with memories to last a lifetime. Of course, the technology has certainly evolved over the past 150 years. There are now countless ways to display our most precious images. Photo albums and high-definition emails are two common examples. However, what if you instead wish to place photos throughout the home? What options are at your disposal?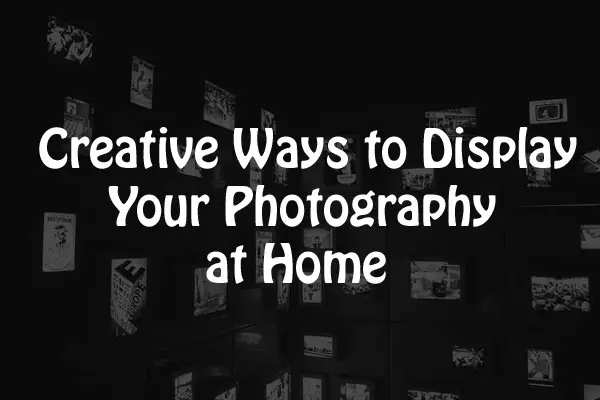 Let us take a look at some worthwhile methods to consider as well as a handful of alternatives that are truly stunning to behold.
Create a Bespoke Photo Wall
This idea is as simple as it is effective. There are many locations within a home that could use a bit of sprucing up. Perhaps you have been contemplating what to do with a plain wall in a bedroom or living area.
Why not opt for a photo wall? You can choose various motifs to employ and naturally, the frames may be used to work in conjunction with other elements such as nearby trim or upholstery.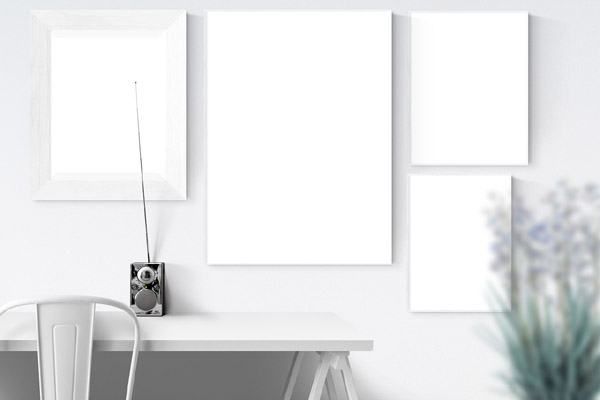 It is a good idea to use photos of different sizes in order to avoid a "cookie cutter" appearance. Varying dimensions will also provide the illusion of depth within the room. If this wall is then accentuated through the use of an LED lamp or overhead lighting, the results will be amazing to behold. Photo walls also make great centrepieces if you are planning to have guests over in the near future.
There is Always "Time" for Photos
Another unique concept that has become popular in recent times is to mount your photos around a large wall clock. Not only will you be forced to think out of the traditional interior decor box, but this method provides you with a great deal of latitude in terms of the photos that you wish to display.
For example, you can place images depicting the morning hours or a sunrise around the earlier hours of the clock. Afternoon and evenings may likewise be highlighted by a photo taken while enjoying a sunset on the beach or seated beneath a starry sky. Some have even chosen to mark each hour of the day with the age of their child. This is another excellent way to commemorate a memorable life event while adding a touch of class to any room.
Hanging Photo Frames
While this concept is a bit more traditional, it is nonetheless worth mentioning. One of the most notable advantages associated with hanging frames is that they are extremely easy to make. You can use objects around the home such as a series of large tiles or pieces of slate. You may likewise choose to head to the local thrift store to purchase a series of small blackboards.
Once each segment is connected via twine or rope, it is possible to hang the photos where you best see fit. If you wish to add a bit of colour to your home, why not implement a few coloured panes of glass and place these frames around a window that receives plenty of light? As we can see, there are numerous options at your disposal.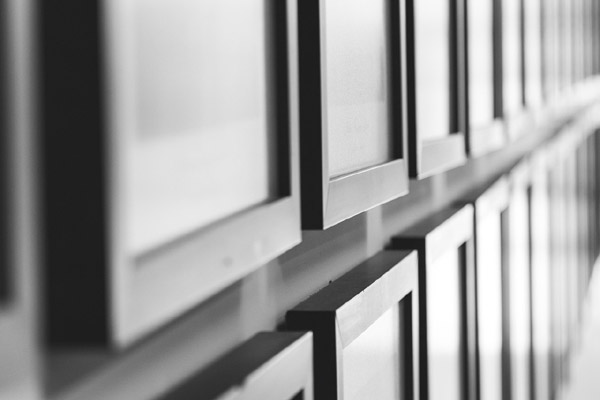 Photo Magnets
There is no reason why bespoke photography ideas within the home should be forced to sacrifice functionality for beauty. The good news is that this next recommendation offers both. If you happen to have a series of smaller photos that you wish to display, these can always be cut and mounted to magnetic frames.
This is a very useful idea in the kitchen, as the photos can be placed upon a refrigerator door in order to secure important items such as recipes or grocery lists. On a final note, most professionals recommend that you make high-quality digital copies of the images. This will enable you to keep the originals intact.
Clipboard Galleries
One of the challenges associated with placing photos around your home is that some designs (such as traditional frames) can be difficult to change if you wish to display different images from time to time. This is why it may be wise to adopt a decidedly more flexible approach. As the blog LoveGrowsWild notes, photo clipboards are worth a closer look.
You can essentially mount a series of clips upon a piece of wood or tile. Once the supporting background has been mounted to the wall, it is easy to replace one photo for another when desired. Furthermore, you will be able to avoid cumbersome steps such as removing a pane of glass. The attached clips are capable of holding the photo in place; providing the environment with a slightly shabby chic appeal.
Transfer Your Photos to Canvas
The notion of silk screening has been around for some time and it is perhaps most popular within the textile industry. However, it is also possible to transfer a digital photo to a traditional canvas. There are several advantages associated with this method. First, you will often be provided with the ability to resize the photo in question. This can enable you to choose from different dimensions.
In the same respect, photos reproduced on canvas boast a rather timeless appeal while still representing ideal options within a more contemporary environment. The good news is that numerous firms offer this service, so be sure to compare and contrast different prices in order to encounter the best deal.
Create Your Own Blanket
This is arguably one of the most innovative ideas within our list, and for good reason. Photo blankets are great alternatives to more traditional design elements and yet, they add a personalised touch that would simply not be possible otherwise. As you may have already imagined, numerous materials can be utilised when creating one of these blankets.
Common options include wool, polyester blends, sherpa and similar fabrics. Thanks to modern technology, it is even possible to create a custom blanket with a permanent woven image. In terms of function, beauty and sheer comfort, a bespoke photo blanket certainly aims to please.
If you possess a great deal of skill, you might choose to create your own photo blanket at home. However, relatively few have the time or the expertise. It is much better to speak with a professional firm. Not only will you be provided with a host of design options, but you can choose from blankets of varying sizes. From throw blankets to those large enough to fit on a queen-sized bed, this idea will not disappoint.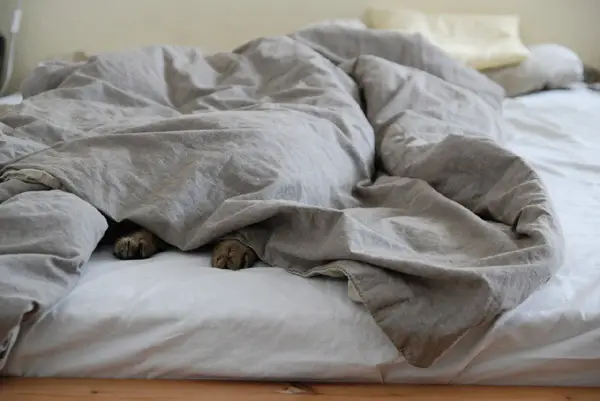 Floating Frames
Have you been looking to imbue your home with a museum-like appearance? If so, the use of floating photo frames is another interesting idea. These frames are comprised of clear materials such as acrylic or plastic. Thus, your photos will appear as if they are literally floating off of the wall.
The frames are available in a variety of sizes and they are also cost-effective options if you happen to be governed by a tight budget. Finally, floating frames are excellent choices in the event that you wish to maximise the amount of existing space within a smaller room.
The Metallic Edge
One of the latest trends in home decor involves the use of metal in order to accentuate existing room designs. This is most often seen within bathrooms and kitchens. Taps and similar hardware can make an understated and yet powerful statement. So, why not employ this very same principle in relation to your images? Metals such as copper, bronze and chrome will certainly make any photograph "pop" off of the wall.
You can even choose the colour of the metal based upon the predominant hues within the image; an excellent way to further accentuate such a choice. The frames themselves can likewise be procured in a number of different styles and designs. From the Victorian appeal of simulated wrought iron to contemporary tones of pewter, there is no doubt that metallic frames are worth a closer look.
Repurposed Materials
This suggestion has been around for some time and it is worth mentioning again due to the aesthetic beauty that it can provide to your home; particularly if your room is already associated with a more organic ambience.
Repurposed materials such as wood salvaged from a ship or slate shingles removed from a period home are often readily available through online portals and unlike mass-produced items, they offer what can only be called a one-of-a-kind history. This is excellent in terms of sheer personality and naturally, you can always choose items from around your home to accomplish the same effect.
Photo Frames with Back Lighting
Backlighting has always been an important concept in photography, as it serves to bring the associated image to life. A greater amount of light will enable colours, tones and shadows to become more defined. This tends to lend a decidedly three-dimensional appeal to the subject matter in question.
So, why not incorporate this very same principle when considering photos around the home. Modern technology has enabled backlit frames to become an extremely popular option. LED lights are available in a nearly limitless number of hues and there are even some frames which enable the colours themselves to change over time. Not only will this help to accentuate the photos, but the use of such light can add a soft and warm glow to any room.
Recycle an Old Door
Have you recently decided to upgrade a door within your home? If it happens to be a french door (a door with a number of square glass panes), you are presented with an amazing opportunity. When permanently fastened to a wall in a horizontal manner, what might have appeared to represent nothing more than scrap can immediately transform into an entirely unique means to frame a series of photos.
Simply place each image behind a pane of glass. Of course, you can also paint or stain the door to specific preferences if necessary. We should still mention that the majority of homeowners prefer a more distressed look, as it adds to the personality of the room in question.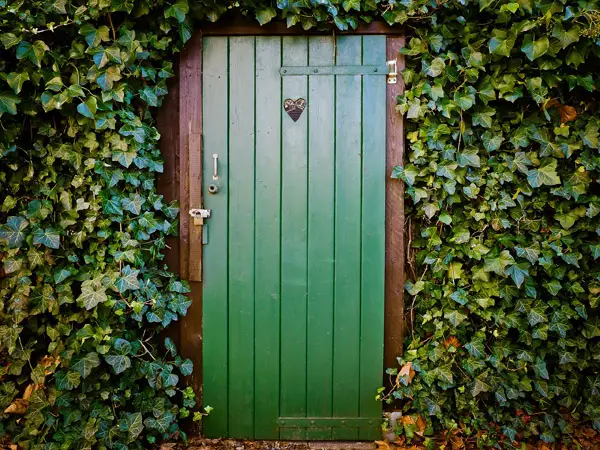 A Bit of Geometry
You will be pleased to learn that all of the geometry begrudgingly learned in school may finally come in handy. One interesting trend in recent times is to combine angular elements with a series of photos. However, there is no need to break out a protractor.
Instead, place a series of framed photos upon a wall. Connect these to one another with threads of different colours. Not only will this method tie each image together with the others, but it easy to expand upon such a design as more memories are added to the collage.
The Use of Ceramic Tiles
Bathrooms will inevitably require an upgrade from time to time. In the majority of cases, there are a handful of leftover tiles. As opposed to allowing these elements to gather dust in a basement or attic, why not enable them to accentuate your photos?
Once again, you can utilize several user-friendly programs such as Photoshop in order to recreate digital prints of the original images. These prints can then be trimmed to size and adhered to the tiles. Not only is this method easy to implement, but the results are truly one of a kind.
Coasters
Why not transform an average coaster into a veritable work of art? There are some coaster designs which will allow you to slip an image between two pieces of clear acrylic. These are excellent conversation pieces and the pictures themselves can be changed when desired.
We can see that there are many unique ways to display photography at home. Whether you hope to create your own blanket from sherpa or woven patterns or you instead prefer to
employ one of the many methods highlighted above, there is no doubt that you will be amazed with what is in store. So, feel free to refer back to this article in the future.
In conclusion, there are various ways to enjoy your photography and explore your creativity all at once.
To read our guide on selling your photography click this link.
For tips on creating a photo wall have a look at this video: