Are you looking for the best free photo filter apps? You've come to the right place. Using the best photo filter app can transform your photos, improve the look and feel of your Instagram feed, and impress your friends and family.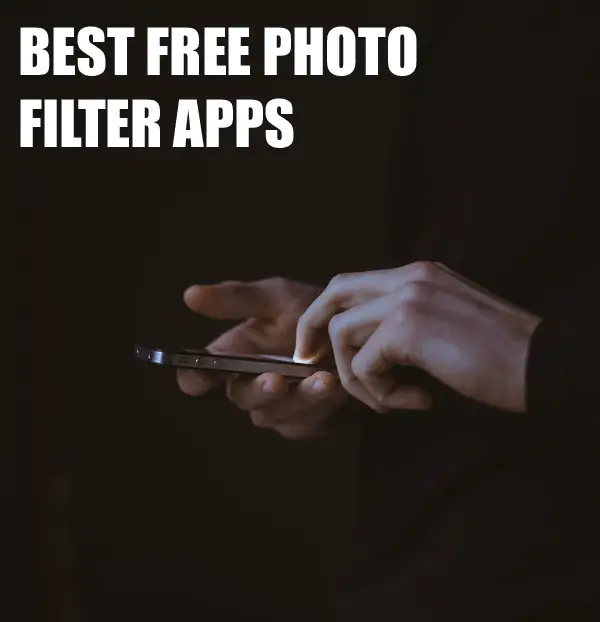 With so many choices available, you may feel confused and overwhelmed. We've compiled a list of the 15 best free photo filter apps that will help you customize your pictures the way you want.
Let's get started with the list.
1. Snapseed
Snapseed takes up little space on your smartphone or tablet.
This tool has a user-friendly interface and an extensive feature set. Snapseed has a fantastic selection of filters that can be combined and altered indefinitely. Users have access to over 29 different tools and filters to improve their pictures. Glamour Glow, grainy film, vintage, and black-and-white are special filter categories.
Snapseed is the most outstanding photo filter app to try if you want to make your photos beautiful. It is intended for detail-oriented photographers who want to recreate imposing photographs.
Pros
Supports all tablets and smartphones 
In-built sharing feature
Easy-to-use interface
Over 29 different filters
Cons
No separate cloud storage to store your images.
No desktop version of the software
Rating: 4.4/5
2. VSCO
This software is integrated with VSCO Grid, a social network of photographers from all over the world.
They can see your photographs, and you can see theirs, which is a fantastic way to get inspired. VSCO (Visual Supply Firm) is the company behind the program.
VSCO is a well-known photo filter app that lets you adjust every filter. It offers "Presets" instead of the standard "Filters" section. And each free VSCO preset collection looks like a film effect.
There are several black-and-white and color filters that are organized into various groups in the presets section.
VSCO has a single slider for modifying the intensity of effects after applying a filter.
You can use it to either intensify or lessen the effect.
Plus, users can make additional modifications, such as setting vignettes, film grain, skin tone, sharpness, and more.
VSCO filters are ideal for small companies, Instagram influencers, and fashion photographers since they offer a lot of flexibility and new presets are always being introduced.
Pros
Share pictures on Weibo, Instagram, Facebook, and Twitter
Share pictures with the VSCO Grid community
Cons
The number of in-app purchases varies based on how many tools you desire.
Rating: 4.7/5
3. Prisma Photo Editor
A wonderful option for making your pictures look like artist-created sketches or paintings. Intuitive. 
There are many filters available, and you can change the strength by sliding horizontally along the picture.
You can change the exposure, temperature, highlights, gamma, brightness, saturation, contrast, vibrance, sharpening, shadows, and tint by adjusting the filter strength on the picture.
When you're finished changing a picture, you can send it via email or text message or save it directly to your smartphone. The photo filter app provides a feed full of gorgeous photos generated by its community.
The user interface is intuitive and simple. Its simple UI allows you to get hold of it conveniently. Once you open up the Prisma app, you can click the gallery to choose a picture or access the camera to take a photo.
Pros
Each picture you take can be saved to your Camera Roll automatically
You can use any filter on any picture
Cons
Images are square only
Low output resolution 
You have no control over how the app reads and treats each picture
 Rating: 4.7/5
4. Adobe Photoshop Express
Adobe Photoshop Express is a mobile application with lots of interesting filters. With the help of these filters, you can quickly create HDR looks, imitate black-and-white film pictures, and add pops of color to monochrome images.
Express includes imaging smarts, as well as a plethora of tools for image enhancement and correction. The program provides various rapid repairs and effects, some of which are referred to as Charms.
These increase or decrease contrast and give photos warm or cool tones. To use Adobe Photoshop Express, you must first register a free Adobe ID account. This can be done via the Adobe website.
When you finish editing your photo, you can either save it to your smartphone or share it with other social networking and marketing apps. Express allows you to tweak saturation, hue, exposure, color temperature, highlights, and shadows.
Pros
Good social meme tools
Clear interface
Cons
Weak options for retouching 
Several features need a Creative Cloud subscription
Rating: 4.8/5
5. PicCollage
PicCollage is our favorite photo filter app for creating collages. This software has a very user-friendly interface that lets you choose which aspect ratio you want, then it generates dozens of alternative grids to use for your pictures. You can do a variety of things with your pictures in this tool for picture collages. The application has in-app filters to help you make your collage perfect.
You may allow the software to arrange your pictures for you and build a collage in frames, or you can customize it further and make your free-form collage.
The frames aren't just basic rectangles and squares. Hearts, stars, and slanted forms are all options. This photo filter app gives you a lot of options when it comes to choosing the sizes of every photo in your collage. 
Pros
Customize the placement and size of your images
Create a shaped collage of your pictures
Cons
There is no option to make a regularly shaped collage.
Lots of full-screen ads
Rating: 4.8/5
6. Canva
Canva is comprehensive design software for anyone who isn't a professional designer. With Canva, you can design flyers, websites, newsletters, blog banners, invites, business cards, planners, and more.
Canva is ideal for online entrepreneurs, small business owners, and marketers who need to create designs fast. This app has a library of customizable and adaptable templates.
You can browse Canva's current templates, select one that fits your design aesthetic, and make personalized changes.
You can also use the program to create visuals for your Instagram stories. Canva offers a variety of photo enhancement effects. You can apply effects to images offered by Canva as well as pictures you upload.
Canva offers an Elements tab where you may find gradients, grids, charts, stickers, icons, and shapes. You may add them to your pictures and change their size, transparency, and color.
Pros
Design multi-page documents
Easy to use and user friendly
Offers a wide array of templates
Cons
Limited free version
Limited export settings
Rating: 4.8/5
7. Instagram
Instagram is a good choice for sharing your pictures to get folks to follow you online. Instagram offers over 30 filters that are free to use. Lo-fi, Clarendon, Juno, Ludwig, Lark, and Gingham are some of the most popular filters. The intensity of the filter can be adjusted with the help of sliders. Furthermore, Instagram allows users to adjust fade, sharpness, color, and exposure.
Instagram's major activities include communicating with others, getting and sending direct messages, and sharing and liking posts. Its straightforward interface provides a quick path from snapping a video or photo via minor adjustments to posting simultaneously on numerous social networks.
In reality, your engagement rate, or the number of individuals who see and like your pictures, is the most vital metric.
Additionally, the Instagram app contains other tools that can help you attract more people to follow you.
You may interact with your followers more effectively by using Instagram Live or Instagram Stories.
Pros 
Effective features
Appealing interface
Cons
Rating: 4.7/5
8. PicLab
PicLab is a photo filter app that provides you with several simple-to-use features.
You can do everything, including rotating, resizing, and changing the opacity of the pictures using this app's built-in features.
These features allow it to support writing a text on photographs as well. You can apply photo effects and amazing filters and add patterns, borders, textures, light FX, and more to your images. 
Pros
Use beautiful artwork in the app's database or add your own.
Easily work with multiple layers
Cons
Missing some features
Need more privacy
Rating: 4.6/5
9. PiZap 
PiZap makes it simple to create unique graphic designs, make stunning collages, and create social media posts.
It includes lots of free stock pictures, filters, borders, stickers, and fonts. No registration is needed, and most content and services are free to use.
This photo filter app allows you to customize pictures by adding effects, filters, and text. It has an intuitive interface with loads of options for modifying various design and layout components.
Social media users and bloggers love working with this photo filter tool.
Pros
Many fun options and filters
Accessible, clear interface
Cons
Expensive premium accounts
Rating: 4.7/5
10. BeFunky 
With the help of this photo filter app, you can add an infinite number of filters and effects to your pictures.
It features more than 30 different effects, including Pop Art, HDR, Gritty, and Cyanotype. What's more, users can upload pictures from a wide range of sources, such as Dropbox, Facebook, and Google Drive. 
And you can search and upload images to the software directly from the image stock. This photo filter app lets you search for photos in Unsplash and Pixabay. So, simply type in the photo you require and begin photo editing.
Pros
No account
You can upload multiple pictures simultaneously
Simple interface that supports drag-and-drop feature
Cons
Extra content of the mobile version needs buying
Most functions are paid
A lot of advertising
 Rating: 4.6/5
11. Pixlr 
Pixlr is complex but simple to use, and it includes effective tools and a wide range of features. Users can carry out countless complex operations in this photo filter app, including using color correction tools to make their subject pop and superimposing shapes, text, and other elements onto their photo for attractive originality.
Pixlr is perfect for busy individuals because it offers many simple-to-understand tutorials if they run into anything that is holding them back.
Pixlr's website serves people with similar interests like freelancers, graphic designers, and photographers. You can quickly upload your pictures onto the Pixlr website and begin modifying them the way you want.
The program enables you to customize images for specific social networks, such as Pinterest, Facebook, and Instagram. It comes with pre-made filters that can make your pictures look spectacular in a single click.
Here are some of the filters used in Pixlr.
Sharpen Filter -This filter simply sharpens your selection and picture. You can apply this filter many times to get the desired result. 
Diffuse filter – It makes your picture more diffuse. 
Blur filter- It simply blurs your selection or photograph. 
Pixelate filter, cross process filter, heat map filter, old photo filter, and engrave filter are some of the other filters used in Pixlr. 
Pros
Easy to use
Personalizable interface
Cons
Doesn't support high-quality and big photos
Some Pixlr tools are buggy and slow 
Rating: 4.2/5
12. Inkscape
Inkscape has certain tools and features that let you modify common images, even though it is designed to work with vector graphics. These include sharpening, background removal, and cropping.
Inkscape is great for intricate drawing. Users can make polygons, spirals, 3D boxes, circles, and more. Inkscape is free software that has a special format not natively found in other similar applications, such as Adobe Illustrator, Corel Draw, Xara X, and Freehand. 
Inkscape employs Scalable Vector Graphics, which is considered an excellent format for designing and making logos, banners, and other vector-modified media. The reason is that the SVG format enables graphic designers to make graphics that can scale to just about any size without compromising their original quality.
This app's features are presented through a stable and consistent interface. It is also cross-platform, meaning it can run on Linux architectures, Windows, and MAC OS X. This versatile tool offers you a variety of tooltips that include essential information.
Pros 
Linux compatible
Full-featured
Intuitive design
Cons
Steep learning curve
Interface visuals need improvement
Rating: 3.9/5
13. PhotoPea
With PhotoPea, you can resize or crop pictures, filters, effects, and edit images. This photo filter app supports adjustment layers, smart objects, and smart filters. Don't overlook its filters, which you may use to blur or sharpen your picture, add noise, and produce effects that you'll like if you're looking for a certain result.
The best thing about this tool is that it is perfectly suitable for complicated tasks like making illustrations and web page designs and simpler ones like changing the photo size.
The majority of popular image formats, including JPG, PNG, SVG, PSD (Photoshop), RAW, and even Sketch, are supported by Photopea.
Everything is contained and runs locally on your device. Your pictures are never sent to a server to be processed.
Pros
Open multiple file types
An easy interface 
Easy to access
Cons
Just a few color channels
No cloud storage
Annoying adverts
Rating: 4.2/5
14. Movavi 
This powerful photo filter app is easy to use. This program provides pro-level tools for beginners as well as professionals. It is safe if you download it from the official Movavi website. First, try out the trial version to see if the program is a good fit for your requirements. 
Cropping pictures, adjusting photo parameters, using color effects, and applying filters are all easy. You can also add a watermark, eliminate the effects of insufficient lighting during shooting, get rid of unnecessary objects, and remove red eyes.
Pros
Built-in tutorials system
Many retouching features
Aimed at users of any level
Smart auto enhancement
Cons
Low performance with large pictures
A manual touch-up is needed
Rating: 4.4/5
Download for:     Android, Mac, Windows 
15. PhotoScape
Photoscape is a fun photo filter app that is loaded with simple-to-use features. Interestingly, users can apply various effects and adjustments to their images.
The tools are excellent, and along with retouching features, users can create slideshows, create animated GIFs, and add filters to their photos using many free templates.
You can also spruce up your images with many unique frames. Photoscape can assist you in making your phone pictures suitable for sharing. It allows you to modify photographs captured from smartphones and digital cameras.
The application's default languages are English and Korean, although you can access more languages via downloadable modules.
Pros
Quality features
Ease of navigation
Cons
Restricted to working with just one document at a time
 Rating: 3.9/5
Download for: Windows
I hope this list of the best photo filter apps has helped you get creative with your photos. Why not check out this article on the best free photo editing apps.