"This year I will support a talented person."
Do you have a line like that in your New Year's resolution? If not, it's never too late to add it for this is the kind of goal that's dead easy to accomplish yet it'll make you feel as a part of something bigger.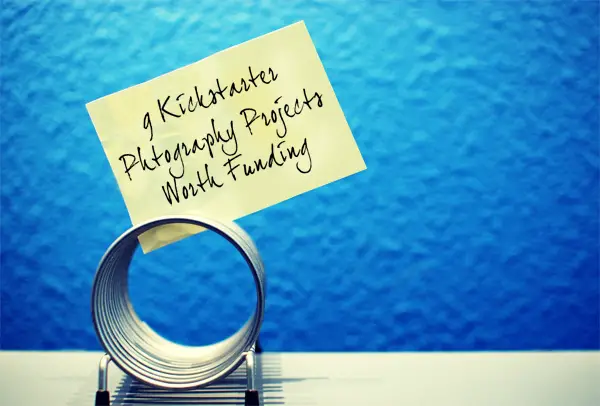 Added? Good! Now prepare to cross it out, because what I'm about to share with you is 9 Kickstarter photography projects by extremely talented people that are looking for your support.
It's your time to take part in making great things!
Kickstarter? Never heard about it.
So what is Kickstarter anyway and how does it work? Basically, an individual creates a project page for their idea, and clearly explains the objective and the process for getting there. Then, they ask for financial support from others to help them achieve the goal – the minimum pledge is only $1, but you can give as much as you want. If they meet their financial goal within an allotted time, all of the money is released and can be used for the project. If they don't raise enough money and do not meet their goal? Nobody pays a dime. It's all or nothing. But the perks for pledging are usually great – most people who give money receive some sort of reward from the project managers if the project goes through. And generally, the more you give, the more you get.
There are loads of compelling projects in numerous categories – from music and films to art and design. But since Photodoto is a photography blog, I've decided to go through the most recent photography related projects and pick the ones that are exceptionally interesting.
Clark James Mishler, a spectacularly talented portrait photographer, is attempting to create a photo book as a companion for his Portrait Alaska exhibit at the Anchorage Museum at Rasmuson Center.
The high-quality coffee table book will include over 300 unique Alaskan portraits taken over a span of 25 years, and tell the story of the people of the last frontier.
This project is worth supporting because it is extremely high-quality work, and the culmination of a long, illustrious career of story-telling photography. It provides a glimpse into a world that many people will never be able to experience firsthand. Plus, the rewards for supporters are quite enticing; by contributing $50, you get a copy of the book shipped anywhere in the U.S.
As most photographers know, sunrise is one of the most compelling times of day. The unique energy and light provided by dawn can create absolutely stunning images, and this project is attempting to capture that feeling in one place.
Dell Cullum of ImaginationNature.com has spent years compiling images of first light in East Hampton, New York, and his Kickstarter project is dedicated to opening an art exhibit that showcases the best. According to the project page, the location, printers, and an art director have all been secured, and the project is ready to roll once the funding is secured. Supporting this exhibit is a great way to highlight a style and technique that is truly compelling, and give thanks to the time of day that has been vitally important in so many photographers' lives.
Another insanely cool photography genre is highlighted in this project: severe weather. Photographer Mike Hall has a love for storms, and is raising money for a storm-chasing photography expedition in the spring of 2013. One glance at the project's Facebook page reveals stunning images of weather and storms, and Hall's goal is to gather many more during the trip and share them with the world.
Instead of a book or photo exhibit, the photos (and videos)from this project will be shared exclusively online. That helps keep costs down, and also provides terrific rewards for backers. For example, contributors of only $5 will receive access to 500 high resolution photos from the trip. Bump that to $10, and you also receive a link to a 60-90 minute video documentary on the most severe storms of the season.
Unfortunately, by the time this post has been published, the project has already expired. Anyway it is a good reason to hurry helping other projects now!
This is an intriguing and important project, and with a goal of $7,000, is attainable as well. Sid and Beula Lewis spent 13 years photographing the fish, reefs, and ecosystems of the Red Sea from underwater. The challenge they face now is digitizing the library of over 2,000 original 35mm photos.
The objective of the project is to create a permanent online archive of the photos, to eventually be used for educational, research, and artistic purposes. The couple is especially interested in informing the general public about the beauty and fragility of the coral reefs and ecosystems of the Red Sea. If used properly and maintained, the photos could act as a historical record of the sea.
There is a host of perks for supporters, ranging from certificates and special website access to printed glossy Red Sea photos.
Another coffee table photo book project, but with a unique mission. In A New Light delivers transformation and empowerment to at-risk youth through nature immersion and photography teaching. The program helps teens learn the nuances of photography, while providing them a positive hobby and an artistic outlet. In the past, the youths' works have been featured in books, films, and exhibitions around the United States, and viewed by over half a million people.
The 8.5"x11", 80-page book will be filled with the best photos from the program, accompanied by written reflections from the young men and women who took them. The content spans six separate national parks, and the aim of the project is to make the book affordable enough to be widely available.
The focus of this project is the Yukon Quest, a 1,000-mile international sled dog race from Fairbanks, Alaska to Whitehorse, Yukon. For the race's 30th anniversary, the project's photographers are aiming to put together a 100-page photo book that tells the story of the race and its participants. One glance at the project page makes it clear that the photographers have a unique talent to spotlight the relationship between mushers and their dogs, and an ability to convey the harshness of an unforgiving climate and an emotional journey.
This is a professional, well thought-out project. The photos from previous races are of the highest quality and capture the essence of sled dogging. In addition to access to photos and copies of the finished book, rewards for pledging include a DVD or Blu-Ray with the complete set of videos from the race.
Another project that has expired just before the publication of the post. Hurry now to help the rest!
This particular photo book centers are the homeless, and is inspired by a desire to help those in need. The goal of the project is to put together a book filled with artistic and thought-provoking shots of the homeless, combined with captions and passages about them and their situations. By seeing the world through a different perspective – the perspective of those who live on the streets – the authors hope to help readers look at the homeless differently, and understand who they truly are.
This is a fascinating cause with a high degree of difficulty, as gaining the required cooperation from complete strangers is never a given. But with a project goal of $3,500, success is certainly attainable, and the potential rewards to art and society are exponential.
Claire Alexander has been to Burma before and seen its deteriorating nature and the strife of its people. The photos she took from that trip have been on display in Australian exhibition raising money for refugee programs on the Thai/Burma border. Now, her plan is to return to Burma for a much longer period of time, and document the people and their collective struggle in depth. The ultimate project goal is to create a photo book and exhibition spotlighting the country's turmoil, as well as a series of short documentary-style videos about the issues encountered.
What makes this Kickstarter project enticing is the compelling subject nature, along with the prior experience of the photographer and the realistic funding goal – $5,700. The photos are deeply emotional, and shed some light on the often overlooked people of Burma.
This project has a different focus from most of the others on our list, but has a very unique objective. Not a photo book or exhibit, but the funding instead goes towards finishing Telegraph Ave Studio in Phoenix, Arizona. The 2,500 square foot studio will be a tremendous resource for local photographers, offering rental equipment and shooting bays for artists to develop their portfolios, scanners and a dark room, and inexpensive retail space to showcase their work.
If the studio is finished, it will provide a tremendous opportunity for young photographers to grow in their craft. The workspace is already 50% finished, and thus most of the tough logistical and construction challenges have already been completed. Now, with a moderate funding goal, the studio just needs a little help towards completion.
These are just some of the terrific opportunities on Kickstarter. Even for $5, you can help someone accomplish their dream, and at the same time be a part of something big. And if you can't afford to contribute, you can help out in other ways – sharing this article on Facebook, Twitter, or your blog can greatly increase the exposure of these projects and help them toward their goal.
So come on, let's do great things together!
About the author: Sam Neumann is a writer, photographer, and video editor. He is the author of one book, and otherwise writes about photography, sports, and pop culture. He currently lives in Boulder, Colorado, where he spends his free time capturing the state's majestic beauty through his wide angle lens. You can find most of his work at SamNeumann.com