Are you planning to use photo editing services to save time on image post production but not sure which websites deserve your money?
Searching for a decent option among dozens of photo editing services can turn into a very time-consuming and exhausting process. It can also be quite tricky as some companies pay for fake reviews. That's why I decided to make a review of some of the most popular companies that offer professional photo editing for about $5 per image.
Here is my list of the top 10 photo editing services aimed to help you choose the best option for your budget.
My Criteria for Choosing the Best Photo Editing Service
I uploaded the same raw photo with the following requirements:
Basic photo editing

Color correction

Removing blemishes and imperfections

Making portrait pop with natural skin colors
Here are specific criteria that will help me set up a detailed analysis of different services.
Quality of work. Professional photo editing services should provide high-quality and realistic results without the necessity to correct any defects afterwards.
Turnaround. Speed has a very important role in the modern photo editing world. Of course, it is unlikely that anyone will be able to enhance the images in a few hours. However, remember that working on one picture should not take more than two days.
Cost. Very often, high-quality services are expensive. Nevertheless, it is not always the case. Sometimes photographers get a bad result despite the high price. Well-known companies often offer substantial discounts to their customers, which is always a nice touch.
Support service. Prompt and efficient work of customer support is another sign of a good company.
Placing Order. Uploading photos should be convenient, simple and not take up much of your time.
Usability. The simpler and clearer the website, the more use-friendly it is.
Site content. Many services have their own blogs. It is worth paying attention to the information content and its quality.
I got all the images back and rated them according to the before-mentioned criteria. Let's see who passed the test and came first in my opinion.
1. FixThePhoto Photo Editing Services Review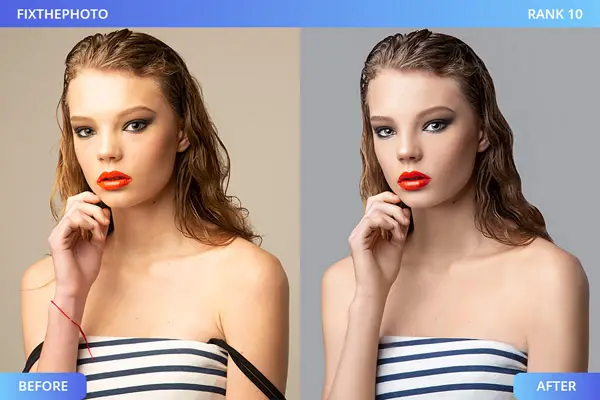 FixThePhoto is one of the most popular services for outsourcing photo editing. This US company has built a strong reputation in the field with over 15 years of experience and more than 40,000 satisfied customers.
The company's website is quite simple and easy-to-use. You can upload your files using Dropbox, E-mail or WeTransfer.
You can also find an interesting blog with useful articles about photography and image editing here. Each user can get acquainted with examples of before and after photos before placing an order.
The service provides an opportunity to choose between four tariff plans, such as Basic, Pro, High End, and Extra. On average, the cost of image post processing can vary from 0.2 to 10 dollars. The company makes posts informing about discounts constantly. In addition, there is a special discount system for wholesale customers.
I received an answer very quickly. Moreover, I got the edited photo the next day. This is a very good speed. FixThePhoto has great support.  As for the quality of work, it was at the highest level. FixThePhoto experts did a good job with colors, contrast, and white balance. They performed high-end skin retouching, removed all stray hair, a red string bracelet and dress straps.
I like how they put an emphasis on the eyes. I got exactly what I wanted. 
2. WeEditPhotos Photo Editing Services Review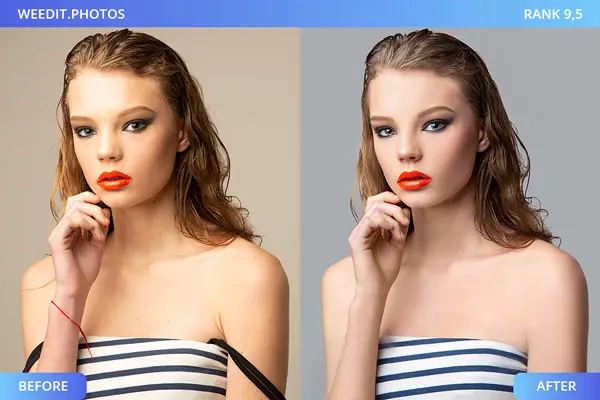 WeEdit.Photos  company has a modern, user-friendly site with lots of useful information. The image editing service provides many examples of original photos and their edited versions. The images have a detailed description of the changes made. You can use Dropbox and Email to upload the necessary picture in any format you like.
I received the finished image the next day. This is a pretty quick turnaround. The prices range from $2 to $10 per image. Users can choose what actions will be performed with their images.
I paid 5 dollars for my picture. The first thing that sticks out in the received image, is that they didn't remove all stray hair. Other than that, it's a nice job! They removed heavy shadows and brought out the details. I think that the first two services are at almost the same level.
3. Wedding-Retouching Photo Editing Services Review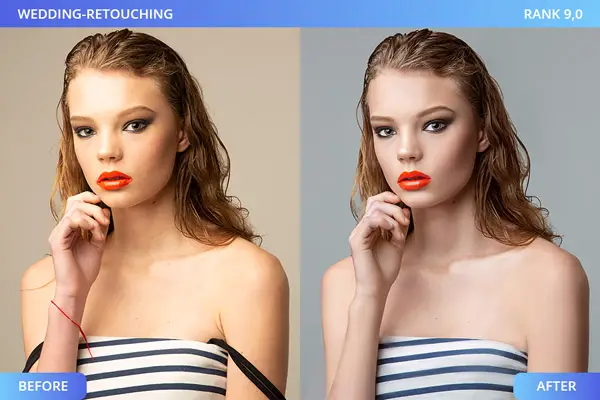 Wedding-Retouching  is one of the best photo editing services for busy wedding photographers who need help in high wedding seasons. The site is modern and simple. It has a stylish design in white and blue colors.
You can find a good blog with a lot of professional recommendations. The price list is clear. By the way, the company provides good discounts for wedding packages. It is very beneficial for wedding photographers.
Wedding-Retouching has several pricing plans, such as Culling, Color Correction, Simple Edit, Pro Edit, and Advanced Edit. I paid only 5 dollars for my image, which means that prices are very affordable and every photographer can get decent results without much money spent.
The ordering process is very simple. All you need to do is to log into your Google or Facebook account and select the necessary pictures (no larger than 50MB). My photo retouching took two days. I received a letter stating that my order was accepted and will be completed within 1-2 days 2 minutes after its placing.
As for the quality of photo editing work, I can say that it is at a high level. But I think the girl's stray hair needs more editing. Compared with the two previous image editing services, Wedding-retouching also keeps darker shadows. I was really impressed with the way they enhanced her makeup.
4.

Tucia Review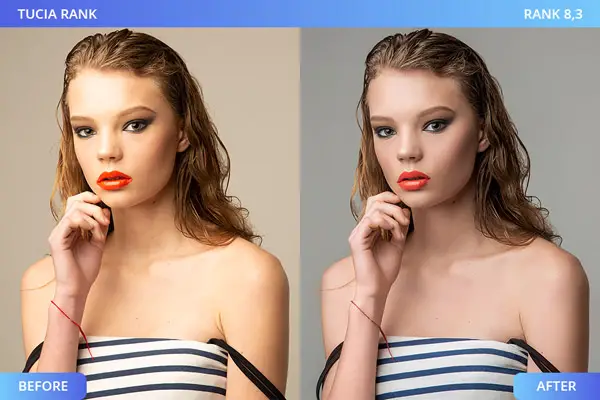 Tucia website's  design is modern and pleasant, but it is very uninformative. You cannot find a blog or examples of edited images here, as in previous cases.
On the one hand, it is suitable for any audience, both beginners and professionals, but the lack of important details is a significant drawback. This service performs two types of services, such as Basic Editing and Extensive Editing. The first option costs one credit, and the second one is available for three credits.
One credit is equivalent to 8 dollars. It seems very strange and incomprehensible that they decided to use the credit system. It may be too confusing for new users. I think it would be more convenient to indicate prices in dollars.
An important advantage of this company is a 20% discount for upfront purchases. A user needs to upload photos to the site and describe the desirable changes. I received my picture in 3 days. This is longer than in previous cases.
In addition, the quality of image editing was significantly lower. For example, red string bracelet, dress straps and stray hair weren't removed at all. I can't help but feel like they should have boosted the exposure a bit more. This result is still decent, but is worse in comparison to the three services above. It will definitely satisfy amateurs, but not professionals.
5. RetouchUp Photo Editing Services Review
RetouchUp website  has a rather outdated but at the same time convenient design. As for the shortcomings, it has a minimum of information and services described. There is no blog at all. You can check the photo editing examples, but they don't have high quality. Besides, they are only available in small squares in the center of the screen without zooming in.
Like the previous photo editing services, it has several possible photo retouching options. They are Complete Retouch, Complete Plus Retouch, and Special Services Retouch. They cost $2.5, $5 and $10 correspondingly. This is a fairly affordable price even for beginners.
Registration and placing an order really disappointed me. I was forced to enter much personal information including my home address, postal code, payment data, phone number, and to confirm my registration using  e-mail.
Only after that I could go to the site and place an order. By the way, customer service works well. I got my photo in 4 days. The quality of the RetouchUp services is average. I like how they fixed white balance, but the portrait retouching and color correction are average. They removed the bracelet, but forgot about dress straps and stray hair. More than that, the skin color looks red and irritated.
6. PhotographersEdit Review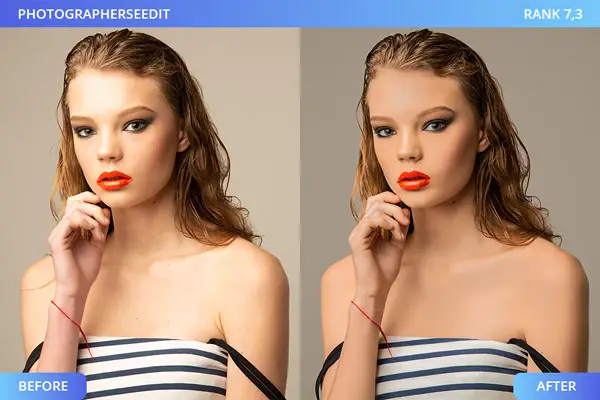 At first glance, PhotographersEdit website   is very modern and convenient. However, starting to explore it, I realized that it is not as perfect as it may seem at first glance. I was confused by the absence of their price list. In order to find out how much image editing costs, you need to place an order and specify all the details. This approach eliminates the possibility of choosing services based on the price.
The positive news is a 40% discount for newly registered users. Despite such a complicated situation with prices, I managed to find out that they are quite affordable.
They edited my studio portrait for 4 days. This is quite long but adequate time compared to other image editing services. However, the quality of the photo post processing upset me a little bit. Aside from the obvious – remaining dress straps, stray hair and bracelet, the main disadvantage was that the skin looked plastic. They nailed the skin color, but lowered the highlights so much that the skin lost its texture. I also don't see any substantial color correction or white balance adjustment.
7. FotoFix Photo Editing Services Review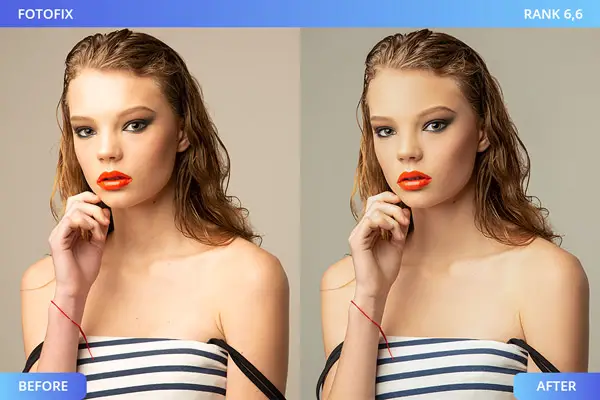 PhotoFix  website has an outdated, tasteless design that can't attract the attention of potential customers. Examples of their work look very unprofessional and are of poor quality.
Regarding the advantages of this service, a very fast registration is worth noting. The payment system is quite complicated since you have to buy credits. It is quite confusing. I paid $7.95 for editing one image, which is equal to 5 credits.
You can upload photos only in such formats as JPEG, PNG, GMP, GIF, and TIF, no larger than 10MB. The support service works great. Having received the edited image back, I was unpleasantly surprised. I don't like the color correction at all. It looks greenish and makes the skin look unhealthy.
I like how they fixed the red skin on the arm. In general, Photofix cannot be characterized as a professional photo editing company, but rather as a company with a poorly designed site, bad photo editing quality, but good support service and fast registration.
8. ColorExpertsBD Photo Editing Services Review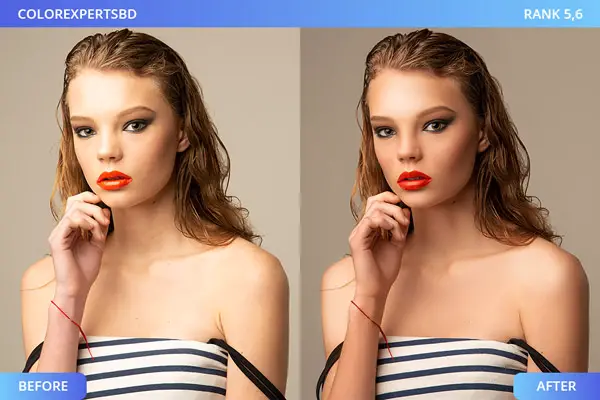 This site ColorExpertsBD  looks quite convenient, but very outdated and uninformative at the same time. I like that I could find the price list very quickly. As for the shortcomings, I didn't like the section with examples at all. All edited photos are of very small size and dubious quality.
There are many seasonal sales on the site and you can take advantage of a 40% discount ordering ColorExpertsBD team services. If you want to order batch photo editing, you need to request to set up an FTP account. This is rather inconvenient and may take some time.
Customer support works well. They help very quickly. However, they did not take into account all my wishes regarding photo editing. This is an unacceptable situation for one of the best photo editing services.
I received the finished photo in two days but I was not satisfied with the quality at all. All the obvious defects, like the bracelet, stray hair, dress straps were not removed. The white balance is adjusted, but still a little too warm. I also don't like her skin tone – it's too dark. The heavy shadows that were introduced don't fit into the image's mood, and the shadow near the nose visually makes it look much wider than it actually is.
9. Picsera Photo Editing Services Review
The Picsera  service shocked me with its complexity. It has so many sections and a first-time user will not actually understand anything here. I hardly figured out how to place my order. This is really one of the worst image editing services regarding usability.
The company began its activities as event managers and then switched to outsourcing photo editing. In order to make an order, you need to register and upload images of any size and format to their site. I got an answer the next day but received a message with the exact price and other details in a week.
I got a 25% discount on the first order. However, I paid $14 for image editing even with this offer. It is a very high price for such quality. I expected a fantastic result but the work of their retouchers was disappointing.
The first question I asked, when I opened the picture, was "Did they even edit it?" It looks exactly like the original one. I didn't notice any significant changes at first. The retouchers didn't even correct the white balance! What helped me realize it was the edited image was a huge spot in the background. Why did they do it? That spot causes the background to be uneven and is very distracting.
10. TheImageSalon Photo Editing Services Review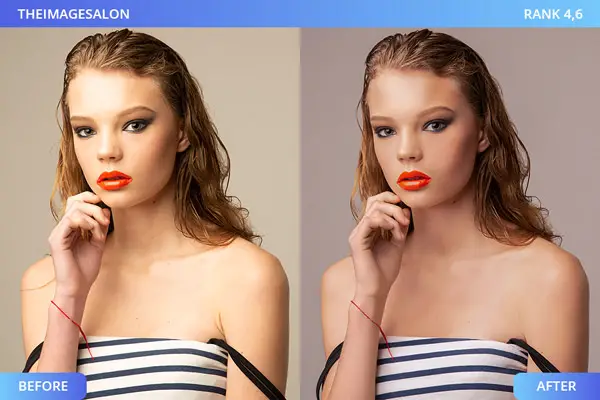 My first impression of TheImageSalon  website was very positive. They have a great site with a very modern, stylish design. The background video of their office and professional retouchers looks very cool.
However, I did not understand their pricing system. You can find out the exact price only after placing the order. The average price was about $0.50, but the time required to complete the work ranged from 5 to 10 days. By the way, this process is quite complicated and requires entering a lot of unnecessary data.
The work of the support service is poor since they could not help me. The processed photo looked worse than the original file. It was the worst result among all image editing services.
The skin tone is uneven and has an unhealthy look. They tried to bring down highlights, but overdid it to the point that the skin tone looks dirty and washed out. Hair issues, as well as the bracelet and dress straps were not removed. The white balance is off too. The photo is also too dark. The retouchers didn't brighten, sharpen and whiten her eyes, and a portrait has no focus point. If you value your time and money, I do not advise you to use TheImageSalon service.
11. Photoretouchingservices.net Photo Editing Services Review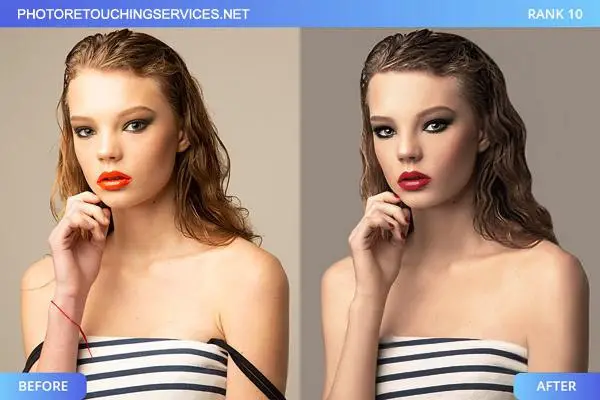 Photoretouchingservices.net is a prominent  international online company that provides outsourced photo retouching and editing services to clients all over the world. It was founded 11 years ago under the name of Photza. Now, having built a strong reputation, it has over 3,000 satisfied clients who are professional photographers, amateurs, businesses and individuals.
The company's website is very attractive, simple and user-friendly. You can make an order within 5 minutes. Just register and upload your raw photos. The site supports JPG, TIFF, PNG and other widely used RAW formats. Select the level of processing and add comments about the details of the tasks and/or possible examples if needed. You can see the colorful samples of 'before' and 'after' images before you place an order.
The company offers a choice between three tariff plans, such as Mini, Midi and Maxi. The cost per one image varies from $3 in Mini to $15 in Maxi plans. You can also opt for batch photo processing if you have a lot of photos to edit with the cost of $0.3 per image. Or you can make an individual order at the price discussed with the support manager. The company has also developed a special discount system using Wholesale and History discounts starting from 3% for 5-10 or 2% for 21-40 images respectively.
The turnaround time is 48 hours. Though, while placing a photo for a try, I received it back within 36 hours. Photoretouchingservices.net has a friendly and professional support team. They answered in 10-15 minutes after I placed an order.
I ordered photo editing with such requirements as basic editing, color correction, removing imperfections and making skin colors more natural. I have received exactly what I wanted and even more than I had expected.
The photo came in perfect quality. They are true experts who did a great job in skin retouching and color correction, removed everything that was not appropriate and made a strong emphasis on eyes and face complexion. The photo looks exactly as in the fashion magazine. So I like it very much.
Summing up
Having tested all these 10 photo editing services, I can say that three companies have coped with the task at a professional level. They are FixThePhoto, Wedding-Retouching, and WeEdit.Photos. I hope that my review helped you choose the best option that will save you time and money.