Since my childhood, I've been dreaming about inventing two things.  The first is a teleporter.  Yes, you read it right, but please imagine teleporting from the 'Star Trek' movie not from the horror movie 'The Fly'!   With teleport, people could forget about long queues, tedious trips and expensive taxis.  The second thing I have been dreaming about is a photo camera in my eye!  But the key feature of this camera would be that it would show not just things and facts, but convey the feelings of the photographer.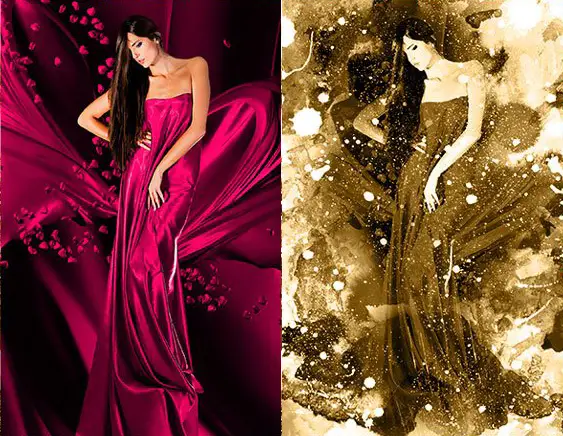 It's unfortunate that there is no such useful gadget yet, but its a good thing we have photoshop overlays and actions.
Now the variety of feelings you can convey with the help of your photos becomes much greater and you will not spend a lot of your  time on creating such creative graphics.  You can put out many quickly for different projects.
Of course, it doesn't mean that you can just take a shot and do nothing afterwards,  for example take a shot of your meal for Instagram and expect the image to transform itself  into a culinary sensation online.
Regardless of what shot you take, our toolset becomes larger and it gives us more  possibilities.
I want to distinguish some of my favorite categories on the website.
First is – Photoshop overlays. Here everything is as simple as 1, 2, 3.  Just apply any overlay you like to your photos. It can be a rainbow, light leaks, rain, etc, and convey your feeling and the ambiance of the photo with the help of these effects. With this easy  to use tool, you can easily add some ambiance of magic, warmness, love, romance, sadness  etc. Choose the perfect effect for your photo, depending on what  exact look you want to get!
I want to show some of my favorite overlays:
https://styleactions.com/free-overlays/free-rainbow-overlay
I often use rainbow effects for  summer or spring shots. It helps in adding the feeling of joy, happiness, or relaxation. Looks perfect with some nature shots, even without people.
Favorite light leaks overlays:
This type of overlays I use in my work with different aims, starting with romantic vibes and ending with some sad and deep feelings. Such an effect is really multifunctional, thats why I think each photographer must have a couple of such tools in his/her toolset.  My favorite light leaks overlay is below:

https://styleactions.com/free-overlays/free-light-leaks-blur-overlay-8
One more really useful category on the website is Photoshop Actions, here you can find some free and premium products to choose from:
Another one of my favorite photo effects is the glitch! Cyberpunk and its culture bring us many gorgeous holographic effects  to apply. My favorite glitch Photoshop actions are the following:

https://styleactions.com/free-actions/tv-glitch-photoshop-action
Use this action not only for photos, but for some text layers. The last action from my list will transform your text layer easily.
And of course, I adore the vintage Photoshop action category! Aged photos look so gorgeous and overwhelming! It never fails to amaze me that this effect is still trendy! One would think, how much can we use sepia in our photos? But despite the fact that we have been using the vintage effect for a long time, it's still in  high demand.  There is something magical about these aged photos! Maybe the opportunity to come back in time or it's just a way to change our present time. By the way, the popular and trendy duotone effect seems to be a «close relative» or I can even say a «great-grandson» of our well-known sepia! I have also picked the most gorgeous and most-used duotone effect:

https://styleactions.com/free-actions/duotone-photoshop-actions-2
I use it  every day for creating a trendy look. I apply these actions to different photos, starting with nature shots and ending with some portraits. I try to add different duotones, from bright and colorful to monochrome designs.
I hope that this article and all provided links will help you and other users, and you will  start using such convenient tools for your work!
I wish you a  much more productive working process and amazing results.
Olga