Ok, I must admit, I've been shooting weddings for the past 22 years, but I can't say that they're my favourite thing to shoot.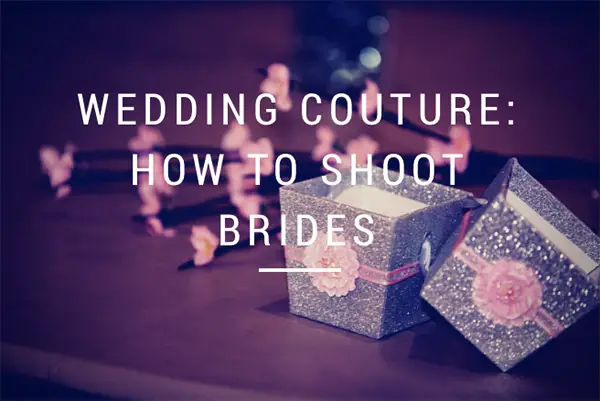 It's a lot of pressure, there are a lot of emotions, my feet hurt at the end of the day, and I shoot pretty heavily, so it means a lot of work after the shoot, but what is more beautiful and pure than love? Nothing, right? Clearly, I'm confused.
This week, I had the good fortune to do a wedding fashion shoot for Hudson Living Magazine, here in Hudson, Ohio, using amazing gowns from Brides by the Falls in Chagrin Falls, and flowers from the innovative Molly Taylor and Co.
The dresses were couture, the models were perfect, and I was able to concentrate on thoughts and concepts, as opposed to moving Aunt Mildred out of the way when I'm trying to take the First Kiss shot. I found that I love shooting beauty, and there is not much more beautiful to shoot than a wedding. So Maybe I do love shooting weddings. Hmmm.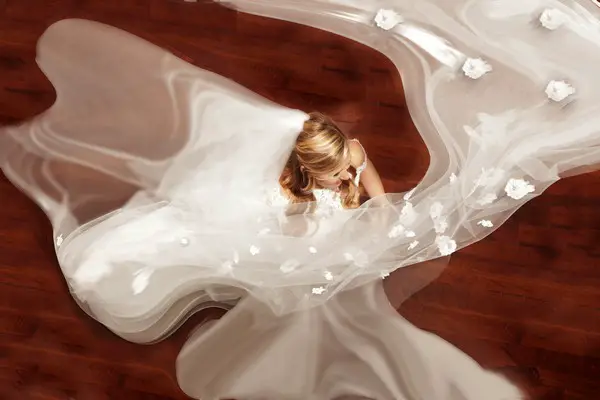 I started on a landing with the beautiful Adrienne on the first floor below me. I had a beauty dish and hung it over the stair rail, but you could just as easily use an on camera flash, or even stand on a ladder and open the front door to get the same effect. Then I had two assistants hold and throw Adrienne's fabulous veil up in the air in a clockwise motion while she turned a little bit counter clockwise to get the above shot. My depth of field was 2.8 to keep her face and some of the veil sharp and the rest all flowy.
Details Details Details
People spend a lot of money on…well, just about everything wedding related, so It's important to take pictures of every little thing; the flowers, the veil, the shoes. Shoot anything that has been paid for or has sentimental value, like "something borrowed" or "something blue".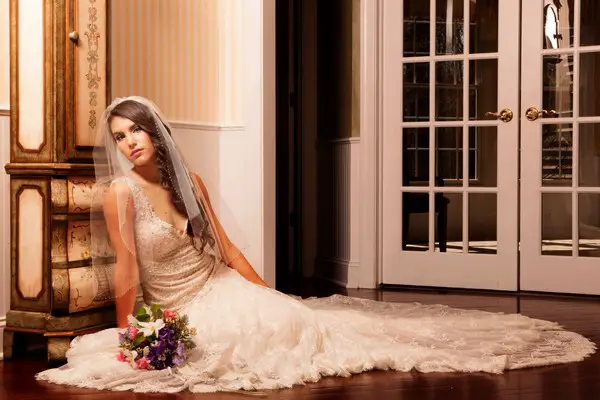 I don't know why, but a lot of brides don't tell you that they have their grandmother's wedding ring pinned to their bouquet, or whatever, so ask. It's especially important to get the details of the dress, which is something that's very difficult for most, but since you and I are besties, I'll tell you the secret. Wedding dresses are HUGE in a woman's life. They probably have been dreaming of just the perfect dress their entire lives, and beads, lace, and dress style are major design elements that make or break a dress.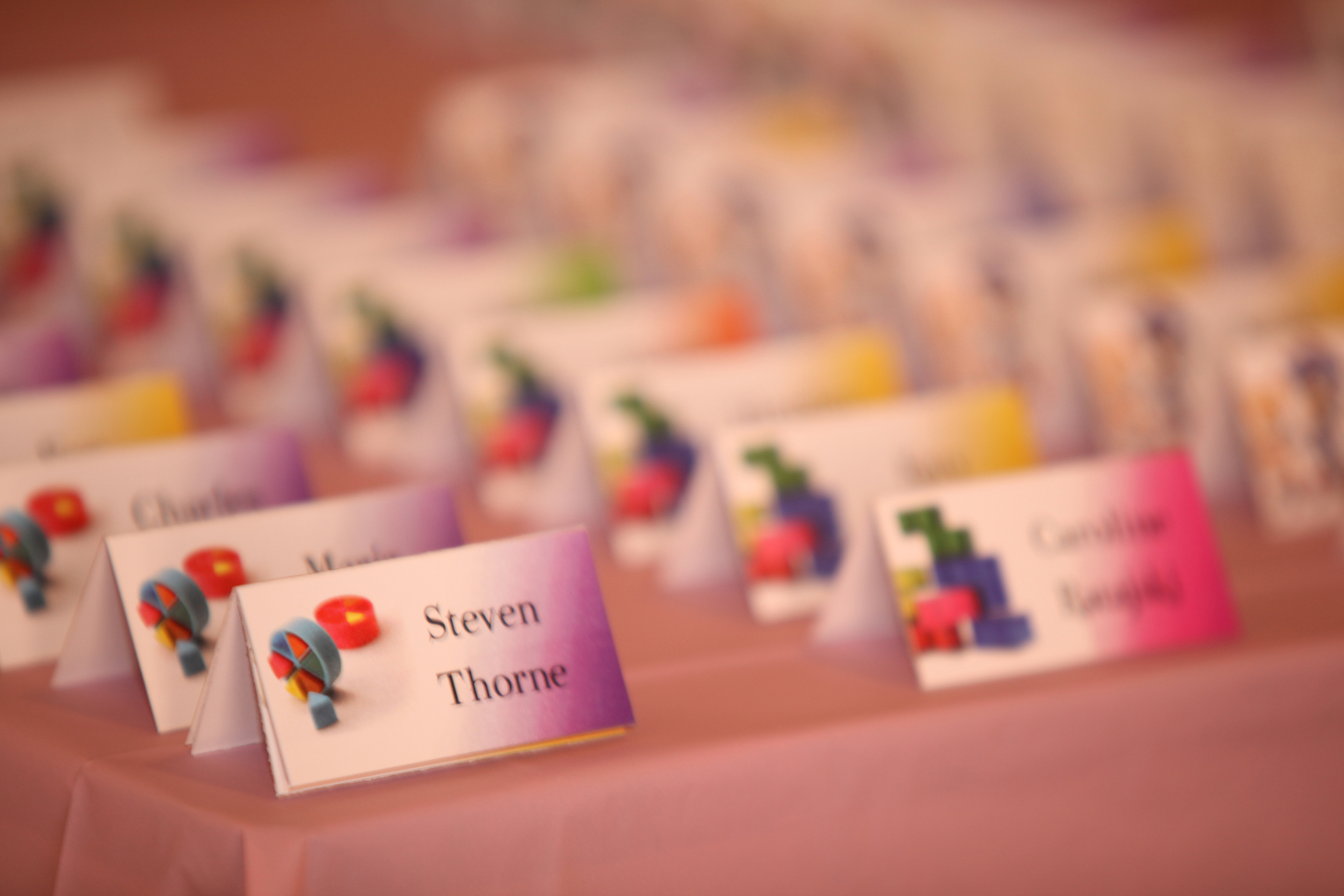 The problem is that cameras set to Auto are set to assume that you're metering off of 18% grey, the color of blue jeans or grass, so they will over expose the white dress that you're metering off, making the dress too white and blowing out the details, so set your camera to manual, and meter off the green stems in the flowers of her bouquet. The details will show up perfectly. Putting sheer fabric over a dark base like this dark wood also helps the details pop.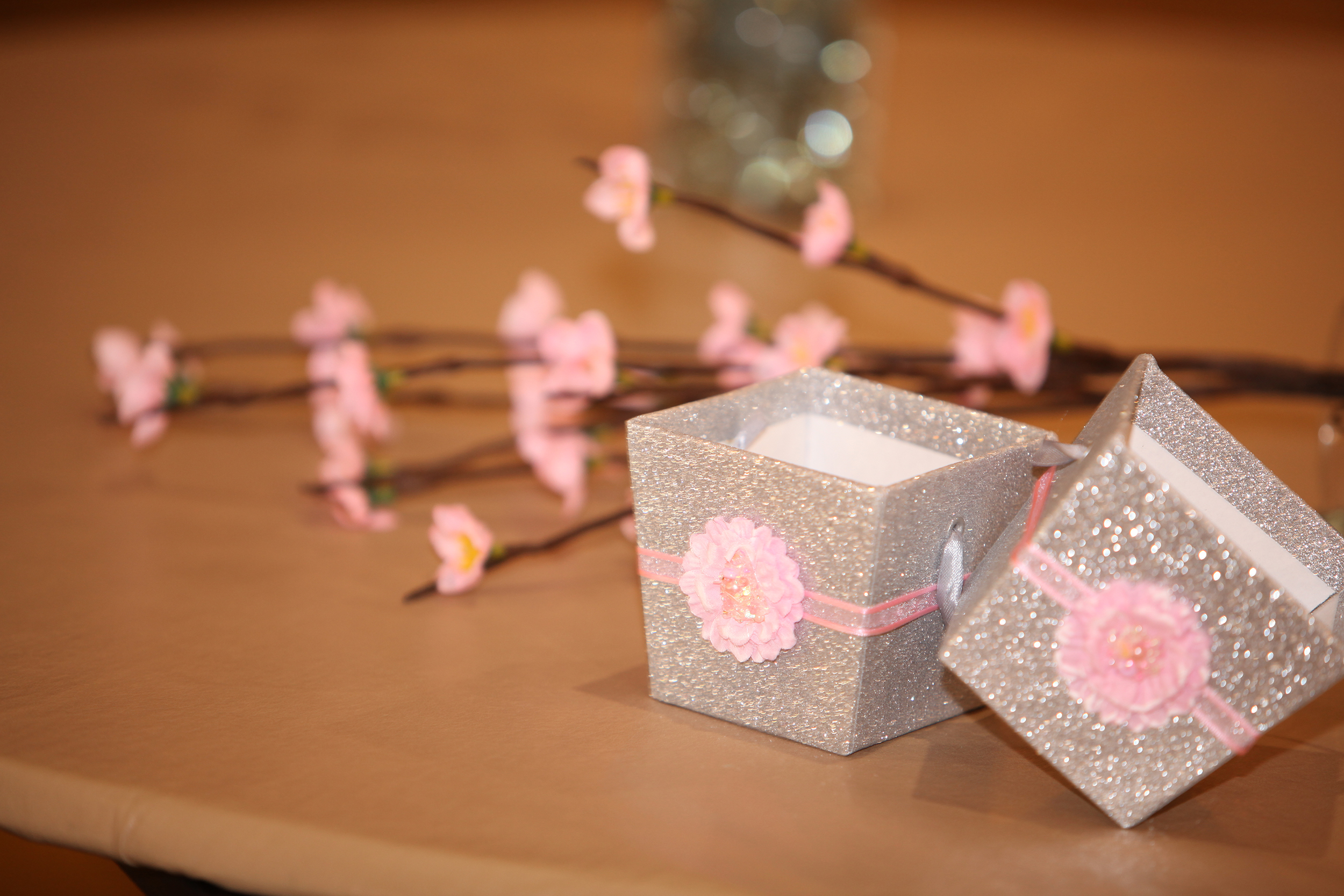 Capture the Moments Between the Moments
We were shooting these bridesmaids dresses at the Sky Zone trampoline Park, and I was trying to get the guys to show off their Jos.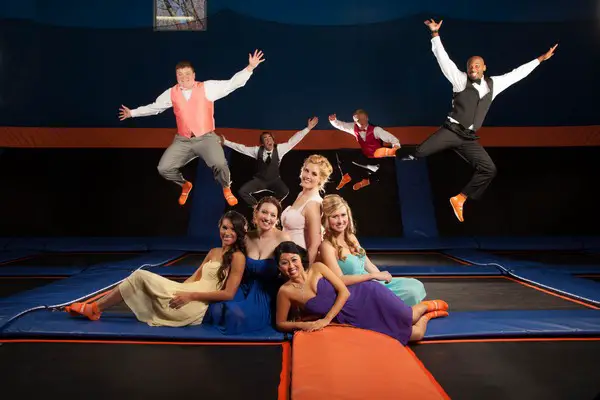 A Banks tuxes by diving across the trampolines, and when we were taking a break, the guys started jumping higher and higher, and I happened to look up and see what they were doing and got a quick shot off, so set up shots, for sure, but don't forget to look at the in between times and see what they're doing when they don't think anyone is watching, like in this shot of an actual wedding, where the groom was kicking up his heels.
Get the Kiss
It doesn't matter who you crawl over, offend, kick, punch or stab.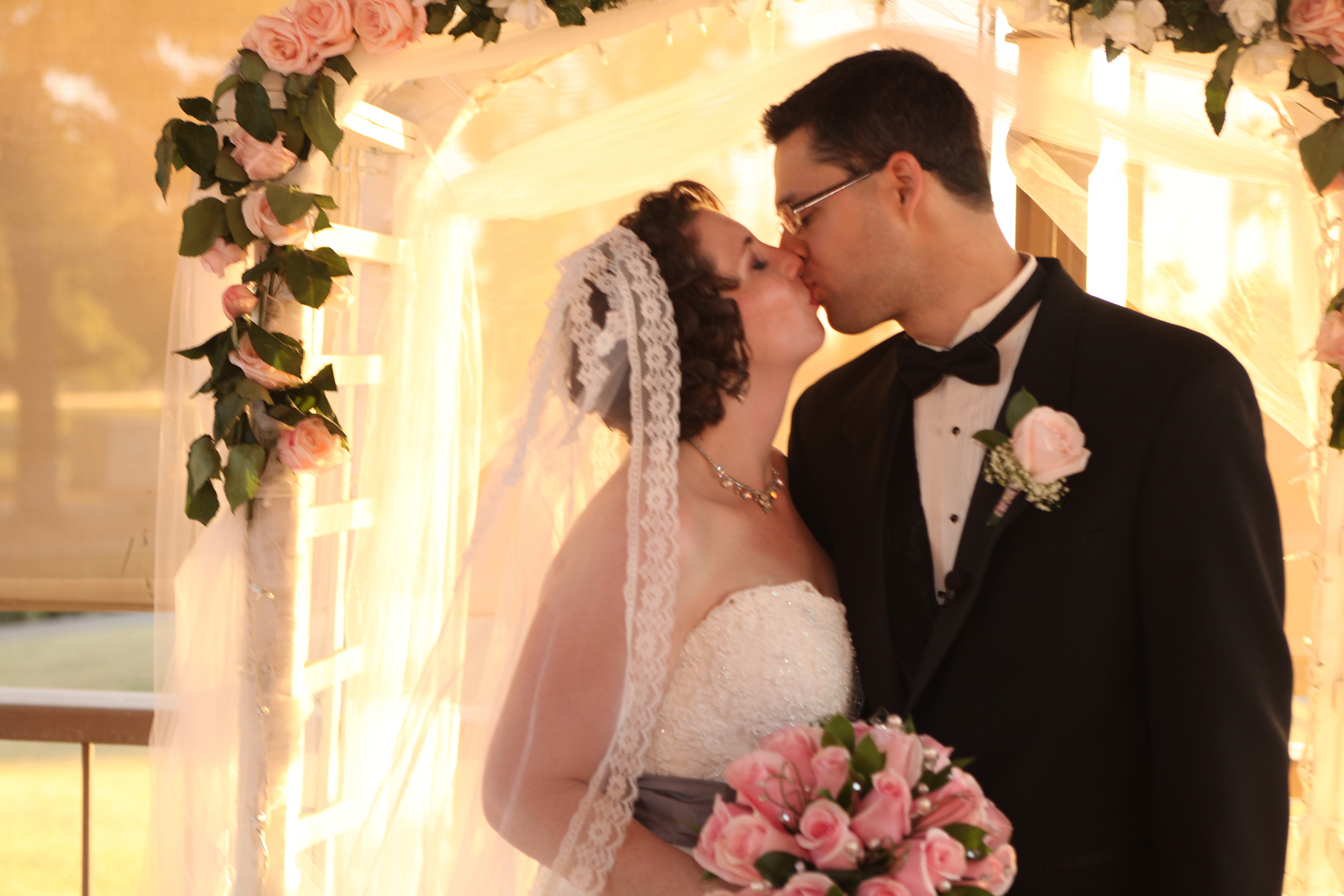 If you don't get the first kiss, nothing that you do will mean anything and your client will hate you for the rest of their lives. Not to be dramatic. Now is not the time for politeness. Get the first kiss. And then be prepared for the unexpected: in this real life wedding, it was a fist pump.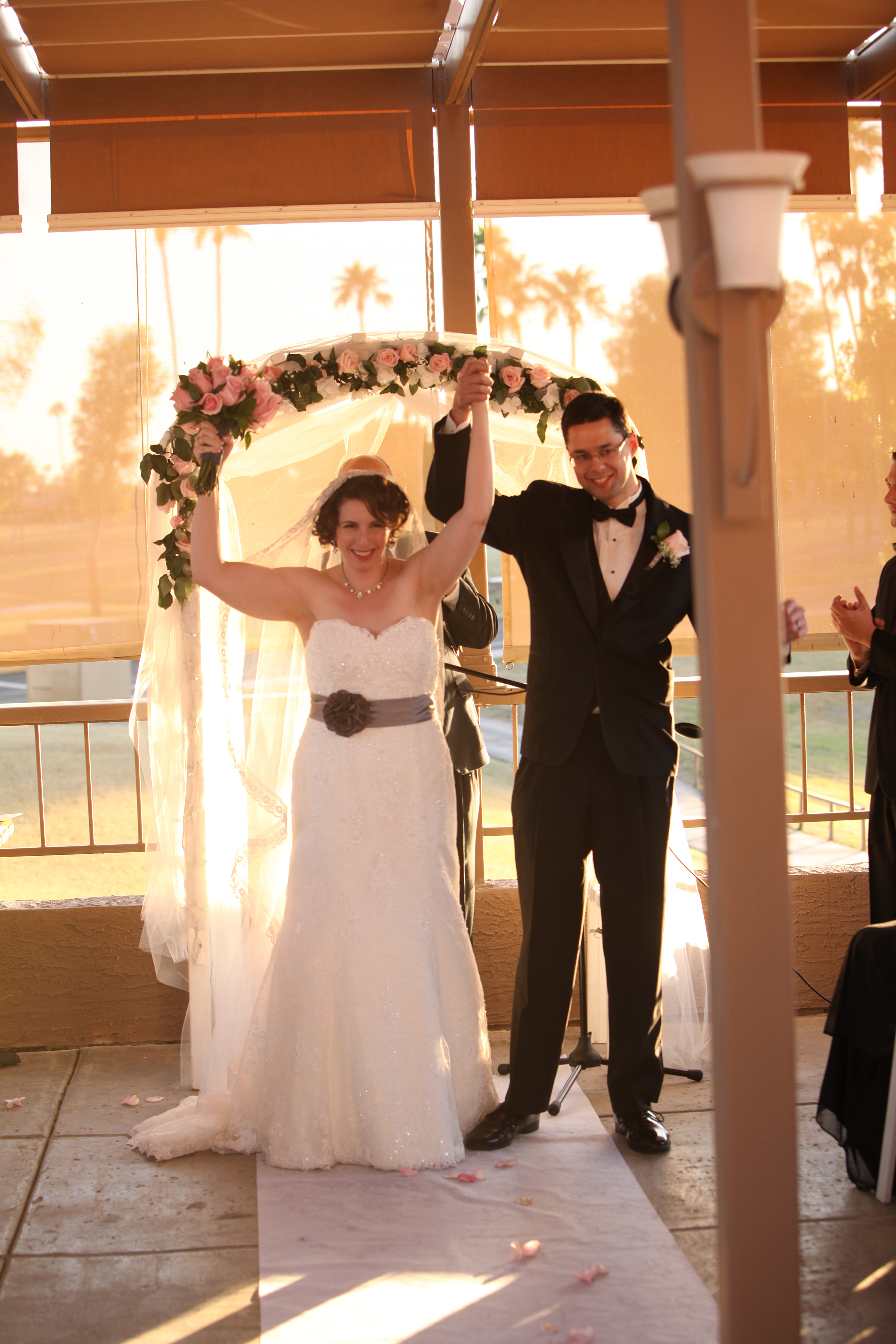 See the Beauty
I saw a quote by Elsie de Wolfe the other day: "I'm going to make everything around me beautiful—That will be my life." I love that quote!!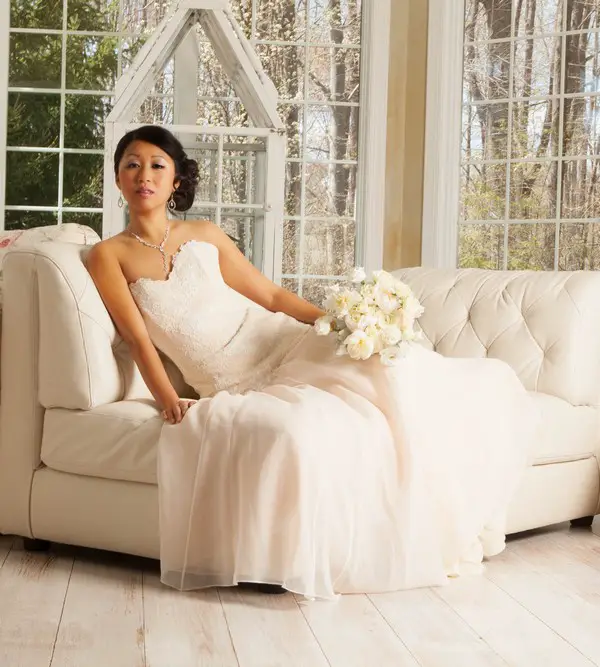 While every bride is beautiful. It's up to you to find exactly where her sweet spot is and exploit it. Don't let her stand straight at you unless she can buy her clothes in the children's department.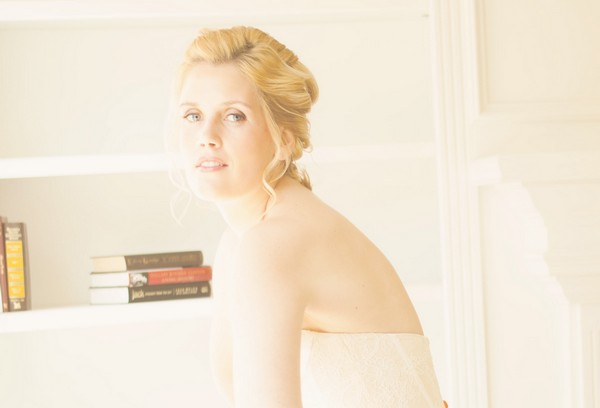 Turn her shoulders a bit, and let her natural beauty shine. Most people hold tension in their mouths. Make sure that your bride doesn't by telling her to drop her bottom lip. The three beauties below are all totally different in look, size and stature, but they all look great. Turn them at a 45 degree angle, have them bend anything that they can bend, and then have them lean a bit to the side. You got it!!
I just realised that I have a ton to say about weddings…truly a ton. If you would like to see and hear more, please drop me a line at [email protected]. Let's get better together!