Have you outgrown Flickr? Feel you're a bit too good for Photobucket? Recently I've been trying out a couple of alternatives for showing off your shots.
First up is SmugMug. They claim "Your photos look better here." and actually there might be some truth to that statement. A SmugMug gallery looks very slick and professional. Here's what one I made earlier looks like in editing mode (visitors to the site can't see all the option bars at the top of the page):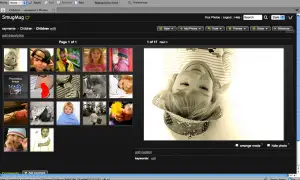 You can choose from a variety of themes depending on your asthetic preferences and make photos available to be viewed in sizes ranging from small to X3 large (plus the original size). One feature I really like, if you go for the slightly more expensive "power" account, is the option to disable visitors from right-clicking and saving your photos. A nice, simple deterrent to help keep your photos a bit safer online. You can also password protect galleries or hide urls so only people you sent the link to will be able to access them.
So far I've found the website easy to use and if you're technically-challenged there's a video to help you get started. There are free uploaders to work with Aperture, iPhoto, Picasa, Lightroom, and your browser. At $39.95/year it is a bit more expensive than Flickr ($24.95/year) but with around 300, 000 users compared to Flickr's more than 32 million there's more personal service on offer at SmugMug, in fact they have a team of SmugMug Super Heroes waiting to help users out. And you'll stand out from the crowd a bit more too! To sign up, or try out a 14-day free trial, click here.
If you prefer to move away from photo sharing sites altogether then Showit might be for you. They provide free software (for Mac or Windows) that allows you to make your own photography website and publish up to 5 pages free (storing up to 30MB). A pro account will allow you to publish unlimited pages, have a custom url, and store up to 10GB but will set you back $39/month. The free account is pretty good though, the software is easier to use and has a nice variety of layouts for you to choose from. You need prettty much zero technical, clever, internet-type knowledge and you can still make a nice looking photography site. Here's what one I created looks like in the preview stage: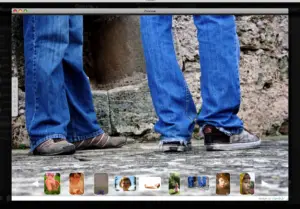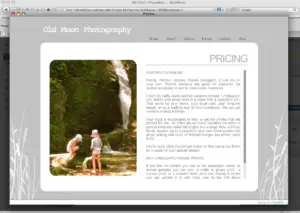 I have found that the software crashes quite easily, which is irritating, although so far it has always managed to start up again without losing any of my work. The level of customisation available is great and the software is fun to play with, hours of endless fiddling to get your site "just right"! For some more example sites have a look here, or to download the software click here.