I attended the Aloha Expo in Sante Fe Springs, California. Great food, music, entertainment—and events like these are fantastic photo opportunities. Shooting a live performance outdoors can be a lot of fun. Here are some tips to help you get the best photos possible.
Be prepared. When you head out, think ahead to the kind of shots you'll be able to take, the weather conditions, and the distance to the performers. In this case, I knew the Expo was going to be a crowded event so I planned on using my telephoto zoom a lot. I was travelling extremely light that day so all I brought were my D70, 80-200mm f/2.8D, two memory cards, and a spare battery. It would have been nice to also have along a wide-angle zoom for a few shots. But the one thing I really wished I'd brought was my SB-800 speedlight. It would have made several shots much better.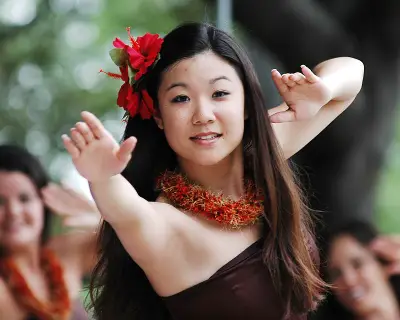 Scope out the stage and find a few good spots for taking photos. It depends on your lenses but you usually want to get an unobstructed view of the performers. This means getting in front of the audience if you can manage it. At outdoor festivals like this one, it's pretty easy to get up close to the stage. Spots near the main speakers on either side of the stage are usually clear. Plunking yourself down on the lawn in the front row or in an aisle work, too. If the stage is open, you can even get some neat shots from the side or behind the stage if security doesn't run you off. The point is, you want to get to a spot where you can make photos of the performers that fill the frame without any obstructions.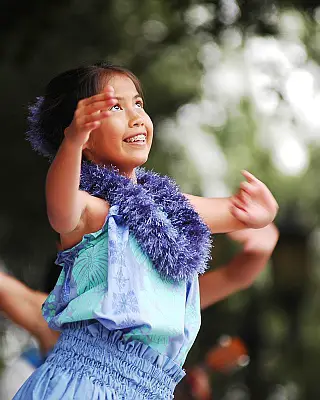 Timing and music. The Aloha Expo is a music and dance festival. One of the neat things about dancing that can make it easy to photograph is that performers will often do the same choreography multiple times. The trick is to actually pay attention and listen while you're shooting. The first time some interesting choreography happens you may miss it, but if you were paying attention, you will recognize the musical and visual cues that signal it coming up again. You get into a rhythm with the performers and you're able to anticipate shots a few seconds ahead of time. Use continuous shooting mode to help capture just the right moment.
Lighting. Sunday was overcast which was both good and bad. Stages are often covered which puts all of the performers in shade anyway but a little sun would have been nice, adding warmth and color. It would have also made exposure trickier because of the contrast between sunlit and shaded areas. As I said earlier, I wish I'd brought my speedlight. The flash would have added just the light I needed when the occasional dark cloud rolled overhead.
Composition. There are a lot of opportunities. Wide shots of a stage are great for showing the performers in context. You get the performers, the audience, the band, and banners that show the name of the event. If you can get close to the stage with a decent telephoto lens, you can isolate individual performers and take them completely out of the context of the performance. If the stage is open, especially, you'll want to setup for a shallower depth of field to blur the background. Shooting from off to one side using a shallow depth of field also allows you to isolate individual performers in a line-up. And don't miss the opportunity to use slower shutter speeds to capture motion!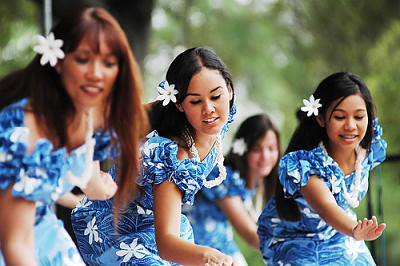 And remember, take lots of shots. A live performance is a very dynamic situation. People move, a hand covers a face at the last second, a performer turns around, a shot turns out slightly blurry. And edit ruthlessly. You'll be taking hundreds of shots anyway so don't be shy about hitting that delete button on the ones you know are no good technically or compositionally. It makes your job later of choosing the best shots easier.