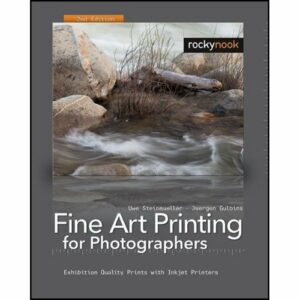 Fine Art Printing for Photographers (2nd edition, rocknook publishers) by Uwe Steinmueller and Juergen Gulbins, is an incredibly thorough, well-written, and interesting book about fine-art printing of digital photographs using ink jet printers. It covers all aspects of the craft and is written explicitly for the "ambitious amateur" and professional photographer.
Read on to learn more about the book and find out how you can get a free copy.
I must admit I didn't know exactly what to expect when rockynook announced the second addition of this book. Before I received it, I'd completely missed the subtitle (Exhibition Quality Prints with Inkjet Printers). So my initial reaction was surprise followed by excitement as I scanned the table of contents.
Steinmuller and Gulbins make the case that today's inkjet printers can deliver exhibition quality fine art prints and explain all of the details necessary to achieve that goal.
The authors devote entire chapters to the topics of printing techniques, paper and ink, color management, workflow, practical tips, printing packages and RIPs, black and white, and presentation. And they thoroughly cover each subject with a tremendous amount of detail.
For instance, the first paragraph of the first chapter (happily) explains a topic many people find confusing: the differences between DPI, PPI, LPI, and image resolution; and they explain how those measurements are related and why they are important for fine art printing. They go into similarly detailed discussions of print permanence, the effects of paper thickness and coating, color models and profiles, tonality and color tuning, black and white conversion, and dozens of other important issues. The level of detail combined with the breadth of topics is very impressive.
A great deal of attention is also placed on software workflow (primarily using Photoshop CS3) with a focus on preparing digital images specifically for paper. Topics covered include highlight recovery, contrast enhancement, sharpening, color management, black and white conversion, and more.
The authors don't actually recommend a particular printer, as everyone's needs and budgets are unique, but they do go into detail about things you should look for in a fine art inkjet, paper, and inks. In addition, the appendix gives a summary of many different fine art printers and papers.
Digital fine art printing is highly technical, a fact that is acknowledged and reinforced by this book. It requires a special knowledge of printing techniques, inks, papers, software and image processing. But the authors argue that the "technical nature of fine art printing should not overshadow its ability to awaken the senses." And that "when performed optimally, your printing can achieve a richer color gamut and finer tonal gradations that with traditional book- and magazine-printing techniques."
I learned a lot about fine art printing from this book and I recommend it to anyone serious about getting into fine art printing or improving their prints.
Want a copy of the book? Leave a comment with a valid email address. Two readers will be chosen at random on Wednesday, July 9, to receive a free copy.
Buy Fine Art Printing for Photographers at Amazon.com
This book was provided to Photodoto free of charge for review.