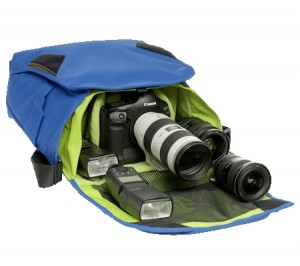 Crumpler was kind of enough to send me a review copy of their "8 Million Dollar Home" bag. The 8 Million Dollar Home will run you about $170. That's a bit pricey for my taste but you definitely get a lot of bag for your buck.
It's a big bag. When Crumpler contacted me I had no idea what to expect. "Sure, send me the bag," I said, and then forgot all about it. It's just a bag, right? This isn't just a bag. It's like a 3-story Barbie dream house + jacuzzi for camera gear. My first impression when it arrived was that it was enormous. My current bag is a Tamrac Pro 5. The design is about the same, zipper front, velcro + zipper closures, front pocket, lid pocket, movable dividers, etc. But the Crumpler seems about 50% bigger all around. The Crumpler's extra space is luxurious in comparison.
It's actually not all that enormous but it's bigger than I would like. Of course, I don't even bring my current bag with me anywhere anymore if I can help it. I prefer to travel light. And not just because I'm lazy. (Well, okay, maybe for that reason.) One body, one lens on the camera, often just a 50mm. Maybe a second lens in my cargo pants pocket. Maybe. It'd better be something special if I'm bringing two lenses.
It's a shoulder bag and the strap is comfy. I only had it for a week so I can't speak to it's durability but it seems very solidly constructed and made of strong materials. You won't lose it either if you get the blue and green and orange version. You can probably see this thing from space. Padding everywhere. The interior dividers can be rearranged in a bazillion different configurations. Pockets everywhere. Dual plastic clips + velcro keep the lid on. And it's got a nice strong handle and side loops for hanging gear on the outside.
It's a very nice shoulder bag. But the problem with all but the smallest of shoulder bags, as I see it, is that they're not very comfortable. If you fill this thing to the brim it's going to be heavy. And if you're carrying that much gear for more than a short distance you'll be more comfortable with a backpack design. Perfect for transporting loads of gear from the car to the venue but I wouldn't want to lug it around all day on a photowalk or a hike, say.
Bags are very personal items. Always try one on before you buy.