Retouching photos could be a nightmare. Wrinkles, acne, oily skin – sometimes the camera is cruelly precise. It is unpleasant to say the least if those are just your own private pictures. But what if photography is your business? No client wants to see their faces imperfect, especially on pictures taken during a special event (wedding, anniversary, etc.).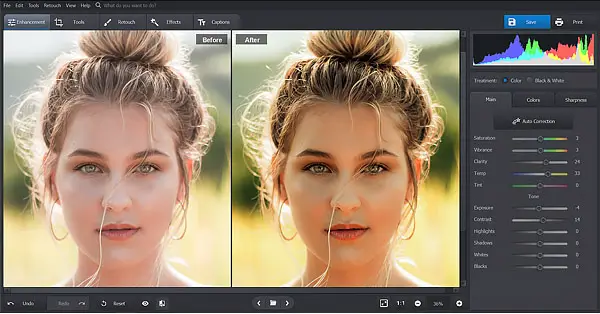 If you don't want to spend a sleepless night erasing all those blemishes, you can try PhotoWorks.
This software allows you to perfect your pictures with just a few clicks. Whether you are a professional photographer or a complete newbie, it gives you complete power over your pictures and is easy to learn thanks to its intuitive interface.
So try photo retouching software by PhotoWorks to learn more about its numerous functions and possibilities.
Say Goodbye to Imperfections
Ever tried to edit your pictures in some of the most popular and effective editing software, but struggled to keep up with convoluted instructions? Now you don't have to follow a complicated routine to improve your pictures. PhotoWorks has an intelligent module for portrait enhancement called Portrait Magic. From uneven skin tone to teeth that require whitening, try Portrait Magic to remedy it all. With just one click of the mouse you can apply one of the many presets aimed at improving the model's appearance. Too much redness in the face or the eyes are too sunken? The model is too pale and needs some makeup to bring out their beauty? Thanks to its automatic editing functions, PhotoWorks will fix it easily and swiftly.
But if you're still not satisfied with the result, go to manual enhancement, and try your hand at a piece-of-cake route to achieve the retouch effect you desire.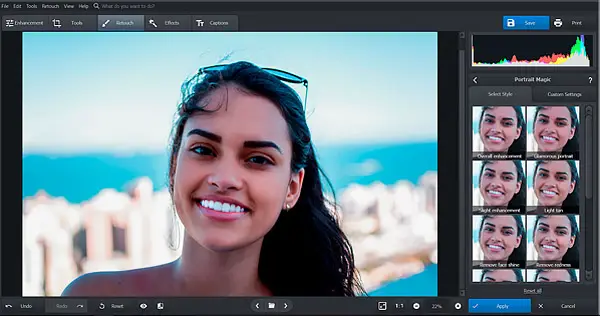 Get Creative and Expressive
If you have a craving for something special, PhotoWorks will quench it with further possibilities. The Adjustment Brush tool is a great asset that grants you artistic freedom. You can change the color of hair, eyes, lips, and even skin to go beyond ordinary.
This tool can be efficiently used to correct more complicated photo failures. Paired with the Clone Stamp tool, it will help you erase all unwanted objects in photos almost effortlessly.
If you are after a more stylish-looking product, try applying one of 150+ creative effects. You can have fun turning your picture into a movie still shot or into a vintage photo using an immense selection of filters.
One more thing that will make your imagination run wild is the Change Background tool. Cut out the subjects of your picture to place them into new surroundings, be it one of the preset options or some background from your own library. The coolest thing is that you can achieve this effect in only a few easy steps.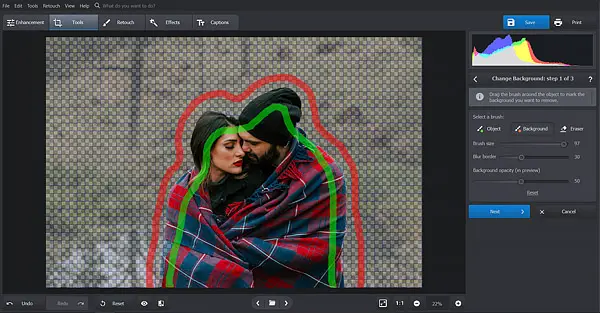 Try a Professional Approach
If all of the above creates an impression that PhotoWorks is exclusively for people who are new to the world of digital photography, read further to learn that it is not.
For those who know their way around photo editing, PhotoWorks provides professional tools like Curves and Tone Mapping as well. Although PhotoWorks has auto correction functions, still nothing can beat manual adjustments. You can fine-tune the colors of your picture to take it to a new level.
If you are bothered by noise in your pictures, the software has the denoising function that is as effective as that of other more complex photo editors.
Perspective and distortion correction is also a function available in PhotoWorks because even professional photographers can't beat the laws of optical physics. If you need to edit your most troubled pictures, this software has the right tools for you.
And don't forget to forge a watermark in PhotoWorks – every photographer should have a signature.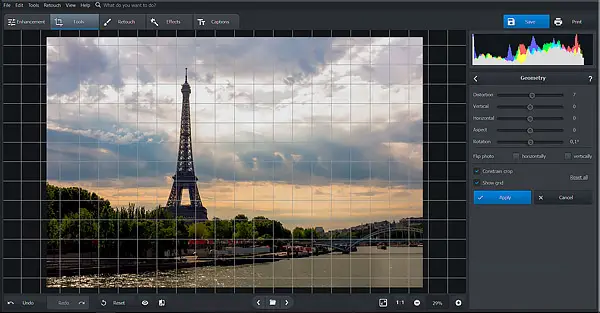 Download PhotoWorks to Try Its Power
As you can see, PhotoWorks is a powerful tool when it comes to photo retouching. You don't have to be an experienced user to achieve a stunning result. The software is accessible and easy to navigate.
Of course, it might not be as almighty as some of arguably most famous photo editing programs. At the same time, it is not as complex and convoluted as other industry giants. It is an automatic photo editing software that gets the job done, requiring little effort and time.
PhotoWorks is fun, easy, intuitive, and most importantly, effective. What more could you ask for?
How about a discount then? Now you can buy this software using a special coupon. Let boring and tricky ways of retouching pictures be a thing of the past. Download PhotoWorks now, using the coupon, and discover a software that takes "ouch!" out of your retouch!