Professional photographers and shutterbugs alike were excited when Nikon Corporation launched in January 2016 the Nikon D5 (the most advanced professional DSLR to date), as well as the Nikon D500 (which replaced the D300S, Nikon's previous DX-format flagship DSLR).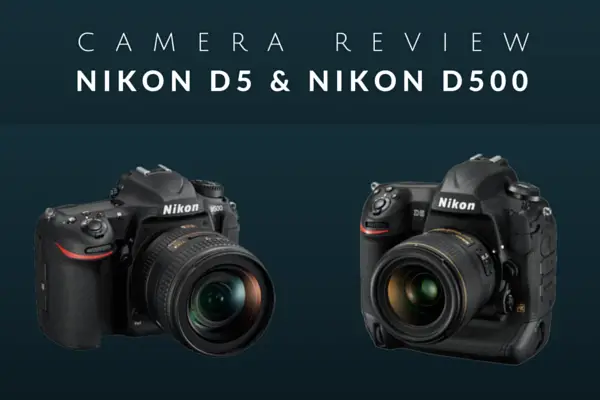 Let's take a deeper look at each of the new Nikon cameras.
Of particular interest to enthusiasts is the D5, which is reputed to raise the bar for FX performance with its unmatched speed, precision, and image quality. The D5 is the latest iteration in Nikon's acclaimed series of flagship FX-format professional DSLR cameras.
The D5's mind-blowing specs include high top ISOs of 102,400 (native) and 3,280,000 (extended). You read that right—3.28 million! According to Nikon, the D5 can capture details and colors that cannot be perceived by the human eye.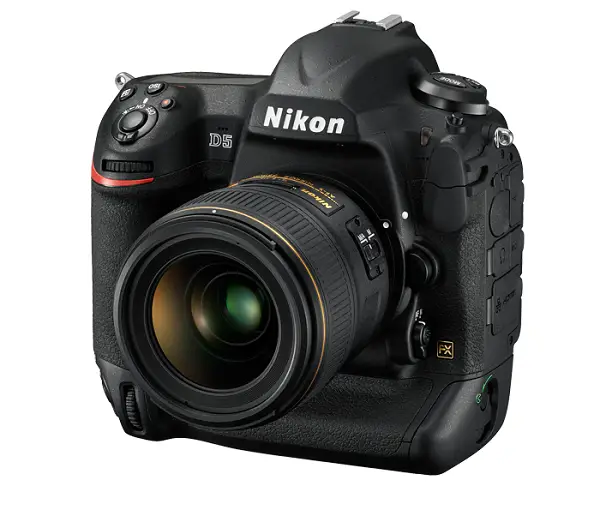 Check out these key specs:
Type: Single-lens reflex digital camera
Lens mount: Nikon F bayonet mount
Instant-return type, electronically controlled lens aperture
20.8MP sensor
Sensor size: 35.9mm x 23.9mm
Image sensor format: FX
Image sensor type: CMOS
12 fps burst rate
New AF system with 153 AF points and 99 cross-type
AF detection to -4EV (center), -3 EV (for other focus points)
3.2", 2.36 million dot resolution touchscreen LCD monitor
4K video capture at 30p
180K pixel RGB sensor
Up to 200 12-bit lossless compressed RAW images in a single burst
Native ISO range of 100-102,400; up to 3,280,000 ISO when boosted
Convenient double memory card slots
2 versions of the camera are available: QXD or CF memory card compatible
Are you a Nikon photographer? Check out our Essential Nikon Camera Guide to learn 10 most important camera settings to help you master your M-mode shooting.
Great precision when shooting moving objects
The D5 is designed to capture moving subjects in great detail, and its 4K video in UHD is well-suited to high-quality video production. Its new-generation 153-point AF system and stable viewfinder make tracking of moving subjects easy, even during high-speed continuous shooting at around 12 fps. For the first time in a Nikon DSLR, a second processor is dedicated solely to autofocus operation and computing. This makes the D5 ideal for photojournalists recording the thrill of a sporting event or capturing wild animals in their natural habitat.
The pairing of the new Nikon FX-format CMOS sensor with the brand-new EXPEED 5 image-processing engine deliver true-to-life colors and precise detail. Also, because the Nikon D5 possesses the highest-standard ISO sensitivity among Nikon models, photographers can more easily capture images in low-light and indoor environments.
Stable viewfinder images during continuous shooting
The D5's new mirror drive mechanism keeps the viewfinder image stable during continuous shooting even at high speeds. Photographers using a 2933 x QXD 2.0 memory card can capture up to 200 12-bit lossless compressed RAW images in a single continuous shooting burst.
Cinematic brilliance with 4K UHD (30p) movie capability
Astonishingly, the D5 supports movie creation in 4K, which offers a resolution even higher than that of HD and full-HD movies. This makes the D5 an indispensable workhorse for film professionals. High-resolution 4K UHD (3840 x 2160)/30p, 25p, 24p movies can be recorded on a memory card inserted into the D5 camera.
Alternatively, with simultaneous HDMI output, movies can be displayed on an external monitor or recorded as uncompressed video to an external recorder. Movies can be shot at boosted ISO 3.28 million in video mode, leading to unprecedented clarity and cinematic brilliance. Users can also generate 4K UHD time-lapse movies within the camera.
The Nikon D500 (which is a DX-format DSLR with pro-level features) shares many of the key features found in the Nikon D5, including a very high ISO range, autofocus that functions well in low-light conditions, fast continuous shooting, 4K video capture, as well as the same big touchscreen monitor. While the D500 has the same exceptional performance as the D5, the D500 is physically smaller and lighter.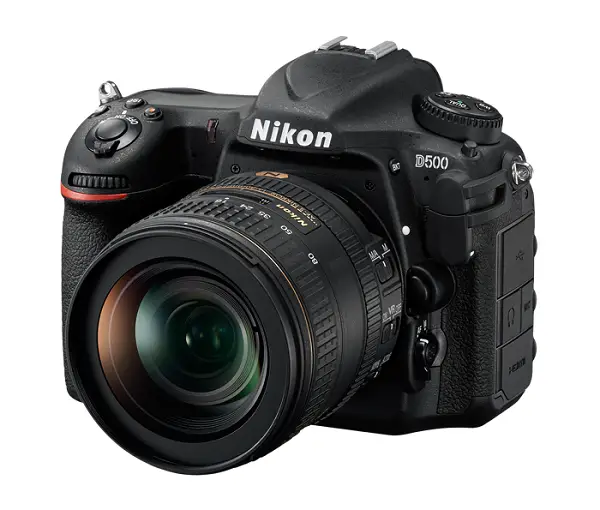 Check out these key specs:
Type: Single-lens reflex digital camera
Lens mount: Nikon F bayonet mount
New 20.9MP DX CMOS sensor
Sensor size: 23.5 x 15.7mm
Image sensor format: FX
Image sensor type: CMOS
ISO range 100-51,200; ISO range is expandable to 50-1,640,000
10fps burst rate
Up to 79 14-bit uncompressed RAW files captured in a single burst
180K RGB metering system
Multi-Cam 20K AF sensor module
153-point AF array films frame
3.2" 2359K dot touchscreen LCD
XQD and SD memory card slots
Nikon SnapBridge (which supports Bluetooth and Wi-Fi connectivity); this feature
enables the user to send pictures directly to a compatible smartphone or tablet
4K video capture up to 30p
Compatible with the newly released MB-D17 multi-power battery pack
Great precision when capturing dynamic subjects
The D500 has a multi-CAM 20K autofocus sensor module, which features a dense configuration of 153 focus points (99 cross type). This enables the D500 to capture fast-moving subjects with great precision. Moreover, AF capability is extended down to -4 EV with the central point and -3 EV with all other points.
This makes the D500 highly functional even in low-light conditions and when shooting low-contrast subjects. And if that wasn't enough, a new AF engine and 180K-pixel RGB sensor also aids in fast focus acquisition in a variety of scenarios.
High-speed continuous shooting
The D500 delivers high-speed continuous shooting at about 10 fps for up to 200 shots in JPEG and in 14-bit lossless compressed RAW without experiencing any drop in shooting speed. Like the D5, the D500 has a stable viewfinder and can track moving subjects accurately.
Cinematic brilliance with 4K UHD video
The D500 can record 4K UHD (3840 x 2160)/30p/25p/24p as well as 1080/60p video for up to 29 minutes and 59 seconds with simultaneous output via HDMI. Users can also generate 4K UHD time-lapse movies within the camera.
Available in full-HD or HD mode, the D500's electronic vibration reduction function smooths out camera shake in horizontal, vertical, and rotational directions. Plus, active D-lighting brings out better shadow and highlight details.
Flexible, high-resolution monitor
The D500 features a tilting 8-cm/3.2" high-resolution touchscreen monitor, which ensures more comfortable shooting for both professional and advanced amateur photographers. Images can be switched using the frame advance bar and text input. The tilting monitor with 3-axis hinge structure also allows users to better shoot from more flexible angles for stills and movies.